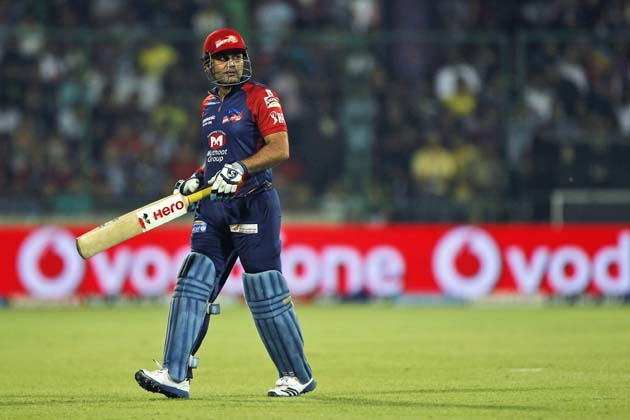 No one really thought that Virender Sehwag, one of the most destructive batsmen of his generation, will go into anonymity so suddenly and so dramatically. For people who have seen him dismantle the best bowling attacks in the world with utter disdain, it's hard to believe that the phenomenon of Sehwag has diminished so abruptly.
The desire to see Sehwag tormenting the fastest bowlers, that too with minimum of fuss, is still pretty much alive in the hearts of such fans. But will it happen again? It seems difficult, knowing the lack of numbers Sehwag has had recently in domestic cricket following his axing from the Indian team.
With his aggressive style of batting, no selector would have liked to drop Sehwag. But his form deserted him so badly that it didn't leave any other option for the selectors. Sehwag had a very disappointing last few years before he played his last Test in Hyderabad against Australia in March 2013.
Following one of the most productive years for him in international cricket in 2010, in which he scored 1422 runs in 14 Tests at an average over 61, Sehwag's form dipped drastically in the next two years, in which he made 384 runs in 7 matches at 29.53 and 505 runs in 9 matches at 31.56 respectively. He played two matches in 2013 too, scoring just 27 runs in three innings. And it's not just the runs, but the way he got out - mostly getting bowled, leaving a big gap between bat and pad - which was disappointing. His game has been based on a fluent hand-eye co-ordination, but that too seemed to have deserted him after 2010.
Sehwag was available for Delhi for this year's entire Ranji Trophy season, but could not muster the numbers he was looking for. In 10 matches, he could only score 279 runs at 19.92, with just one fifty to show.
Sehwag was the icon player for IPL franchise Delhi Daredevils since the inaugural season in 2008 and had always found himself in the playing eleven if he was fit. But the dip in form also saw Delhi parting ways with him, not retaining the player for the IPL season 7 (DD didn't retain any of their players from). After the 2009 edition, IPL 6 turned out to be the least productive season for Sehwag as he scored 295 runs in 13 matches at 24.58. In 2009, he had scored mere 198 runs in 11 matches at 19.80.
But having not been retained by Delhi could turn out to be a blessing in disguise for Sehwag. He is kept in the list of players having the highest base price of Rs. 2 crore and his name will be floated first along with 15 other marquee players at the upcoming IPL auction. He can be picked by franchises that are yet to pick their four capped Indian players. Delhi too can go for him at the auction if he is available at his base price, which is significantly less than what they would have paid for him if he was retained.
Barring Chennai Super Kings, who have already retained their four capped Indian players, all other franchises have the option of buying one or more capped Indians. And with Sehwag's experience and ability to destroy the opposition, he may turn out to be the player to watch out for in the upcoming season, considering he would also take it as a chance to get himself back into form and show that he is far from over.