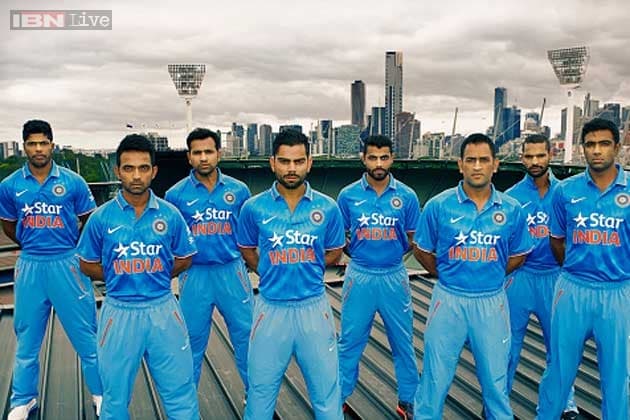 It's not an ideal scenario for a team preparing for its World Cup title defence when it hasn't tasted victory for more than two months, that too on the same soil where they have to defend their crown. But India captain Mahendra Singh Dhoni says time off from the game will get his team in order.
After a 2-0 defeat in Tests Down Under, India remained winless in the Carlton Mid Tri-series involving hosts Australia and England.
A lot was expected of the team in the ODIs at least, that they will put the Test defeats behind them and return afresh in coloured clothing. But it remains all doom and gloom so far; however, Dhoni assures there is nothing to worry about.
"You may say it [defeats] is a bit of pattern, which we need to change to some extent. And we should be able to do that with this break over here and a bit more time to think about the game. I think the guys will come back strong," he said after losing the must-win game against England, which knocked India out of the race for the final.
India have just over a week to move into a huddle and get their act together to show it in the two warm-up games against Australia and Afghanistan. Dhoni, for the moment though, wants his boys should put their legs up and relax before getting back on the ground, as it is much needed before the World Cup.
"Not only me but everybody [needs a break]. [We will] lock the kitbag and keep it somewhere. You don't even want to see it. Completely switch off from cricket. Because we have been here for more than two months, we know the conditions pretty well. What is important right now is a break. Completely switch off from the cricket. Just do a bit of thinking on what needs to be done," he said.
Dhoni says there poor show in the tri-series can also be attributed to fitness issues as not the whole squad was available for selection. And now he wants to get into the World Cup with all 15 players throwing their hat in the ring.
"To win and carry the momentum is very crucial but before that what's important is all the 15 guys are fit. In this series [tri-nation] not all 15 were fit. Getting into a tournament like the World Cup, it's important that all of them have some kind of games behind them."
Dhoni's suggestion found some sort of favour with former India captain Sourav Ganguly, who even suggested the players should go back home for a quick rejuvenating break.
Will this switch-off theory work? Time will tell.