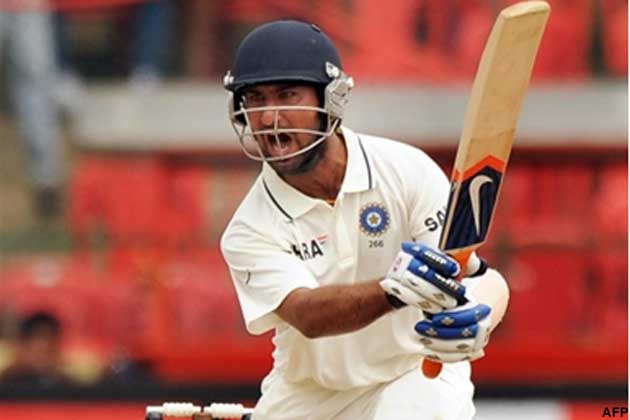 New Delhi: On Friday in Mumbai, India's selectors have probably their most important meeting of the year as a new home season looms. Their prime duty is to pick a team to beat New Zealand in the series starting August 23 but they will be failing themselves if they do not use the two Test matches to test out a place or two for the more important visits by England in November and Australia in the New Year.
The decision over who will bat at No. 3 in India's first Test assignment of the post-Rahul Dravid era and the merits of persisting with VVS Laxman should cause most debate tomorrow morning in the BCCI headquarters, along with a reserve fast bowler in the absence of the injured Ishant Sharma and Varun Aaron.
The selectors' inclination will be to give Laxman a farewell series and have a good player of pace at one-down, with Cheteshwar Pujara and Virat Kohli the leading candidates. There are sure to be men in tomorrow's meeting who believe Rohit Sharma should have another opportunity to prove he can fulfill his talent, but outweighing such notions is the fact Pujara needs to play more Tests before a proper assessment can be made.
Pujara, the 24-year-old from Saurashtra whose international career was derailed after a knee injury sidelined him during the IPL last year, needs to be given the faith that is indeed a long-term prospect. His 72 on Test debut against Australia in 2010 is still vividly remembered by many and he deserves selection after captaining India A in the West Indies recently. Pujara's scores on tour – 50, 96*, 67, 1, 33 and 5 – in difficult batting conditions left him well above his batting team-mates and showed that he deserves another shot at Test cricket.
However, where he would bat is not certain. Kohli, India's ODI vice-captain, who has made the No.3 spot his own in ODI cricket where he is averaging 73.28 this year. He is in the form of his young life and there is plenty of merit in pushing him up from No. 6 to one-down. Kohli himself probably would be eager to fill his shoes in the role considering India's busy season contains Test matches all at home.
That still leaves an open spot for a batsman. Rohit, regarded as the most talented of the younger lot, seems to have pushed himself out of the reckoning for this series after a dismal ODI series in Sri Lanka where averaged 2.60 in five innings. Manoj Tiwary and Ajinkya Rahane are thus the names to be discussed. Neither has played Test cricket, but the fact that Rahane has toured Australia with the Test squad gives him an advantage. Wriddhiman Saha will be the back-up wicketkeeper, but stands little chance of playing only as a batsman.
The matter of Laxman is trickier, but it is believed that the selectors will give the veteran a farewell series. Traditionally, they don't dump legends of the game. The first Test will be played in Laxman's home town of Hyderabad, and considering New Zealand are depleted without Daniel Vettori, there is enough reason to believe they will play Laxman this series and then take stock after it is over.
To believe that Laxman will continue throughout the year after a miserable run in Australia is optimistic. Age appears to have caught up with him, and India have a busy home season ahead – after the New Zealand series, there are three Tests against England and four against Australia between August and March. That Laxman will be a part of all nine Test matches is unlikely. He will be 38 in November, during England's visit. Laxman has not spoken openly about his plans as a Test player, but if he has not considered his role in the team and his continued ability to perform up to expectation, then the selectors must act in the benefit of Indian cricket. Indian cricket is in a phase of transition and calls need to be taken.
Against a New Zealand side susceptible to spin it would be reasonable logic to augment and attack of Zaheer Khan, Umesh Yadav, R Ashwin and Pragyan Ojha. Zaheer is 33 and will surely have to take a call on his career at the end of the year; specifically, which format he needs to give up to prolong himself. It is unlikely that he will feature in all three of India's home Test assignments, and so identifying the next man is important.
With Ishant, who underwent ankle surgery in March, and Aaron, who suffered a recurrence of a back injury, still on the recovery trail and not expected to be return until October, the selectors must also pick a third fast bowler. The leading candidate is Ashok Dinda, who impressed in his recent limited-overs outings. It is unlikely that Karnataka's Vinay Kumar will get the nod after a poor Test debut in Australia.
India have lost four Test matches in a row with largely the same 11 players, but the series starting in Hyderabad has to be seen in the wider of light of a heavy home season. It may not be a marquee series, but India v New Zealand could turn out to be crucial for the home side's rebuilding. The change starts tomorrow.
Probable squad to face New Zealand: MS Dhoni (capt/wk), Virender Sehwag, Gautam Gambhir, Virat Kohli, Sachin Tendulkar, Cheteshwar Pujara, VVS Laxman, Ajinkya Rahane, Wriddhiman Saha, Zaheer Khan, Umesh Yadav, Ashok Dinda, R Ashwin, Pragyan Ojha.