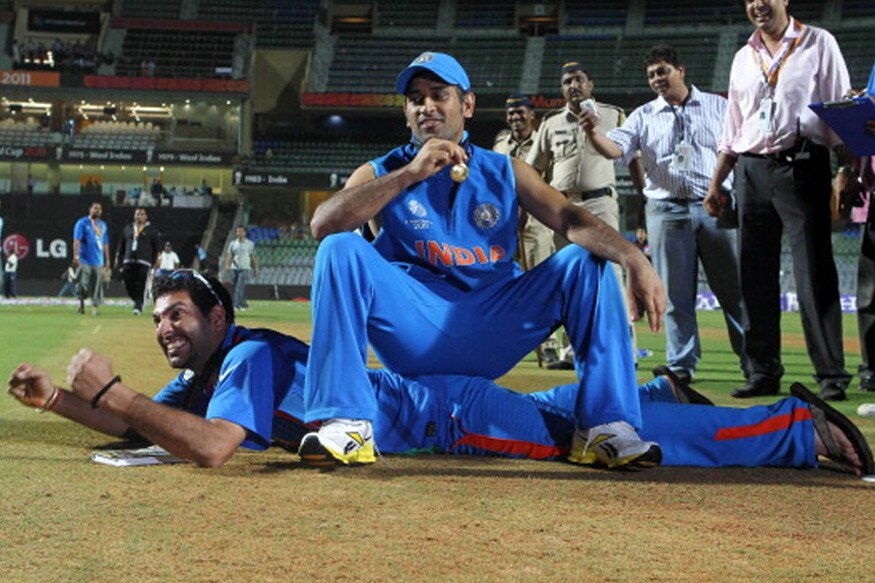 New Delhi: With the 2019 World Cup being the next big tournament in the radar for the Indian cricket team, the future of senior campaigners MS Dhoni and Yuvraj Singh has been time and again discussed by former cricketers and pundits. While India 'A' coach Rahul Dravid had recently said that it was time to take stock and decide on their future, chief selector MSK Prasad feels that a decision will be taken at an appropriate time after discussing with skipper Virat Kohli and head coach Ravi Shastri.
"We will see, we need to talk on that. We will have to take a decision, let's see how it goes. We all know who can add value. Again, we will go slot by slot. We should know when to take a call. It's not that suddenly you take a call and you are nowhere. You can't be totally unprepared, so we need to be balanced on that aspect," Prasad told Wisden India.
With the World Cup set to be played in England, Prasad feels that having the Champions Trophy in England was a big positive for the team as the selectors could gauge India's strengths and weaknesses.
"The best thing that happened from our point of view was that the Champions Trophy was in England. That has really opened our mind in many aspects. We know what our real strengths are. Frankly speaking, our team did really well. There are a few shortcomings that we have noticed and maybe we will fix those shortcomings in the next 18 to 20 months that we have leading up to the World Cup. Whomever we have in mind, we will start giving them more opportunities so that they are mature enough by the time the World Cup comes around. In case we are picking a youngster, then he should be given due chances by the time he plays the World Cup," he said.
With Jasprit Bumrah doing really well in domestic cricket, there have often been talks if the time is right to groom him into the longest format and Prasad feels that the youngster's time will come as India will be playing quite a few away series in the time to come.
"Bumrah is good but unfortunately, playing here (in Sri Lanka) is like playing in India, it is another Asian country. The question was whether you required that extra seamer or not. That's the reason we picked Hardik Pandya ahead of Bumrah, because Hardik can add value to the team both with his batting and his fielding. So whether we really want a third seamer (in the playing XI) in Sri Lankan conditions is a point of debate, and if at all we want a third seamer, he should be an allrounder, that's what we felt. Undoubtedly, Bumrah has done exceptionally well in the last year for sure. Last year in the Ranji Trophy, he did extremely well for Gujarat, won them the semifinal. Yes, Bumrah has the ability to play Test cricket. We will see what happens in future because we have enough away series coming up," he said.
While there have often been talks of the selection panel's ability to put the foot down if the skipper wants a certain player, Prasad says that in the Indian set-up, it is the selectors who have had the final say thanks to the understanding they share with Kohli and before this with Dhoni.
"At the end of the day, it is the selection committee's decision that prevails. I know I will be lying if I said it (debates due to differing opinions) hasn't happened at all because you should always have multitudes of opinion so that you can come up with a good solution. Fortunately, whatever the selection committee meetings that we have had, whether it is with Mahi or with Virat, finally when our discussions and arguments are in the right direction, both of them are very accommodative and they give real importance to the process. Not many people know that. They all think it is Mahi who selects the team, or it is Virat who selects the team. It doesn't happen like that. Questions have been asked about whether we can impose our opinion on their superstar status. Frankly speaking, when they sit in the selection committee, they sit as a captain. They never come with any kind of baggage behind them. All the meetings we have had so far have been interesting meetings. They have always given importance and priority to the selection committee. The final call is always ours, the selectors take the final call. If that means that, at times, we have to overrule the points that are raised, then so be it," he said.