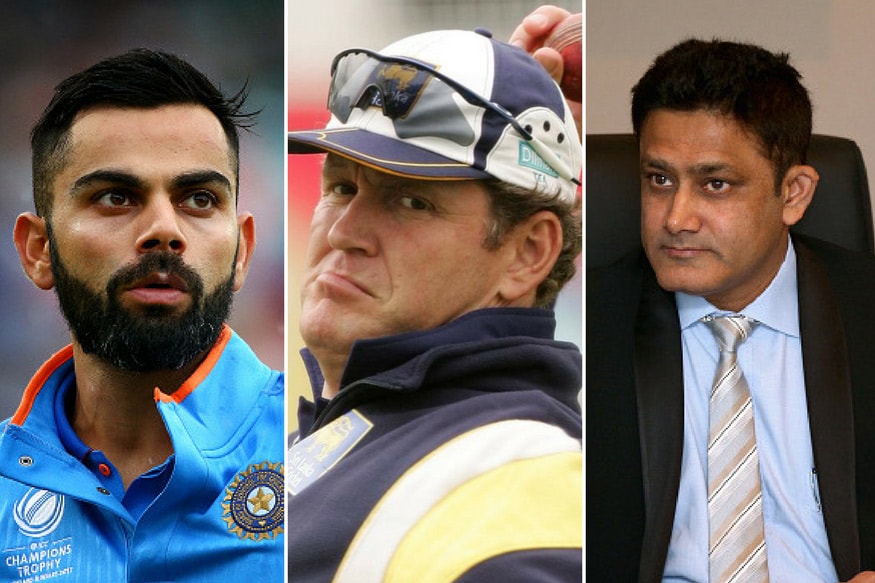 New Delhi: Sunrisers Hyderabad coach Tom Moody could well be the beneficiary of the on-going tussle between India skipper Virat Kohli and coach Anil Kumble. Wednesday was the last day for application for the Indian coach's post, but not many former cricketers and coaches have shown interest in the coveted post. While there is no official confirmation, it is believed that Moody is one of the high profile names to have thrown his hat in the ring for the India coach's job. All this amidst rumours that all is not well between Kohli and Kumble.
Speaking to Cricketnext, a senior BCCI official said that while not many names had come in for the coach's post, former Sri Lanka coach Moody could be a possible successor as he was also in the running last time round and understands the way Indian cricket functions, thanks to his association with Sunrisers Hyderabad in the IPL.
"Very surprisingly, there haven't been too many application of repute and it could well be because of the scenario where they are wary because despite the team doing well, the players seem to be unhappy with Kumble. Moody could be a possible choice as he understands Indian cricket having been a part of the IPL. Also, Cricket Advisory Committee (CAC) member VVS Laxman has worked closely with Moody so he knows how the Australian functions," the official said.
Also Read: Ramachandra Guha Steps Down as BCCI Administrator, Cites 'Personal Reasons'
A source close to the SC-appointed Committee of Administrators (COA) said that it was not directly involved in the selection process and the call of the CAC would be final in the matter.
"You have to realise that the interest of the players cannot be overlooked and if the situation does arise where the players are not keen to work with the current coach, then the CAC will pick a new coach. Sitting in India, it is not possible for the COA to understand what exactly went wrong between Kumble and the players, but it is believed that the players are not happy with his authoritative nature. The CAC has been given the responsibility to look into all the areas and do what is best for Indian cricket. They will work things out with CEO Rahul Johri," he told Cricketnext.
Also Read: Virat Kohli Unhappy With Head Coach Anil Kumble?
Since retiring in 2001, Moody has taken on the mantle of coach of the Sri Lankan national team, Western Australia and is currently coach of Sunrisers Hyderabad since 2012. He even took Sri Lanka to the final of the 2007 World Cup. And even back in 2005, he was initially touted as a contender for the Indian coach's job before Greg Chappell took the post. Last year too, he was in the running before the CAC — comprising of Sachin Tendulkar, Sourav Ganguly and Laxman — decided to pick Kumble for the coveted post.
Ganguly though has made it clear that the ongoing tussle between Kumble and Kohli is not in good taste and the timing is not right with India set to defend the Champions Trophy title.
Also Read: Don't Know Whats Going on Between Kohli and Kumble: Sourav Ganguly
Interestingly, former teammate Harbhajan Singh came out in support of Kumble and said: "Only present players will be able to tell what his relations with Anil bhai are. In my 15 years of playing with him, there has been no instance of any fight with him and he's the best bowling mind in cricket, he's always there to help.
"He's been brilliant and he has played a major role in making me what I am today and I would like to thank him for that. Kumble is strict, but he responds to hard work more than just talent. One can also see his results of last year."
Also Read: Harbhajan Singh Comes Out in Kumble's Defence
Whatever be the situation between Kohli and Kumble, Indian cricket has always had issues with coaches with an ego and with both Rahul Dravid and Virender Sehwag making it clear that they are not keen on taking on the coach's role, it could well be Moody who finally lands the job in his third attempt.
@media only screen and (max-width:740px) {
.quote-box{font-size:18px; line-height:30px; color:#505050; margin-top:30px; padding:22px 20px 20px 70px; position:relative; font-style:italic; font-weight:bold}
.special-text{font-size:24px; line-height:32px; color:#505050; margin:20px 40px 20px 20px; border-left:8px solid #ee1b24; padding:10px 10px 10px 15px; font-style:italic; font-weight:bold}
.quote-box img{width:60px; left:6px}
.quote-box .quote-nam{font-size:16px; color:#5f5f5f; padding-top:30px; text-align:right; font-weight:normal}
.quote-box .quote-nam span{font-weight:bold; color:#ee1b24}
}