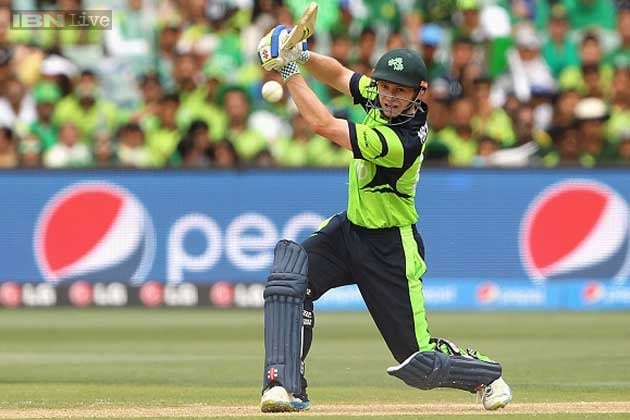 Adelaide: What should have been a happier occasion for Ireland captain William Porterfield after his first century at the World Cup was tempered by his side just missing out on a quarter-final berth after a seven-wicket loss to Pakistan.
But for a player who has been on the ground floor of Ireland's ever-improving results at one-day cricket's showpiece tournament, Porterfield knew the short-term disappointment would eventually make way for optimism.
Porterfield was the only Ireland batsman to show any resistance to Pakistan's disciplined pace bowling attack on Sunday at the Adelaide Oval, scoring 107 runs as Ireland was bowled out for 237 before Pakistan reached 241-3 in the 47th over.
As befitting an associate team, or second-tier side, which doesn't get a lot of matches against top-ranked teams, Porterfield knew the more experienced Pakistan would have the advantage late in the innings.
On Sunday, Ireland lost six wickets for just 58 runs in the last 12 overs.
"They're experienced campaigners and they have been around for a while," Porterfield said. "Once we lost a few wickets, we're not the first and not the last who are going to lose wickets quickly at the end."
In a must-win match to qualify for the final eight, Ireland's much-vaunted batting attack fell silent except for Porterfield.
"We were 40 to 50 (runs) short of what would have been a competitive total, so it makes it harder during the chase," Porterfield said. "But once we did, we were always trying to claw back, and they never let us back in the game. But credit to Pakistan and their bowlers."
Ireland beat test nations West Indies and Zimbabwe among its three wins. It has shown a gradual improvement in all three World Cup tournaments it has played, beating Pakistan in its first tournament in 2007 and England in 2011.
It has an overall World Cup record of seven wins, a tie and 13 losses in 21 matches.
"I think we have to say the tournament was a missed opportunity," Porterfield said. "But we've beaten two test nations and played some very good cricket. Overall I think we have that confidence and belief that we can come out and beat anyone."
Porterfield and Ireland have criticized moves by the International Cricket Council to reduce the number of teams at the 2019 World Cup from 14 to 10, meaning associate countries will have even fewer opportunities to play against higher-ranked teams.
Among other associate teams, Afghanistan, playing in its first World Cup and featuring some players who learned the sport while living in refugee camps in neighboring Pakistan, beat Scotland in one of the closest matches of the tournament for its only win.
The Scots remain winless at the Cricket World Cup, having lost 14 in a row over three tournaments. The United Arab Emirates also failed to win a match in six pool matches during this tournament.
Follow @ScoreWithData for more World Cup 2015 stats and analysis