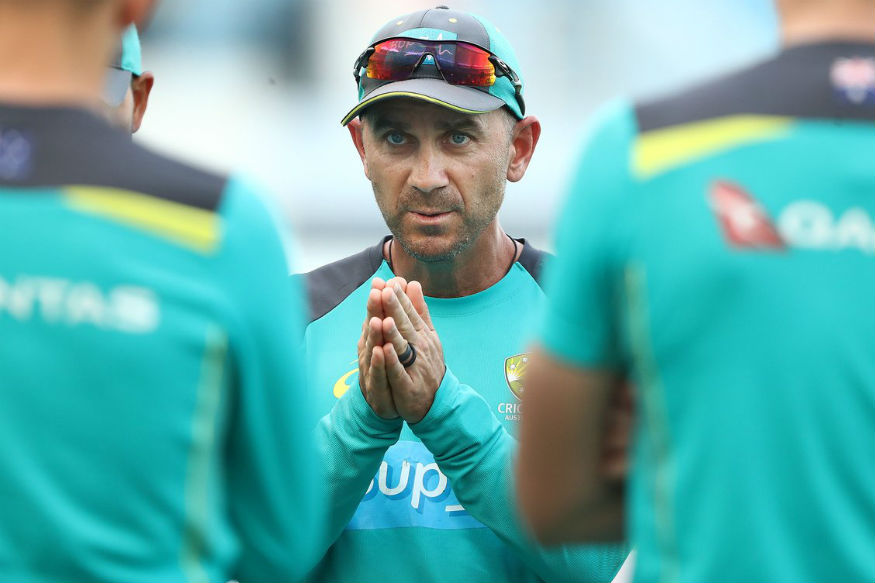 Australian head coach Justin Langer said that he was "extremely proud" of the way the side fought back on the final day to bat out and save the opening Test against Pakistan from the jaws of defeat at the Dubai International Stadium on Thursday.
"You guys know that I'm being consistent saying this, win or lose we've got to keep making Australians proud of how we go about our business," a jubilant Langer said.
Coming into Day 5 at 136 for 3, Australia needed a mammoth 326 more runs to win on a deteriorating Dubai pitch or survive the whole day against the likes of Yasir Shah and Bilal Asif. While not many would have put their money on the latter happening, Usman Khawaja's gritty century backed up by Time Paine's 194-ball 61 helped the visitors save the Test.
In all, Australia survived a remarkable 139.5 overs - the second-highest number of overs a team has batted in the final innings of a Test - to earn a draw. This, after they collapsed from 142 for 0 to 202 allout in the first innings. Langer, who was then seen having a chat with Travis Head, Khawaja, Shaun Marsh, and Matthew Renshaw said that the talks largely revolved around how to approach on the surface as a left-hander.
"We just talked about as a left-hander... I'm a batting tragic. I love it. I've got a batting coach Hickey, he's a great bloke but every now and then I just like to get my hands dirty," said Langer.
"I love talking about batting and especially left-handers. We're different breed left-handers, we've got to get our eyes that way... but anyway... but just recognise you've got to have a game plan. They had to recognise that the rough is going to play a part in the game and then work out how you're going to play it."
The chat seemed to have done wonders for the Australian setup with Khawaja (141 in 302) and Head (75 in 175) battling for over 12 hours to save the Test for Australia. This, after Aaron Finch had a sparkling debut with scores of 62 and 49 in the two innings.
"We'll talk about the good news story first and that's Aaron Finch, again I'm so pumped for him. One thing I know in great teams is not just preparation and good spirit, but one of the main building blocks is a really strong opening partnership," he said.