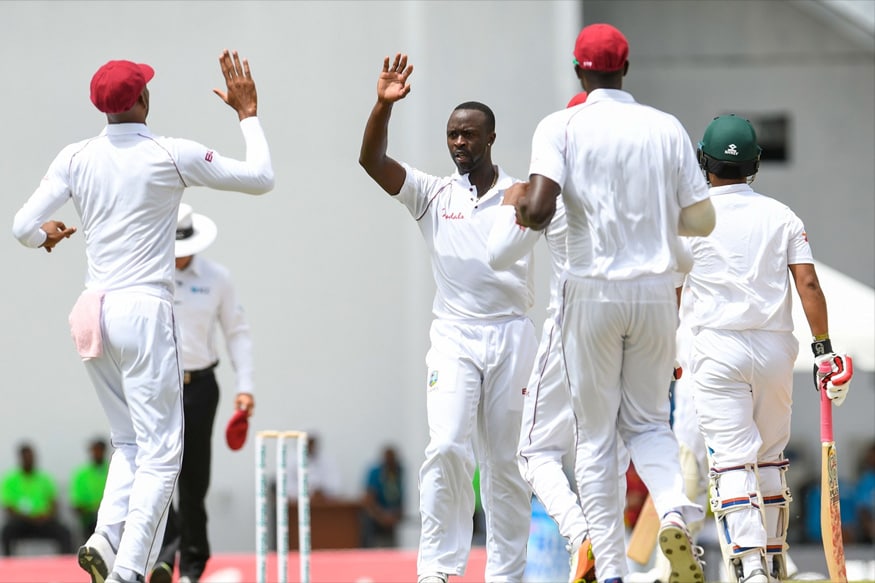 West Indies have the worst win-loss ratio (0.407) amongst all major Test teams in the last 5 years. They have played 46 Tests and won just 11 in this period. In terms of series, they have lost 12 and drawn 2. They have won just 3 series in this period – two against Bangladesh and one against Zimbabwe.
Their recent drubbing against India in Rajkot – their second-worst defeat ever in Test cricket – a testimony to the sorry tale of West Indies in Test cricket.
Although the last few years have been a struggle, there have been moments and occasions where there has been some glimmer of hope.
There have been two players whose contributions have been central to the limited success West Indies has had in this period – Jason Holder and Kemar Roach. While Holder sat out at Rajkot due to an ankle injury, Roach had to rush back home due to the death of his grandmother.
It was a twin blow to the West Indies – their captain and premier all-rounder and the spearhead of the bowling attack – both were out of the series opener.
How much did this cost the West Indies?
Let us try and find out.
Holder and Roach have picked 81 and 78 wickets respectively for the West Indies in the last 5 years. Only Shannon Gabriel with 102 has picked more.
Their Bowling Averages of 28.96 (Roach) and 29.35 (Holder) are the highest for West Indies in this period.
Just for perspective, this is lower (and hence better) than the likes of Mohammed Shami, Ishant Sharma, Peter Siddle, Mohammad Amir and Wahab Riaz amongst other noteworthy fast bowlers during this period.
Roach's strike rate (balls per wicket) of 54 is amongst the top 15 fast bowlers.
West Indies' fast bowlers have taken 14 fifers and two 10-wicket hauls in this period – 7 fifers and one 10-wicket haul have been shared between Roach and Holder.
Holder has also been one of the leading all-rounders in world cricket in this period. Amongst the 18 all-rounders who have scored at least 500 runs and picked at least 40 wickets from October 2013, Holder comes in at number 5 in Batting Average – Bowling Average (runs scored/wicket – runs conceded/wicket).
Amongst fast bowling all-rounders, Holder is second only to Philander.
Holder has been the highest scorer from the Number 8 position in the world since his debut (June 2014). His 832 runs have come at an average of 28.68 and have included a hundred and four fifties.
No number 8 has faced more deliveries than Holder (1499) in this period – he has kept the lower-order together with some gritty batting often bailing the West Indies out from difficult situations batting with the tail. He has also picked wickets at crucial moments in the match. Some of his noteworthy performances include an unbeaten match-saving 103 in 149 deliveries from Number 8 against England at North Sound in 2015, another match-saving 64 off 99 balls against India in Kingston in 2016, 5/30 at Sharjah vs Pakistan in 2016, 58 in 124 deliveries and 6 wickets vs Pakistan in Bridgetown in 2017.
Holder averages 14.10 with the ball in the 8 Test wins he has been a part of since his debut – the best average for any West Indian bowler in the last 5 years. West Indies has just won 10 Tests since his debut – this shows how crucial Holder has been to the team. His strike rate of picking a wicket every 6 overs is also the best for any West Indian bowler in these matches.
Roach has also done exceptionally well averaging 21.23 and picking a wicket every 7 overs in 7 victorious matches.
SERIES-PERFORMANCES:
West Indies has played 18 series in the last five years. In 9 of these, either Roach or Holder have been the highest/second-highest wicket-takers – this further highlights how dependent West Indies has been on the two of them.
Let us have a look at their performances when West Indies either won or drew a series:
- Bangladesh in West Indies, 2014 (Won): Roach second-highest wicket taker (leading pace bowler)
- The Wisden Trophy, 2015, (Draw): Holder second-highest wicket-taker amongst West Indian bowlers and averages 37 with the bat
- West Indies in Zimbabwe, 2017/18 (Won): Holder averages 47.33 with the bat.
Roach with 8 wickets is the highest wicket-taker amongst West Indian pacemen
- Sobers/Tissera Trophy, 2018 (Draw): Holder with 198 runs is the fourth-highest run getter. He picked up 12 wickets in the series while Roach scalped 11
- Bangladesh in West Indies, 2018 (Won): Holder is the star of the series with 16 wickets at an astonishing average of 8.93 and strike rate of 16
FORM:
Holder has been exceptional with the ball since the beginning of 2017. He has picked 50 wickets at a very impressive average of 22.14 – only seven bowlers in the world have conceded less runs per wicket than Holder in this period.
Holder has also been the fifth-most restrictive bowler in the world in this period giving away just 2.55 runs per over. He uses his height and gets steep bounce and bowls a tight length and line just outside the off-stump.
His credentials with the bat haven't been bad either – in 14 Tests since 2017 he has aggregated above 50 in a match on six occasions – pretty decent for an all-rounder – as his average of 32.47 suggests.
His Batting Average – Bowling Average differential of 10.33 is the third-highest in this period only after Jadeja and Shakib-Al-Hasan – an indicator of the top all-rounder he has been in this period.
Roach has been in terrific form too. He has picked 39 wickets in his last 10 Tests at a fantastic average of 21.53 and strike rate of 42.3 – figures any fast bowler would be proud of.
It was a major setback for the West Indies to not have their premier all-rounder and fast bowler available at Rajkot. Holder, in addition, is also the captain of the young and inexperienced team – a responsibility he took over at just 23. He has been at the helm for 26 of his career 34 Tests and led with example. His cool and calm demeanour has kept the diverse personalities in the team together.
Having them back at Hyderabad should lift the morale of the team and hopefully produce a more competitive Test match.