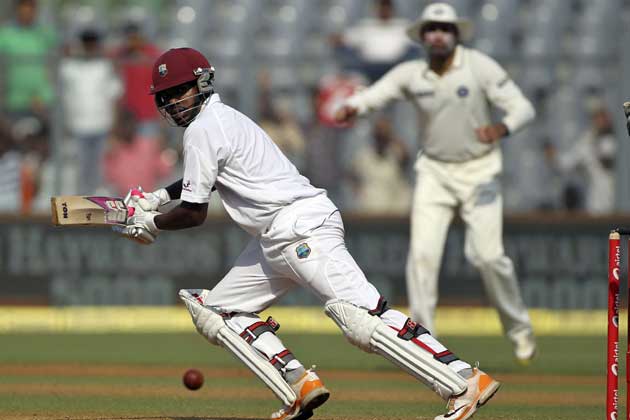 New Delhi: Provided they do not collectively lose their marbles in the first session on Wednesday, West Indies have had their best day on tour. A first-day total of 267 for the loss of just two wickets - on a good batting deck and, crucially, in the absence of Shivnarine Chanderpaul - is as good as the visitors have been in less than nine days of Test cricket since November.
For only the third time in their history, West Indies have their top four batsmen posting half-centuries. The 137 runs their openers put on after Darren Sammy opted to bat on what had been touted as a livelier pitch than in Delhi and Kolkata was West Indies' best start in five years. They may not win this Test, but they have begun in a promising manner.
That their success owed much to the first dodo-dead batting pitch of the series should not be surprising. There is enough riding on a certain individual's century that, after a dodgy Kotla wicket and a mud-cake Eden Gardens track, to speculate that this batting beauty was rolled out so that he could achieve the landmark in front of his home crowd. That the BCCI wants to attract more fans to the stadium is also enough reason to account for this kind of pitch.
But let's not take away credit from West Indies. Their latest opening pair, Adrian Barath and Kraigg Brathwaite, batted very well to post a century opening stand. Ishant Sharma and debutant Varun Aaron hit the 140kmph mark regularly but apart from a few plays-and-misses, the openers had few issues. Even a change of ball in just the fifth over didn't perturb the pair.
Most impressively, the batsmen didn't succumb to spin. On came Pragyan Ojha for the ninth over of the Test, but he was negotiated rather confidently. Barath and Brathwaite had clearly tightened up their techniques from Kolkata as evident by their steadfast defensive play. Also, they didn't go after the bowling. Instead they waited for the loose deliveries and cashed in. Only near the end of the morning session did they come down to the spinners and play aggressively.
Post lunch, India's bowlers toiled manfully on an unsupportive deck. Around the inside-edges and lapses of concentration, Barath and Braithwate met in the middle and punched gloves over a brief chat, no doubt an attempt to motivate each other. There were plenty of half-chances and edges that evaded the close catchers, but also two which should have stuck. In the 51st over, bowled by R Ashwin, Brathwaite was dropped at backward short leg by VVS Laxman who failed to latch onto a knee-high chance. The drop didn't cost India too much, as Brathwaite fell to Ashwin for the addition of only ten runs, but India needed more from their experienced catchers.
In the 79th over, with Darren Bravo on 33, Rahul Dravid was the culprit at slip. Ojha drew the outer edge with a straighter delivery but Dravid was slow to react, the ball hitting his thumb. Bravo went on to add and was unbeaten on 57 at stumps. His alliance with the in-form Kirk Edwards had by then reached 117 – from 32 overs – and this has extended on the good work of the openers. Wednesday promises much more toil for India.
India's muddled thinking was proven when the team management rested Umesh Yadav, coming off the back of a seven-wicket haul in the second Test. Yadav, 24, has only played two Tests, so what was the logic behind 'resting' him? A strapping young fast bowler – something of a rarity in these parts – being unearthed is an exciting prospect ahead of a tough tour to Australia and no doubt Yadav would have been eager to keep bowling. Here is a fresh, fast bowler in form and he was benched.
If the thinking was to blood another pace prospect, Jharkhand's Aaron, then there were other options to accommodate him. But instead India rested the one player who didn't need rest. It was, prima facie, the worst choice they could have made. That Yadav had picked up a niggle between Kolkata and Mumbai is the only plausible reason for his exclusion, though the team has not hinted at this.
In all, it was a forgettable day for India.