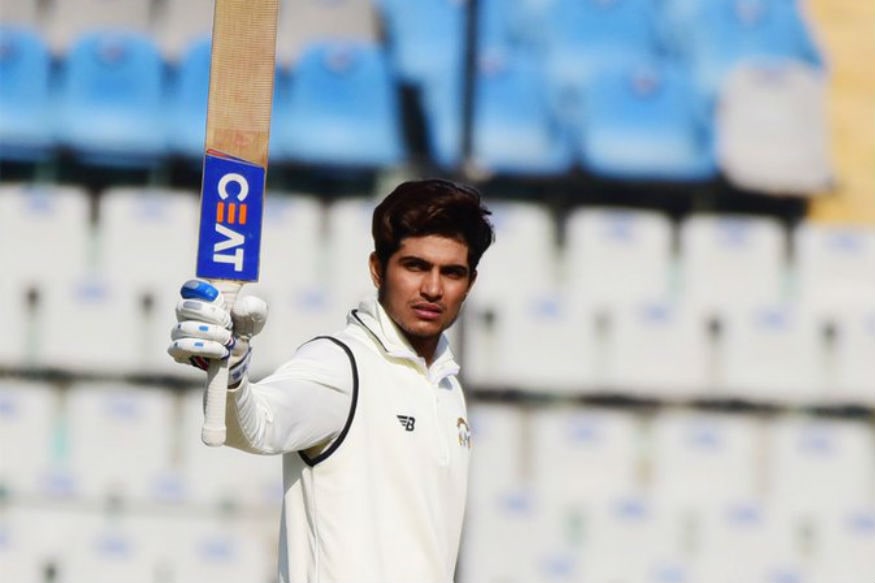 The clamour to get Shubman Gill into the senior Indian squad got further voice on Thursday when he became the youngest to score a first-class double-century for an Indian representative team, smashing his way to an unbeaten 204 for India A against West Indies A in the third and final unofficial Test at Brian Lara Stadium in Tarouba, Trinidad.
Expert observers and many fans believe Gill has the potential to be the next big thing of Indian cricket, a batsman capable of rising to take a place among the elite in the game, and this astonishing innings was yet more evidence of his promise.
Gill is just 19 years of age and hardly any time has passed since he was playing a starring role the Indian side to victory in the Under-19 World Cup in 2018. Vice-captain of the team led by another prodigy Prithvi Shaw, Gill was the leading run-getter for his side in that tournament, scoring 372 runs in six games studded with three half-centuries and a ton against Pakistan in the semi-final. A strike-rate of 112.38 and an average of 124 made him the obvious choice for the Man-of-the-tournament.
The similarities with Indian captain Virat Kohli, who charted a similar road to the Indian team with his title-winning performance in 2007 Under-19 World Cup, don't end there. The BCCI twitter handle was quick to notice their batting techniques were similar as well.
<ahref="https://twitter.com/hashtag/BestOf2018?src=hash&ref_src=twsrc%5Etfw">#BestOf2018 @imVkohli invents short-arm jab & @RealShubmanGill reproduces it #TeamIndia pic.twitter.com/Ur6CSS8r4q — BCCI (@BCCI) December 31, 2018
Born in Chak Khedevala, young Gill started honing his skills in Mohali from 2007. He graduated to Punjab's Vijay Merchant Under-16 squad for the 2013-14 season where he amassed 734 runs at an average of 73.40 in seven matches. The next year he piled on 1,018 runs at 92.54 in seven matches and was awarded the best Under-16 cricketer award by the BCCI in 2014-15 and 2015-2016, which also earned him a stint at the National Cricket Academy where he worked alongside Amol Muzumdar.
"While growing up, I always used to copy Sachin Tendulkar sir. For hours, I would try to copy his straight drives. But more recently, I try to model myself on Virat Kohli and try to cover drive or straight drive like Kohli," Gill had told CricketNext in an interview earlier this year.
His U-19 exploits didn't go unnoticed as the Kolkata Knight Riders went all out in pursuit of Gill in the IPL auctions in 2018 for Rs 1.8 crores. Gill didn't disappoint KKR, scoring 203 runs in 13 innings at a strike-rate of 146.04 including a top-score of 57 not out against Chennai Super Kings.
These performances were just the tip of the iceberg. Gill hit a purple patch for Punjab right from the start of the Ranji Trophy season last year. He had a sequence of scores of 56, 54*, 62, 268, 10, 148, 24, 69*, 91, 8 with at least a fifty in every game in the first half of the season which bought him into contention for an India call-up.
An ill-advised appearance by Hardik Pandya and KL Rahul on the TV show 'Koffee with Karan' and the duo's subsequent suspension meant Gill was flown to New Zealand for the ODI series at the start of the year.
"He is a young guy whose batting I like to watch. He is very exciting. He should serve India for a long time but that will also depend on how well he is looked after. Prime example is Rishabh Pant. When he was chosen for India, there were many who said he plays too many shots, is rash, doesn't have the mind. But after one year of being in and out, after one IPL, he has now two Test hundreds abroad. You have to look after your talented guys, give them the confidence to excel," former India batsman Yuvraj Singh, said about his fellow Punjab player Gill.
While it was too late for Gill to make a case for himself for the 2019 World Cup side, the youngster started the 2019-20 season on an eye-catching note. He was the man-of-the-series for India 'A' in the limited-overs games against West Indies 'A' and many including Gill believed he would be surely picked in the senior side for the tour of West Indies in at least one format.
Gill ended the five-game unofficial one-day series as the top run-getter for India with 218 runs in four games 54.5 with a strike-rate of 54.5 with three fifties and a top-score of 77 but was unlucky not be picked by the selectors but chairman MSK Prasad assured Gill will get his chances in the future.
"I was waiting for the Indian senior team to be announced on Sunday and I expected to be selected for at least one of the squads. It was disappointing not to get picked but I am not going to spend time thinking over it. I'll keep scoring runs and performing to the best of my ability to impress the selectors," Gill told CricketNext from Antigua ahead of the unofficial Tests against West Indies A. Even former India captain Sourav Ganguly called for Gill's inclusion in the Indian team.
There are many in the squad who can play all formats ..surprised not to see shubman gill ..Rahane in the one day squad.. — Sourav Ganguly (@SGanguly99)July 24, 2019
With his double century on Thursday, Gill beat the record set by Gautam Gambhir, who was 20 years and 124 days old when he had become the youngest Indian cricketer to score a double century in first-class cricket and served notice to the national selectors that time has perhaps come for them to blood him into the Indian side. With a long home season ahead, starting with the series against South Africa in October and Gill, who will lead India Blue side in Duleep Trophy later this month, will be keen on keeping his golden run alive.