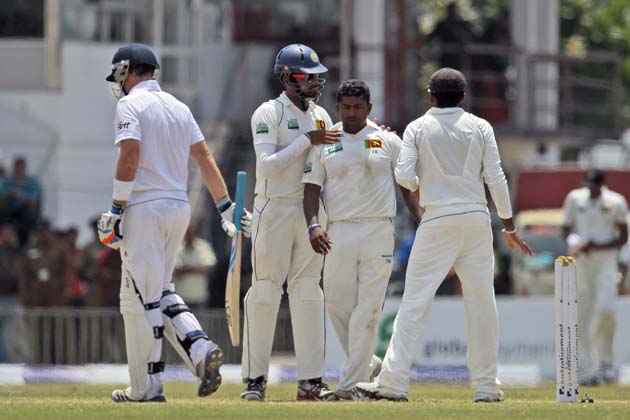 At the end of a fourth consecutive Test defeat in Asia, all of which have come since England became the No. 1 team in Test cricket, inside four days, the team's captain Andrew Strauss hit the nail on the head.
"In truth we made too many mistakes to win the game," he said. "We left ourselves too much to do, mainly with our batting in the first innings. In international cricket there's no room for mistakes. We had a great position in the first innings to go big but we all felt too softly. We probably didn't get the balance between attack and defence right."
England will indeed look back at their first innings in Galle and identify it as the reason they lost this match. Having kept Sri Lanka to 318 – out of which 180 came from Mahela Jayawardene's bat – England were bowled out for 193 to concede a 125-run lead. It proved decisive in the final result and, as Strauss lamented, it was because the batting faltered.
Alastair Cook was out for 0, missing the swing. Jonathan Trott was stumped trying to charge a full delivery from the left-arm spinner Rangana Herath. Strauss was beaten on the sweep. Kevin Pietersen was bowled on a booming drive when he didn't cover the line. Matt Prior and Samit Patel went back when they should have been forward. Stuart Broad too was consumed on the sweep. Only Ian Bell can consider to have been bowled by a peach of delivery. With their predetermined sweeps and misjudgments in playing back, England were fodder for Herath. It was muddled batting from England's batsmen, who didn't' appear to have learned how to play spin since the 3-0 blanking by Pakistan in the UAE.
Of the 20 England wickets to fall, 18 were against spin; 12 of those to Herath who took ten or more for the first time in a 36-Test career. Of those 18 dismissals to the slow-turning stuff, five were the result of poor sweep shots. The sweep shot is a premeditated shot, but England's batsmen were guilty of not reading the spinners' lengths. In the first innings, with Herath spinning the ball from the rough outside off stump, Strauss' attempt to sweep a full delivery was injudicious. Ditto for Broad.
In the second innings, Bell and Prior were out sweeping, Strauss and Pietersen skipped out only to chip to midwicket, and Patel held at cover. Trott's century and Prior's 41 aside, there was nothing to mention. England's batting line-up, as in the UAE, failed to pull its weight.
In this Test, Cook scored fewer runs than Sri Lanka's new-ball bowler and No.1 batsman Chanaka Welegedara, who scored the same runs as Pietersen did. Welegedara's bowling partner and No. 11 batsman Suranga Lakmal scored more runs in one innings than Patel – on debut – did in two. England have much to address going into the second Test, or else this tour threatens to end up like the trip to the UAE.
For Sri Lanka, the Man of the Match was Herath and few would have disputed that fact, though Mahela Jayawardene's silken 180 in the first innings proved equally instrumental in this win. Sri Lanka have struggled to find a match-winning bowler since the retirement of Muttiah Muralitharan and Herath, after a dip in form, is showing plenty of promise. Though not a sharp turner of the ball, he plugs away and makes up for what he lacks in bite with accuracy and perseverance. After a Man-of-the-Match performance in Sri Lanka's first Test win in South Africa at the end of last year, Herath has picked up a career-best haul in Galle. The signs are encouraging for Sri Lanka.