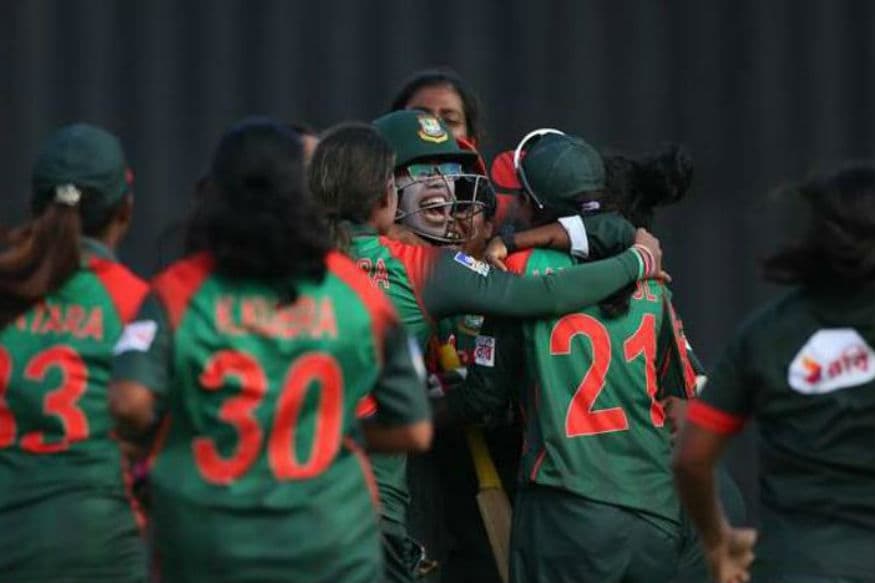 New Delhi: Bangladesh star Rumana Ahmed hailed her team's performance after they stunned defending champions India by seven wickets in the ongoing edition of the Women's Asia Cup in Kuala Lumpur on Wednesday.
Having beaten Malaysia and Thailand by comfortable margins in the first two matches respectively, Harmanpreet Kaur & Co. were found wanting in all departments as India lost their first ever match to Bangladesh in any format of the game.
Rumana put on a stunning all-round show for Bangladesh as she returned with match figures of 3/21 and during the chase, slammed a 34-ball 42 to help her team reach the target with two balls to spare.
After the match Rumana told ESPNcricinfo, "The dream has always been to come close to beating a team like India. That we've beaten them is a reality."
"When we arrived at the team hotel, the Pakistan players congratulated us in the lobby."
"We beat them the other day, and today they were congratulating us for beating India."
This was Bangladesh's first win against India in women's cricket across all formats. Without any doubt, this was the most memorable day for Bangladesh vice-captain Rumana.
"It hurts when you have to wait for your chances because you're the ninth-ranked team," Rumana said.
"Teams like India, Pakistan - they're in the top eight and play [ICC Women's Championship] matches all around the year. It's like you're made to feel you're not good enough, but I hope this goes some way towards changing that perception."
Apart from her individual brilliance, this win came on the back of some smart decisions by the team.
"If you see Harmanpreet [Kaur]'s records, she's scored 60-70 against us every other game," Rumana said.
"I remember telling a journalist the other day that I've not played against too many sensible female cricketers like Harman. Most of our bowlers struggle against her because it's difficult to contend with the power in her arms or the way she pierces the gaps. But we made sure we kept rotating our bowlers despite the terrible heat and humidity."
It could have been another fifty for Harmanpreet, but Rumana bowled a brilliant leg-break, that saw the back of the Indian batter.
Rumana also revealed how she strung a partnership with Fargana Hoque (52) to win the match. "When the equation came down to 32 off 24, Fargana and I told each other that we got this. Let's just keep calm and get this done. Just like we did the other day."
The vice-captain acknowledged the contribution of former coach David Capel.
"I think 60-70 % credit of these two wins goes to him. Many of the strategies I used while bowling today were based on David's theories. In the past 18 months, he taught us to envisage a day like today, to believe we can beat big teams. Wherever he is now, I hope he's proud of what we achieved today."