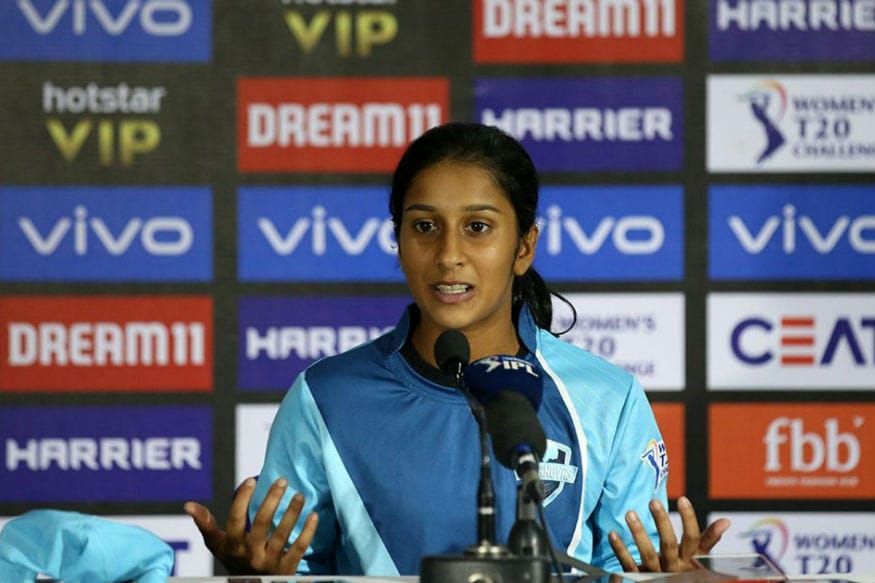 A beaming Jemimah Rodrigues said it was important for her to bat through the innings as the sluggish surface at the Sawai Mansingh Stadium made it very tough for a new batter to fire away from the get-go.
The 18-year-old slammed an unbeaten 48-ball 77 and accounted for more than half of her team's final total of 142/3. Her innings was crucial in driving Supernovas to a 12-run win against Velocity on Thursday (May 9).
"I think it was important for me to play throughout as I was batting pretty well," Rodrigues, who was awarded the player of the match, said at the post-match presentation ceremony.
"I am normally used to playing on such kind of surfaces. It is difficult for the new batsmen to come in and get settled. I took a bit time but I was meeting the ball well and just looked to time the ball. "
One of the hallmarks of Rodrigues' brilliant knock was how she pierced the gaps and found the boundaries without having to resort to brute force. In all, she slammed 10 fours and a six but rarely looked like hitting a shot in anger.
Rodrigues carted the bowlers to all corners of the park but the shot which gave her the most confidence, by her own admission, was the on-drive.
"My coach had told me to time the ball well and not try to hit it too hard and I just looked to get a proper impact on the ball," said Rodrigues.
"I think the confidence I get while playing the on-drive is something no other shot gives me."
Overall, Supernovas did not quite have the greatest of evenings, and captain Harmanpreet Kaur and the team had Rodrigues to thank for much of the job done.
"I think we didn't bat well in the first six overs but we still managed to score 140. Later on the bowlers did well," Harmanpreet said.
"As long as everyone is performing it helps the confidence. We just wanted to win the game and now, we can come up with more plans at the final."
Velocity did not quite get over the line but ensured they scored enough to qualify for the final. They needed 117 to get past Trailblazers and they did it with ease riding largely on Danielle Wyatt's 33-ball 43 followed by Mithali (40*) and Veda Krishnamurthy's (30) measured knocks.
"Initially we thought if the openers give us a good start, we'll definitely play to win," said Mithali on Velocity's game plan. "But considering we lost two early wickets, and I know our batting unit depends mostly on the top order, it was important that me and Veda could gather as many runs as possible. We knew that we needed 117 to qualify and everyone was aware about the plan.
"Danni played very well. If she had continued till the end, maybe we could have scored those runs by which we lost."
On where Velocity lost out in the first half of the game, Mithali said a few of the fast bowlers having an off day coupled with plenty of lapses on the field saw Supernovas go past the 140-run mark.
"When we fielded three fast bowlers, I thought if they bowled stump to stump, and on a nagging length, it would have helped. But couple of our bowlers didn't have a good day and a few misfields and dropped catches didn't help," admitted Mithali. "Still considering the kind of batting depth Supernovas had, we kind of restricted them to 142."
Mithali, who was one of those guilty of dropping a catch while the Supernovas were piling on the runs said that they weren't used to the floodlights, and that did not help.
"It does get difficult under lights as the girls aren't used to it. They do practice but it takes time to get adjusted to," said the Velocity captain.
The two teams will come up against each other once again in the final on May 11 in Jaipur.​