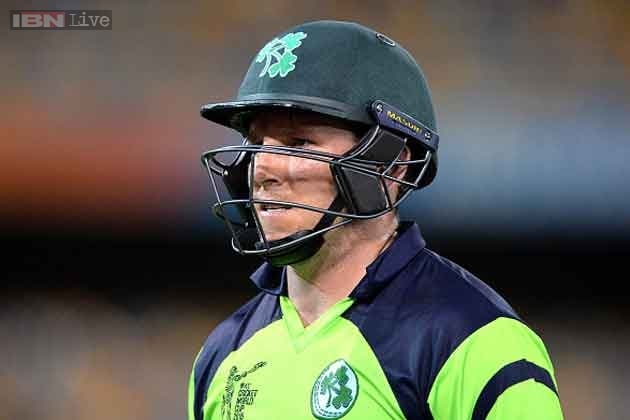 Brisbane: Ireland's Gary Wilson said the side had done all that could be asked of them ahead of their World Cup clash against South Africa after they made it two wins out of two with a thrilling victory over the United Arab Emirates.
Wilson's composed 80 and a quickfire 24-ball fifty from Kevin O'Brien revived Ireland, who had been faltering at 97 for four and 171 for five, in pursuit of a target of 279 set by their fellow non-Test nation.
Wilson couldn't quite seal the deal, his 69-ball innings including nine fours ending when Ireland were in sight of victory.
There were a few more twists and turns before the Irish, in the match of the tournament so far, got home for a two-wicket win with four balls to spare.
This result left Ireland, who started the tournament with a four-wicket win over the West Indies, third in Pool B and on course for the quarter-finals.
But next up comes, what on paper at least, should be their toughest assignment of the World Cup so far when they face South Africa, one of the pre-tournament favourites, in Canberra on March 3.
"We're two from two, so that's all we can ask at this stage of the competition," said Wilson, after his Man of the Match winning innings against the UAE.
"This was a little bit closer than we would have liked, but we've got four points, and that's all we can ask for right now."
All four non-Test nations competing at this World Cup - Ireland, UAE, Afghanistan and Scotland - have been vocal in their opposition to plans to reduce the number of teams taking part at the 2019 World Cup in England from the current 14 to 10.
The proposal has led to widespread criticism of the International Cricket Council.
And Surrey wicketkeeper Wilson, one of several Ireland players who also turn out for an English county, couldn't resist having a dig.
"Just remind me, was it two teams outside the top eight that played this game that made it a good game?"
Wilson received excellent support from Kevin O'Brien in a sixth-wicket stand of 72 that turned the match Ireland's way.
Power-hitter O'Brien took just 24 balls to compile a fifty, reviving memories of his stunning innings four years ago when his fastest-ever World Cup hundred led Ireland to victory over England in Bangalore.
"I've batted a lot with Kev over the last 10 years, maybe even longer, probably the last 15 years, last year at Surrey and then with Ireland," said Wilson.
"Obviously I just poked it for one and he hits it out of the ground. It was great."
Ireland captain William Porterfield said O'Brien's latest whirlwind innings had come as no surprise.
"You'd see it a bit more often if we had more games," as he reiterated his call for Ireland to be given more top-class fixtures between World Cups.
"It's pretty much the way it is, every four years we play big games, and if we played a few more in between you'd see it a bit more often."
Ireland were made to fight all the way by the amateurs from the UAE, with Shaiman Anwar scoring the Middle East side's first World Cup century in a total of 278 for nine.
"He played really well," said Wilson. "We've played against him a lot in the past, as well, and he's a good player."