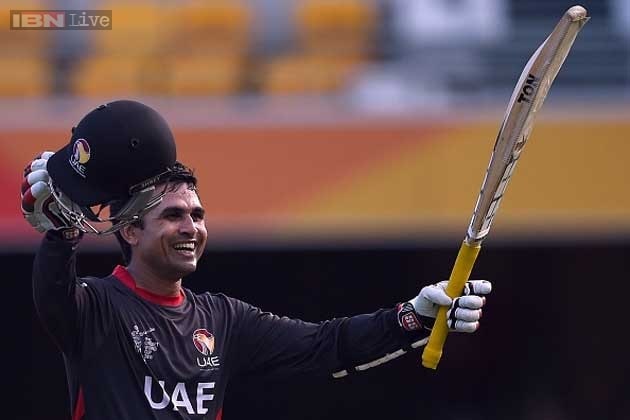 Perth: Until Wednesday afternoon, Shaiman Anwar was a relatively anonymous cricketer playing for an unfashionable team in the 2015 World Cup. Then, he smashed a 79-ball hundred against Ireland, the fastest by a UAE batsman in one-day international cricket, and his world hasn't been the same since.
By his own admission, his phone has not stopped ringing - 'Sometimes I wish I didn't have to touch it for 15 minutes at a stretch, but I do like the feeling' - since his whirlwind 106 that almost set up a sensational victory against the Irish at the Gabba on Wednesday (February 25). Shaiman is basking in the adulation, but without pomp or fanfare. He knows he is the star of his team, but he doesn't behave like a star. There is something refreshingly earthy and grounded about the man born in Sialkot 35 summers ago.
In recognition of his big-hitting skills in domestic cricket in the UAE, he is referred to as Sixer Shaiman. That's a far cry from his early days in cricket when he modelled his batting after Rahul Dravid. Shaiman played first-class cricket for Sialkot - 'Shoaib Malik and Imran Nazir were my team-mates' - but then the doors opened for him in the UAE. And how.
Today, Shaiman is a star attraction at the Wings SRT Cricket Club. The club was originally called Wings Cricket Club but then changed its name a day after Sachin Tendulkar played his last international game, as a tribute to the maestro. Neeraj Ramamoorthy, its owner, is a massive cricket enthusiast who saw potential in Shaiman; Wings SRT also boasts Afghanistan internationals Mohammad Nabi and Samiullah Shenwari in its ranks, as well as Khurram Khan, the former UAE skipper who is now vice-captain of the current team and a key middle-order batting stalwart.
Shaiman himself might not have envisioned the world of possibilities after starting off as a driver in a shipping company in Dubai. He is now an admin executive at the petroleum storage terminal of Trotters Group, owned by Ramamoorthy, in the industrial area of Al Quoz, though by his own admission, he has little time for anything apart from cricket.
"I used to come to Dubai to play professional cricket for companies," Shaiman tells Wisden India in the hotel lobby, oblivious to the music and festivities around us. "After three years, they offered me a visa. It was a good opportunity and the offer was good as well. So I applied for a job; it has been eight years now in the UAE. I have a job, but mainly I only play cricket. Thanks to God, my passion is almost complete, I am playing in the World Cup. It was a dream for all of us to qualify for the World Cup. That dream has been realised, we are playing and performing well."
His eyes take on a glazed look as he talks about the World Cup experience, and especially the hundred that has catapulted him into limelight. "I had no idea that the hundred was so special. To me, it was just a normal game. But afterwards, from the reactions from all over the world - it has been more than 24 hours but I have hardly put the mobile down. Everyone is contacting me from all over the world with good wishes. It feels very good, seeing all this," he says, the words tumbling out breathlessly and the decibel level going up a notch or three. "I never ever imagined that the World Cup would elicit such a response. Now I have an idea of how big this event is. I want that the entire team enjoys this and performs well. What I am feeling now, everyone should experience the same feeling so that he can progress to the next level. That will be good for him and for the team, and he will have the respect of everyone concerned. I am very delighted, but I have also been very busy replying to phone calls and messages."
One of Shaiman's great strengths, people who have been associated with him for a long time tell us, is his calmness and poise. "I never have taken any pressure on myself," he agrees, with pride. "Even in our first game (against Zimbabwe), I didn't feel that it was the World Cup. I took it as just another game in another tournament. But after the century, I have now realised what a huge platform this is. The next match is almost here now (against India on Saturday) and now the expectations have become more. I will try my best to meet them. I have gone in in both matches at crucial stages. We had lost wickets, didn't have enough runs on the board, the run-rate was average. I had to score fast and not get out. I had to play with responsibility but also look for runs to help the bowlers, to keep them relaxed and give them a chance to win us the game. In both matches, fortunately that has happened.
"So I am a World Cup centurion but as I said earlier, I don't take pressure. Maybe in future, I might feel the pressure. It depends on the conditions, the state of the match, the bowler or the pitch. Otherwise, from whatever cricket I have played, I am very relaxed. Because of the reactions of the others, I feel that this is a World Cup. People are saying I made runs under pressure in both games, but I never felt any pressure. I just played normally. Everyone is telling the UAE team, 'Well done, we didn't expect you to do as well as you have done'. When we played Ireland, I felt both teams were evenly matched. The match changed in the last five overs, they played well and won. Both teams are at the same level, it is good for both teams. But then, Ireland had beaten West Indies, and as Associate nations, it is very good for us if we can beat a Test-playing nation. It is a motivating factor for us, to give the Test nations a tough time. No doubt their experience and pedigree is better and we can't always expect to beat them, but if there is a chance for us, we should try to grab those moments. If we make good decisions, something good will come out of it."
Shaiman's parents still live in Pakistan, while he himself resides in Dubai with his wife and daughter. He travels reasonably often to Pakistan, maybe for a couple of days once in three or four months, where he catches up with old friends, among them Haris Sohail, the left-hand Pakistani batsman. "He was my junior in Sialkot, he was a very good player even then. I never thought he would get into the Pakistan team so early. He is a good cricketer, he performed very well in first-class cricket. It is nice to see a young guy, a new guy, adjust so well in the Pakistan team and win matches for the team. We are pretty close; we are from the same city and sometimes we meet up in Pakistan. I have a younger brother, Arsalan Anwar, who made a century on debut (and in his only match) in an Under-19 'Test' against Sri Lanka. But then he went to England to study. I wanted him to study, I didn't want both of us to focus only on cricket. Then he got a job and got married, and his priorities are more professional than cricket," he adds wistfully, perhaps hoping that his younger sibling had had the same opportunity to savour success at the international level that he himself has.
Next up for Shaiman is the India challenge. As someone born in Pakistan, how much is he looking forward to playing against India? "It is my first World Cup, it will be my first match against India," he smiles. "Like I said before, it wasn't until I was swamped by the reactions from across the world that I realise how big a stage the World Cup is, what playing in the World Cup means. Until then, I never viewed the event with the respect it has, I was just playing normal cricket. Maybe if I had thought this was the World Cup, it is a big match, I am playing in Australia, on pitches with pace and bounce, then it might have bogged me down.
"For now, there is neither confusion nor problem. So long as we are performing, from a technical point of view, it is good because you have to see the performances, not on which pitch you are playing or what the weather conditions are like. There will be greater expectations on me now, I will try to bat as long as possible so that we can take the match deep into the contest," he says, adroitly sidestepping the India angle. Talk about nifty footwork.
Shaiman is no stranger to the WACA, having played two matches against a Western Australia XI in November. And after his exploits on Wednesday, he is not a stranger anymore to the cricketing world either. From driver of vehicles to driver of the cricket ball, fluid and powerful, Shaiman Anwar, UAE's second ODI centurion after Khurram Khan, has indeed come a long way.