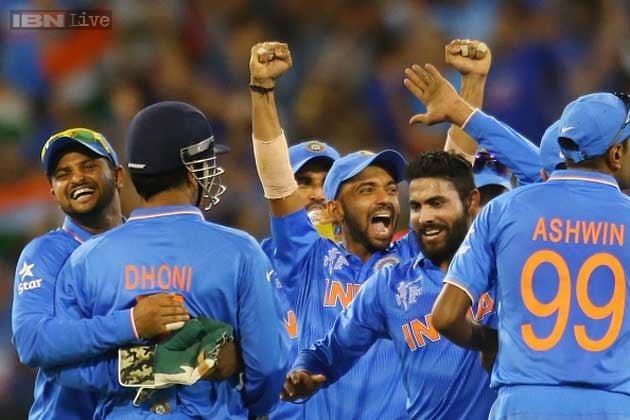 New Delhi: With most of the Indian batsmen striking form in the ongoing cricket World Cup, former India player V V S Laxman believes that the team's batting line-up was primed to do well in the knock-out stage.
India rode Suresh Raina's unbeaten 110 to chase down a 288-run target against Zimbabwe in their last league game to end on top of Pool B. They meet Bangladesh in their quarter-final match at the MCG on Thursday.
"I am very happy to see Suresh Raina amongst the run scorers. India's top-four have had enough exposure so far and they seem to be in a good touch," Laxman, who is a part of the Star Sports Hindi commentary panel for the World Cup, told PTI.
If Man-of-the-Match Raina led the batting attack, then captain Mahendra Singh Dhoni once again showed his class with an unbeaten 85 off 76 deliveries. 'Captain Cool' stitched a 196-run unbeaten fifth wicket partnership with Raina to make things easy for India after the team looked in trouble at 92 for four.
Laxman could not stop praising Dhoni 'the player' and 'captain'.
"One thing which impresses me a lot about Dhoni is his style of adapting to different situations in the game. Dhoni reads situations well and always has a plan ready. Dhoni had been handed the responsibility of captaincy very early in his career and I believe that he has made the most out of it," said the stylish Hyderabadi batsman.
With that win over Zimbabwe by six wickets, India finished with an all-win record in their six group league matches, thereby stretching their number of successive victories in the tournament to 10 over two editions surpassing Clive Lloyd's West Indies' record from the start of 1975 Prudential Cup to the first match of 1983 edition (losing to India at Old Trafford).
They only have Australia in front of them, with 24 straight wins between 1999 and 2011 editions.
Laxman is impressed with Dhoni's approach as captain in this tournament.
"He has handled his team very well so far in the tournament. He was always criticised for not talking to the bowlers during the game, but in this tournament especially he has taken an extra effort to go and speak to the bowlers and guide his team to bowl as per the situation," said Laxman.
India turned their fortunes in the World Cup after a lacklustre show in Test matches and the tri-series and Laxman was all praise for the team's all-round display.
"Team India has shown its strength in all departments.
The three seamers took three wickets each in the first innings (against Zimbabwe). They (India) were in a sticky situation in the second innings as they had lost four early wickets. But, a brilliant partnership between Raina and Dhoni stole the show and got India to victory," concluded Laxman.