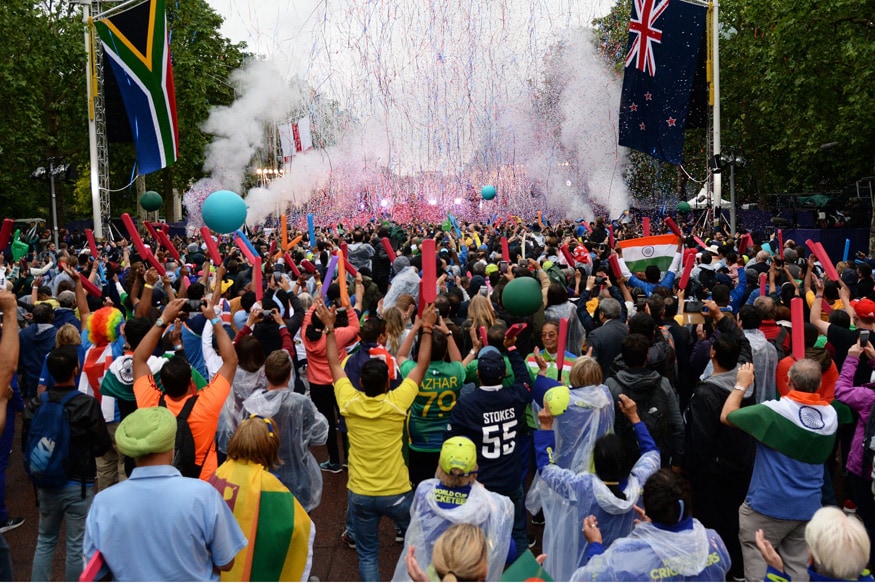 Nearly ruled out of World Cup with back injury
Signs were clear that my debut World Cup as a reporter was going to be an eventful one, even before my journey to London started. Two months away from home is tough for many reasons, but one of my biggest worries was that I'd miss plenty of cricket. Not watching, but playing. So, a couple of days before I was scheduled to leave, the over enthusiastic cricketer in me decided to play a T20 game for my club in one of those million grounds in Sarjapur, on the outskirts of Bangalore. Four overs of gentle medium pace later, I became quite literally immobile. My back wouldn't bend or move for the next 48 hours, punishing me for not going through the pre-match warm ups.
Now that I had turned into a statue, I had no option but to pay the ortho a rather costly visit. A few tests later, I was told I needn't worry as I had 'only' back spasms and no slipped disc. Small mercies. A few painkillers, a couple of injections and physiotherapy sessions later, I was cleared to travel. 'Journalist ruled out of World Cup with back injury' was staring at me, but there was no way I was going to miss the chance to cover the World Cup.
The deja vu immigration officer conversation
"What brings you here?"
"I'm here to cover the World Cup"
"Who do you think will win it?"
"Looks like it's going to be England"
"Correct answer"
*Gates open*
It was the safest answer I could give to ensure I'm allowed entry into England without hiccups. I would have still been allowed an entry even if I had said Afghanistan, but at least my answer made the officer happy. Little did he know though, that I was asked the exact same question a couple of years back during the Champions Trophy, and I had given the exact same answer. Deja vu. We all know how that tournament ended, let's see how this one goes.
Is there a World Cup on?
It's called the 'world's greatest cricket celebration', but it hardly feels like one in the lead up to the tournament. Not much advertisement, no buzz, no noise. London isn't exactly Mumbai or any other Indian city, but you still expect a bit more anticipation especially given the World Cup is returning after 20 years. The first signs that there is a World Cup in the vicinity comes only at the Vauxhall station, which is a few metres away from the Oval.
Fortunately, there is plenty of noise on the match day, with England kicking off the tournament against South Africa.
The most unlikeliest of CSK/Dhoni fans in the most unlikeliest of games
It's England v South Africa. It's the World Cup. It's at the Oval. There are plenty of people wearing the new powder blue English jerseys everywhere. There are even a few wearing the South African green.
And then I spot them. The two kids from England wearing the Chennai Super Kings yellow, with the Dhoni 7 on the back. An antenna in my head immediately tells me this is social media viral material; my twitter notifications haven't stopped to date, with the picture indeed going viral on twitter and instagram.
Is there a World Cup on - Southampton edition
If London was quiet, Southampton is...well, let's just say quieter. There is quite literally nothing happening in the city that suggests a World Cup is a few days away. The Indian team has arrived early, and so have a couple of us journalists. The Indians train every alternate day leading to their tournament opener, and there's little to do as journalists on non-practise days. Whether or not the players are getting restless, we definitely are. Just start playing!
Follow the World Cup with ears, not eyes
It's easier to watch the World Cup in India than in England. Perhaps due to cost reasons, the televisions in hotels do not subscribe to Sky Sports, the official broadcasters. It's sad and frustrating at the same time, given it's a tournament of this magnitude.
Well, it's not like the situation is just for us journalists. According to reports, the Australian team hotel at Bristol too did not have the Sky subscription. The ICC has given each team 20 voucher codes to watch the tournament on Tablets. It's learnt that the Indian team is using a projector in the team room for the interested ones to follow the action.
100 TV channels in our hotels in England, but no WC cricket on any of the channels. Strange land this...England.

— Sanjay Manjrekar (@sanjaymanjrekar) June 3, 2019
My rather optimistic appeals at the hotel reception go in vain, thus leaving me with no option but to 'listen' to the World Cup action on BBC radio. It's different, and fun, I must say.
The fire alarm
It's a lazy and cold Sunday morning, and I somehow manage to drag myself down for breakfast in my hotel, which is right across the Ageas Bowl. Why miss free - or complimentary as they call it - food especially when you're struggling for vegetarian options?
The peaceful meal is rather rudely interrupted by the fire alarm blaring. The hotel staff swiftly get into action, asking us to head out to the Fire Assembly Point. I wonder if I should take my plate along, and make my way out.
The hotel is evacuated, and we stand outside for a good one hour when the authorities attended to the situation. The fire, or smoke, wasn't visible but a part of me was worried about my passport and laptop. All is well that ends well though.
And no, I didn't take my plate outside.
The press conference drama
After a quiet build up over the last one week, the Ageas Bowl saw a lot more activity on Monday with multiple Indian journalists arriving at the venue. It was supposed to be India's first press conference since KL Rahul's interaction on May 28, but things took an unexpected turn. The Indian team representative informed the media that they could only send Avesh Khan and Deepak Chahar, the two net bowlers who were set to leave for India soon. The media wanted someone from the main squad given there were just two days to go for the World Cup. The request was rejected, and it was unanimously decided that there wasn't much context in talking to Chahar and Avesh. Was I a part of a rare boycott of a player interaction by the press? Eventful indeed.