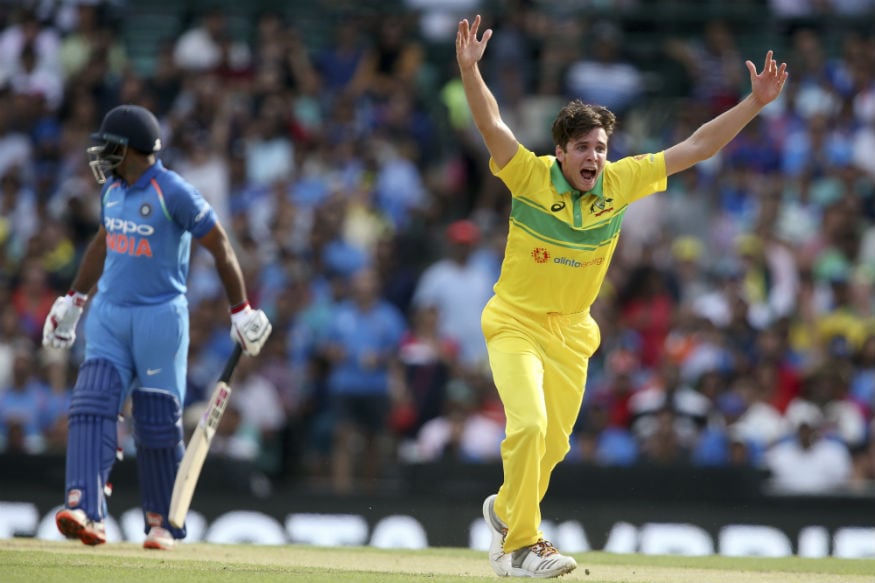 Jhye Richardson's career has taken a meteoric rise within a span of a few months. Having achieved a lifelong dream of playing Test cricket, the pacer is now looking to tick off a few more things on his bucket list - being a part of the World Cup and Ashes side.
"I fulfilled one of my dreams, another one of mine is to play in a World Cup and Ashes cricket. Going forward, if that happens I'm going to be over the moon," the 22-year-old told reporters in Perth.
"I'll keep plugging away, keep the body right, keep bowling fast and see what happens.
"I'd love to be involved in both. A World Cup doesn't come around very often and Ashes are very, very special for Australian cricket."
Just 16 games old in international cricket, Richardson has garnered praise from one and all including his idol Dale Steyn. The pacer showed glimpses of his talent in the five-match One-Day International series against India and soon was drafted into the Test side against Sri Lanka as well, where he was again impressive. In the two Tests, he picked up six wickets bowling at good speeds throughout.
While he admitted there was nervousness, he insisted all of it vanished once he bowled his first ball in Test cricket.
"All the nerves released after the first over in Brisbane," remarked Richardson. "You always hope to play Test cricket but I just took it one game at a time … and if you bowl well and you are lucky enough to get rewarded then things happen.
"Dealing with the emotion of rising to the top of your game to play Test cricket for Australia was the hardest thing.
"I didn't pick up all that many wickets in Canberra but I am happy with the way I bowled."
While he has been touted for greater things, Richardson is making sure he does not get too ahead of himself and is keeping himself as grounded as possible.
"It is such a cliché in cricket but it is so important in cricket to stay present and just concentrate on the next thing," he said. "If you get too far ahead of yourself, that's where things go downhill."
Speaking of the lessons he learnt in his maiden Test series, Richardson said that he tried his best to not put too much pressure on himself. With a busy schedule ahead of them, Richardson remains an important cog in the Australian pace unit and he says he just wants to keep things as simple as possible.
"I was obviously really excited and there was a lot of emotion going through my body, and a lot of nerves, but being able to keep grounded and not release pressure by trying too hard," Richardson said.
"You need to keep things really simple, that was the main one.
"I'll keep going about it the way I've been going, keep training hard, working hard and if I'm lucky enough for it to happen over the next six months, then that's great."