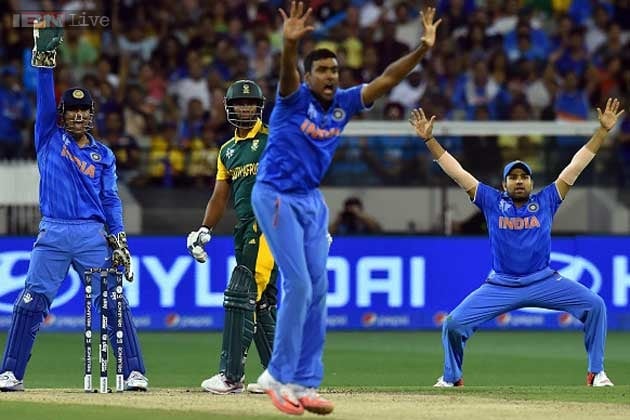 (Former India wicketkeeper and selector Kiran More, IBN World Cup Cricket Expert, is contributing exclusively for Cricketnext. Catch him Live in pre- and post-match shows throughout the ICC World Cup 2015 only on CNN-IBN and IBN7)
After winning two matches of the World Cup against top teams back to back, India shouldn't take matches against the minnows lightly.
India have defeated Pakistan and then South Africa, but they shouldn't forget how UAE have performed in the tournament. We know that Ireland are winless in the tournament but they have also played excellent cricket and shown fighting spirit also. They are a tough side and we shouldn't take them lightly either.
My advice to Team India is to prepare as we did against Pakistan and South Africa. For me, it is as big as the first two matches were.
Death bowling has troubled India. We do not have many options now. Ishant Sharma is already out, so the entire burden is on Mohammed Shami and Umesh Yadav. We are hoping to get Bhuvneshwar Kumar back fit soon. He can do wonders on New Zealand pitches. But the way Mohit Sharma has transformed himself, it is outstanding. He has got variety in his bowling. He is a sharp bowler and can be very useful in death.
One thing I would like to say is we should continue to field as we are, attack the ball and hold onto our catches. Fielding is something which plays a major role in winning a game.
Going into the third match of the tournament, I would advise MS Dhoni to make just one change, if he wants to. The Indian captain can replace Shami with Bhuvneshwar. This will not only give Shami some rest but also offer Bhuvneshwar a chance to test himself as we are going to play against a small team.
If we talk about allrounders, Ravindra Jadeja will be the key for us in this World Cup. He is an important member of the squad. He doesn't get carried away easily. He should consistently be part of the eleven ahead of Stuart Binny.
It is a good sign that our opening woes have somewhat been sorted. Rohit Sharma hasn't been impressive in the first two games but I firmly believe he will come into his own soon. We should see him back to his run-scoring ways in the upcoming matches. His presence balances out the Indian eleven. Not only is he a good batsman, he is a good fielder as well.
India are on top of Pool B. They should not find any difficulty going through to the quarters. But I won't be surprised to see Ireland going into the quarters and Pakistan ousted as they are yet to face the wounded South Africans besides the dangerous Ireland. They have lost their first two games (against India and West Indies) and Pakistan beating South Africa doesn't look like a possibility. If you ask me, India, South Africa, West Indies and Ireland are the four teams that will make it to the quarter-finals from this pool.
Also I must mention that minnows are playing magnificent cricket and should get every chance to play big tournaments regularly. The best example is the current edition where we have seen their fighting spirit and play-to-win attitude. We have hardly seen any new teams coming into the Test fold for the past many years. Wouldn't that be good to see one of these teams gaining Test status? Let's give them a chance and encourage their cricket.
Brief Bio: Kiran More played 49 Tests and 94 ODIs for India, including the 1992 ICC World Cup, from 1984 to 1993. He is a also a former BCCI selector.
(As told to Amit Kumar, Senior Sub-Editor, Cricketnext)