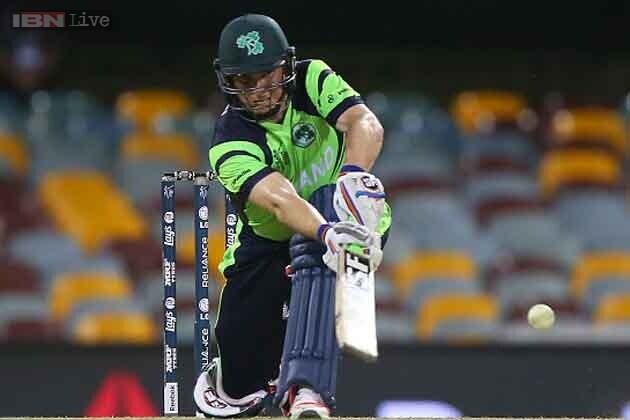 Brisbane: A team that comfortably beats West Indies chasing in excess of 300 should not lose to the United Arab Emirates in search of 279. But Ireland discovered that cricket does not follow form sheets, that the game does not bend to any one team's will, and that every single run and wicket has to be earned.
They did, however, cling on to the dream to secure a two-wicket win in the last over, and pick up two more vital points in the Pool B clash on Wednesday (February 25).
At the Australian fortress in Brisbane that cricket fans know simply as the Gabba, William Porterfield won the toss and put UAE in. Amjad Ali and Andri Berenger, all flailing arms and chancy shots in their last game, against Zimbabwe at the Saxton Oval in Nelson, were remarkably settled. They set risk aside and chose instead to build a base, getting to 49 before they were separated.
But, if UAE hoped to make the most of a good start, they were in for another thing. Ireland introduced the offspin of Paul Stirling early and it paid off. Stirling stuck to his task in an uninterrupted spell and ended with excellent figures of 10-0-27-2. On top of restricting the opposition, the wickets Stirling took, of Berenger and Krishna Chandran, the latter for a duck, ensured that UAE could not build any momentum whatsoever.
This changed when Khurram Khan strode out to the middle and took charge of proceedings. Fluent as they come, Khurram showed that neither the opposition attack nor the conditions were insurmountable. Nudging, nurdling, whipping and working the ball away, Khurram looked good for a big one when he fell, against the run of play, given out lbw to the left-arm spin of George Dockrell when he had shimmied down the pitch. The appeal was a confident one, and when the finger went up, Khurram (36) was quick to review it, but despite being some way down the pitch the on-field decision stayed.
At 125 for 5, UAE were ripe for a collapse and a middling score. But Shaiman Anwar, who had showed the utmost urgency in his innings against Zimbabwe, had other ideas. Anwar, fidgety at the crease and not boasting the greatest of records - he came into the World Cup with only 196 runs from eight innings - showed once again how far a fearless attitude can take you.
Adding 107 runs in only 11.5 overs with Amjad Javed, a record seventh-wicket stand for the World Cup, Shaiman turned a no-contest into a scrap. Muscling his way to 106, off only 83 balls, the first century by a UAE batsman in World Cups, Shaiman took his team to 278 for 9 in 50 overs.
Ireland needed a good start and ideally for Stirling, who knows only one way to bat, which is hitting good balls and bad, to stay at the crease for a bit. But Manjula Guruge, the left-arm seamer with Sri Lankan origins playing his first game of the tournament, produced a peach that slanted away and induced the nick from Stirling's flashing blade.
Porterfield and Ed Joyce, the two daily breadwinners for Ireland, then consolidated, pushing the score along to 72 before UAE could celebrate again. Joyce (37) nicked one and soon after there was more trouble when Porterfield (37) swept and missed against Mohammad Tauqir and the wobble was on.
If Gary Wilson, Ireland's wicketkeeper, had not held his end firm, a rout would have been on the cards. But Wilson, who has turned out for Surrey and has the experience 60 first-class matches to fall back on, was not in a mood to give up.
Wilson never resorted to naked aggression, and the fact that he got to 80 off only 69 balls without once trying to hit a six was proof of how well he ran between the wickets and constructed his innings. There were some gorgeous shots, such as the inside-out hit over cover off Mohammed Naveed, and the crunching straight hit off the same bowler that nearly decapitated the umpire. But, when Wilson fell for 80, there was still work to be done.
Fortunately for Ireland, Kevin O'Brien did his thing when it mattered the most, clattering 50 off only 25 balls to ease the pressure. The game went down to the wire, but Ireland held their nerve enough to get across the line with two wickets and four balls to spare.
Follow @ScoreWithData for more World Cup 2015 stats and analysis
####