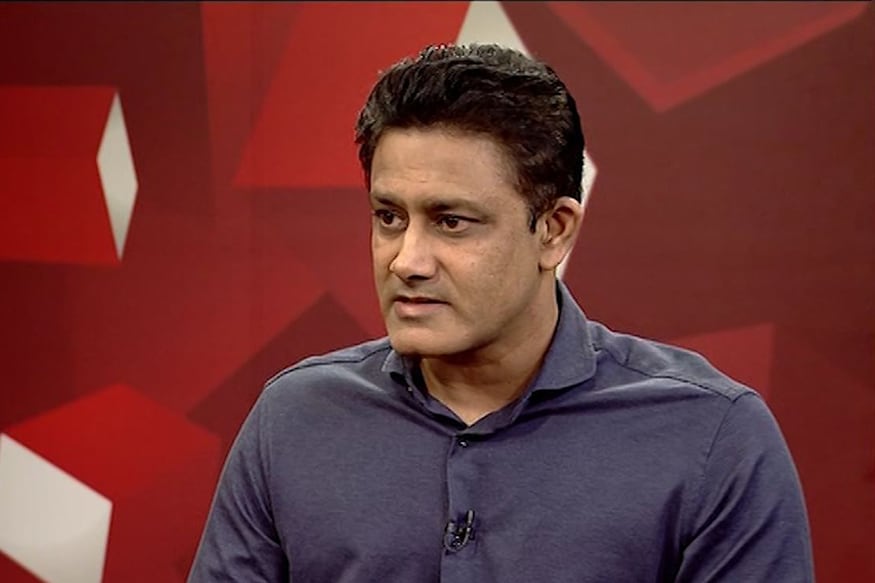 For Indian Cricket, 2019 was a year to remember. Although they endured the heartbreak of a World Cup semi-final loss, across formats, Virat Kohli and his men enjoyed tremendous success. Several players enhanced their reputations and a bunch of talented players came to the fore.
Former India Captain Anil Kumble reflects on the highs and lows of 2019 in this extensive interview and also sets the contours for how Indian cricket can continue to take strides forward in 2020.
GK: Let's begin by asking you if you're an Indian cricket supporter sitting on the outside, big picture first, it looks like Indian cricket is in a pretty healthy state.
AK: Yeah it is. The Indian performances throughout the year were extremely consistent. Yes, of course there was a disappointment of the World Cup but of you look at the overall players, the bench strength, the fast bowling, the batting strength and some of the key guys never got a game, with the talent that's available for India. So, overall extremely satisfied with the kind of players that India has in all the three formats. Yes, there's always scope for improvement but overall, the health of Indian cricket certainly looks good.
GK: One of the measures of judging a sporting unit's success or at least its health is the kind of backup that's available and that's one of the aspects that came to the fore this year. Every time a young or a new player was put into a situation, they seemed to be quite well-equipped to handle it and respond to it, and also the established players are getting pushed by these young players for these spots.
AK: That's the health of cricket. If you want good teams to be consistent over a period of time then you want the younger players to push the seniors within the format, within the group. I think in every format, there were new players pushing the seniors. I think that really augurs well for Indian cricket. There were a couple of injuries, when they had to look at some of the younger players to step up, they've done that. Whether it's Deepak Chahar, Navdeep Saini, even the spinners. Nadeem came in just for one game, he was very impressive. Kuldeep of course, hadn't had to many opportunities but he's done well whenever he's got a chance. Chahal has bowled well, of course the batting has heavily revolved around the big players - Virat Kohli, Rohit Sharma, KL Rahul has done well in the shorter formats. Pujara of course, and Ajinkya Rahane in Test cricket. Mayank Agarwal was certainly someone that Indian cricket is really looking forward to in the near future. How he continues to perform will be vital. This year was fabulous for him. I don't think anybody expected the fast bowlers to step up the way they have. There was always a fast bowling unit which had done really well in the last few years but this year was exceptional from the fast bowling unit. Then you have Ashwin again, reemphasizing his importance in Test match cricket. Jadeja has been phenomenal this year, both with bat and ball. So, overall, I think Indian cricket has had a fantastic 2019.
GK: Anil, I'd like you to spend a bit of time talking about the fast bowlers because if you had to pick out the one aspect of India's cricket that really stood out this year, then it was this quartet or this group of fast bowlers. They weren't just quick, they were menacing and consistent. Is that something that as a former player, captain, coach and someone who is so deeply invested in Indian cricket, you would say would be the biggest gain for India in this season?
AK: Yeah, absolutely. I think good team performs irrespective of the conditions and in Test match cricket you want bowling attack that can consistently pick 20 wickets, and this Indian team has proven that. That's why they're number 1 in the Test format. Fast bowlers, whether it's Ishant Sharma or Mohammed Shami. I think Shami has been fantastic over the last 1.5-2 years with his fitness going up a notch, and his consistent performances as well. Jasprit Bumrah has been brilliant, you have Umesh Yadav who's done really well. Bhuvi, although with limited opportunities with his injuries, you always have him. I think overall, Indian cricket especially the faster bowlers have bowled exceptionally well. Like I mentioned, if someone gets injured like when Bumrah missed a few games with injury, you had Umesh come in and he picked up wickets straight away. So, that kind of support system and combinations are things that any captain or team management would love to have.
GK: Let's talk about some points in that year that weren't quite how Indian fans would've liked to have turned out. The World Cup in particular. I know hindsight is a wonderful thing but do you believe looking back on it, that India missed a trick or two when it came to planning how they should go about the World Cup?
AK: I think so, we kept talking about the number 4 position leading up to the World Cup. There were lots of changes going up to the World Cup. Even in the World Cup itself, we weren't sure. Yes, there were a couple of occasions where Vijay Shankar got promoted to number 4, but was he the ideal candidate? Then he got injured and KL Rahul batted at number 4. Then unfortunately, Dhawan got injured and then KL got pushed to the opening slot, and again number 4 became a point of discussion. Yes, leading up to the World Cup, I feel that any World Cup that you're preparing for, you need to have a set team at least 10-15 matches prior. It's important to identify roles and you need to identify specific individuals for those roles, and in case one of them does get injured then you need to have a proper backup. That is something that should've been identified leading up to the World Cup. Unfortunately, India hadn't done that but of course you need to give credit to New Zealand as well. It was those early wickets that really blew India away from that game. That first 30-45 minutes of the opening spell by New Zealand took the game away from India. You can always say it was half an hour, 45 minutes of bad cricket that lost us the World Cup but having said that, the planning leading up to the World Cup maybe could've been slightly better.​
GK: In-fact Anil this has now become a little bit of a talking point, hasn't it? A running theme if you like, that 2013 Champions Trophy win in England, since then there has been several ICC tournaments where India have come close, you were coach in 2017, in that Champions Trophy final but not quite won an ICC tournament. Does this start to become something that becomes almost something that within the dressing room is like a burden hanging over the players?
AK: I don't think it's a burden, I think the team should look at it as an opportunity. I think this team certainly has all the elements to go on and win a World Cup. So, the next World Cup is a T20 World Cup which is another 10 months away from now, India has the team to do that but they need to make sure that they have played together as a group that goes to the World Cup, 10 games or 12 games prior to the World Cup itself. I am talking about the next T20 World Cup in Australia. There is an Asia Cup before that then you have Australia, you have Sri Lanka, you have a host of other T20 games, so India needs to identify its core and the 15 players that they need to travel to World Cup with. So, it's very important that we need to have learnt some of the lessons that perhaps we should have taken care of or addressed during the 50 over World Cup. That's something that we need to start doing of we have to go on and win the T20 World Cup. I don't think it's a concern but just being aware of the importance of a world event because every other team if you look at bilateral series Vs. the performances of that particular team in a World cup, you know they certainly take their level slightly higher, one notch goes up. So, you need to be aware that the rest of the players or the rest of the team are also taking the game slightly higher, so you are actually competing at slightly higher level than in a bilateral series in a World Cup. Because it's a do or die and every game becomes that much more relevant and important. So, India needs to keep that in mind and make sure that they have these specific roles identified much earlier to the World Cup itself.
GK: If you look at all three formats, the one format where India's record isn't as exceptional or isn't exceptional in 2019 is the T20 format. When you look at the make-up of the squad, the guys that are playing, do you believe India have still got work to do on identifying the right formula of playing T20 cricket?
AK: I think so, I think certainly with some of the players being injured obviously hasn't helped India to put together a proper combination. I certainly believe that you need wicket taking bowlers and someone like a Kuldeep and Chahal need to be a part of that in my view. Yes, there are instances where you know the ball gets wet because of the dew then is it right for two wrist-spinners to be there, you need wicket-taking bowlers and I certainly believe that now with Jadeja performing so well both with the bat and the ball, he becomes that much more critical in a T20 game. So, you have those options, it is very important that you need to start looking out for wicket taking options. If it means that you need to bring in just fast bowlers who you believe will pick up wickets, rather than looking at all-rounders, which I think this team is looking for; I think that's the critical aspect. So, you need to make sure that again in a T20 format you are constantly searching for that wicket-taking option rather than putting together a team with 11 batsmen. I think that would be something that I would look at and it's very important that India starts thinking about who will perform in Australian conditions and who is that bowler who has the ability to pick up wickets because that's what will put pressure on the opposition.
GK: Since we are talking 2019 Anil, what are your thoughts on Virat Kohli's evolution as captain this year? He did the job a lot in a lot of high pressure situations starting with that Test series in Australia, also captain in the World Cup of course and subsequently in the home season. What have you made of his development and progress as captain both tactically and emotionally?
AK: I think we saw that Virat with his 5th year into leadership, he has obviously matured. You could see a lot more consistent selection in the team and whenever the team was in trouble he was the one who put his hand up and delivered on most occasions. It was his first World Cup (as captain) let's not forget although he has been captain for the Indian team for a while now but it was his first World cup. Like I said we spoke about the preparation for the World Cup, that particular match India lost in that first half-an-hour or so. But otherwise, I think overall his leadership has been really good and we have seen that, this time around against West Indies, India was pushed but they came up out on top, both in the T20 format, in the decider and also in the ODI format. So, it's been wonderful to his growth as captain and I think in the Test format, I think India is very comfortable with the template that they have, of the batsmen that they have and the bowling attack that they have. I feel that Virat is a lot more comfortable captaining in a Test match because he knows exactly the performers that he can depend on. He needs to find that especially in the T20 format, in the ODI format I think he has more or less sort of understood how each one performs but in the T20 format he needs that to happen. So, India has almost 15 matches prior to the start of the World Cup, I am hopeful that he'll be able to figure that out in the 15-16 games prior to the World Cup. Otherwise I think he has been brilliant as a captain and as a team we probably had one of the best years in Indian cricket.
GK: Couple of other interesting sidelights which I thought we should get your view on, from 2019. One, India playing its first Pink Ball Test, so from your point of view, since you were there Anil and saw this happen at the Eden Gardens, would you like to see this become a regular feature of the home season and of course would you like to see India play Day-Night Test matches when they go to Australia next for instance next summer in 2021?
AK: I would like to see that. I think it is wonderful for the crowd. We saw Eden Gardens packed to the brim. The last I saw this was when we played a Test match there, otherwise when I was a coach we played New Zealand in a Test match there and it was not fully occupied, so in that sense it brings certainly the crowd, of course the bowling was brilliant, the batting again from the Indian side was brilliant. There were some issues of the ball being picked up by the batsmen. We saw some instances when the batsmen were hit on the helmet, catches being dropped. And that is something the players will be able to suggest. I think that is what they felt. But overall, I would certainly like to see at least one Test match in a series played under lights with the pink ball. And I am sure India would certainly look to play one off Test match against Australia in Australia when they travel, so it was a success but I would like to see not the entire series with the pink ball but to have just a one-off game. Choose the venue, choose the year, choose the time of the year when you can play the particular Test match. Otherwise I think it was an overall good thing for people to come and watch and we could see the interest coming back at Eden Gardens for a Test match.
GK: And one other thought before we wind this conversation up is...Because in the last six months this saga kept coming back to us..The MS Dhoni situation. How do you read that now that the year is ending? Do you see him having a chance of being part of that team in 2020 and if India look for another option in Rishabh Pant, would you rather want India to turn towards the experience of MS Dhoni or look at other players such as Ishan Kishan, Sanju Samson who has been part of the squad or KL Rahul who has kept wickets. How are you reading this Dhoni situation as it stands right now?
AK: We felt that there would be some sort of communication coming around but then he obviously decided to take a break from international cricket. It all goes about how MS goes about the IPL and if at all the Indian team believes that they need this services for the World Cup then from there on he may be a part of the team. But we will have to wait and see. The other options that India certainly need to look towards is Sanju Samson. He has been a brilliant batsman we all know that. We have seen what kind of a talent he is. He is really good behind the stumps. Ishan Kishan is the other option, but KL Rahul is someone that India may look to also use. Because he is pretty safe in T20 format. He is good, he has kept wickets for Karnataka. And we know the quality that he brings to white ball cricket as a batsman so yes that is a very good option. But whatever option India take. I think it is important to freeze on that for at least 10-12 matches prior to the World Cup. Because you want that combination, and you want those specific roles to be identified much prior before going into an Australian World Cup.
GK: Anil if you had to choose Indian cricketer of the year, who would that be and why?
AK: There have been many players. I think everyone has performed. We know the ability and quality of Virat Kohli as a batsman as a leader he has done exceptionally well. The bowlers have been brilliant, Shami has been brilliant, Jadeja has been brilliant, Ashwin in Test matches. You look at Pujara, I mean there have been many players...Indian cricketers have had a successful year. But I think one person stands out Rohit Sharma has had a fantastic season. In the World Cup to have five hundreds. Then a double hundred in a Test match as an opener against South Africa. He has come back into the Test match as an opener is something that has changed the way Rohit is looked at. His leadership role whenever he has got the opportunity to lead India in the absence of Virat Kohli. So, I think this year you have to give it to Rohit Sharma and nobody else.
GK: Now let us just get you to pick the young Indian player of 2019.
AK: For me the young Indian player has to be Mayank Agarwal. He made his debut in Boxing Day last year. So, it is not easy. Boxing Day Test match walking in with 90,000 people, at MCG. He had a great debut for India and from there on he has grown in stature, and I think he is someone India can look towards even in One Day cricket, even in T20 at some point in time. He has a mature head on his shoulders. He has done the hard yards, getting runs consistently in domestic cricket, and he has been brilliant for India as an opening batsman, There's been lot of competition for the opening slot, but Mayank has stood out. Whenever he has gone there he has got a hundred, he converted those hundred into a double hundred. So, I think you have seen the growth of a young Indian talent. Who we knew has potential when he came out for the first time on the scenes. But he has been able to translate that ability into performance by going through the hard yards in domestic cricket. So, I am really happy that someone like a Mayank Agarwal has come onto the Indian scene and consistently performed which we all knew he had the ability. And he has shone on the international scene and this is only the beginning.
GK: And my final question for 2019, Anil what was the moment of the year in a year where India enjoyed so many wonderful moments.
AK: I know there was so many wonderful moments for me. But for me Test cricket has to be above everyone else. So, for me the victory in Australia has to stand out. It is the first time ever that the Indian team has beaten Australia in Australia. Yes, we can say that two of their batsmen were not a part of the playing eleven for Australia but none the less, Indian cricket showed that the ability to go out there and perform in tough conditions. You know the first game in Adelaide, it was a bit of a dilemma, a touch and go, Pujara coming in and scoring that brilliant hundred. And from there on to go on and win a series was fantastic to see.