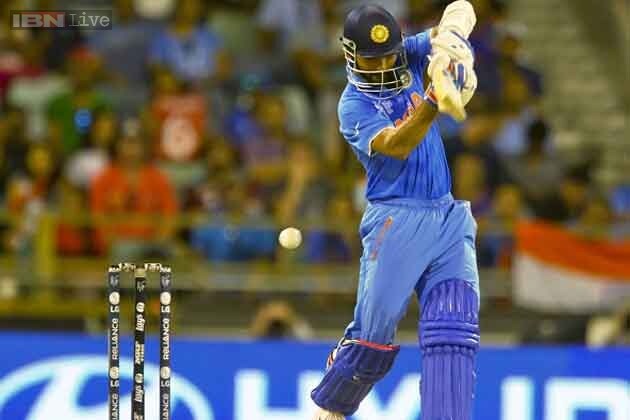 Sydney: Former England captain Michael Vaughan says that Ajinkya Rahane has the best technique among Indians and the youngster will be one of the premier willow wielders in world cricket in the next four to five years.
"Indian team has a wonderful array of batsmen, who have been there and done that. They have got couple of good young players and I like Rahane. I think, he is the best technician among Indian players. He plays quicks and spin as well as anybody in the world," Vaughan said during an interaction organised by the ICC, on Tuesday.
To a query as to why he thinks Rahane to be special, Vaughan elaborately discussed the Mumbai batsman's watertight technique.
"It's very simple. It's his alignment at the crease. He doesn't get that left-foot too far across and that's why he has got great balance when he is on the backfoot. He has not only got options of playing both cut shots and pull-shots but also has the option of going down the ground for straight hits."
"When you have those options as a batsman, you make it difficult for opposition to set fields as you can't set fields for shots down the ground. I think he showed in England last year, he can allow the ball to come to him."
"I think in the next four or five years, we will be talking a lot about Rahane. More than what we have heard even up till now as he is a wonderful player," the veteran of 82 Tests was effusive in his praise.
There are times one needs to know the recipe for success and Vaughan feels that Mahendra Singh Dhoni certainly knows a thing or two about winning World Cup.
"There is something about MS Dhoni and World Cups. What he did after the tri-series is remarkable. There was a change of team and also change of mentality. I have always said that in semi-finals, the team that plays well in the first 15 overs -- be it with the ball or bat is the team that gets ahead and wins that game."
"MS Dhoni knows how to win World Cups and that goes quite a long way," the 40-year-old Yorkshireman summed it up as to what exactly is India's strength.
From Australia's perspective, Vaughan said that it will boil down to how well skipper Michael Clarke and his deputy Steve Smith counter Ravichandran Ashwin, who could pose real threat for Australian batsmen on a slow SCG track.
"Had Indian been given choice of venue for their semi-final against Australia, they would probably have chosen SCG as it's the best option for them. It (pitch) will take some spin. Ashwin is getting the ball to shape through the air, which is very important for his style of bowling."
"Come Thursday, Smith and Clarke will be crucial for Australia as these two are the best players of spin. One of them at least will have to get a decent score," observed Vaughan.
"Similarly, Dhawan and Rohit need to provide a good start for India. If India play Mitchell Starc well, they would be well on their way to winning the semi-finals. Similarly, Maxwell has his day, India will lose the match. He will be scoring 100 off 50 balls as he can hit around 360 degrees around the ground from ball one," he added.
Having played a number of Ashes Test matches at this venue, Vaughan has his own take about how the SCG surface will behave.
"If you are a good side, you can win irrespective of you are batting first or chasing as performance on that day matters. Although the last 10 out of 13 games at the SCG has been won by the team that's chasing but I think it's a bat first wicket. Just get runs on the board," he said.
Can Australia win the match targeting opposition No 1 batsman Virat Kohli, Vaughan replied, "I think if you single out one, you would be then struggling with the other 10."
Vaughan, who is known for witty remarks on social networking sites feel that a bit of chirping and banter on the field is okay as long as one doesn't cross the line like what happened in Wahab Riaz-Shane Watson incident.
"You are going to pretty much see that when you play Australia. It isn't going to be quiet and I like to see the competitive edge. A bit of confrontation is okay although I don't think I enjoyed the Wahab Riaz-Shane Watson confrontation as I thought it was over the line."
"Unless it's not swearing, a little bit of sledging, banter is okay. I am sure Indians will give it back in plenty."
"They are not going to be quiet. Virat and co, will give it back," smiled Vaughan.
When asked about England's exit, Vaughan said,"I think we have never played well in World Cup after 1992. Our exit shows how bad we played in the tournament."