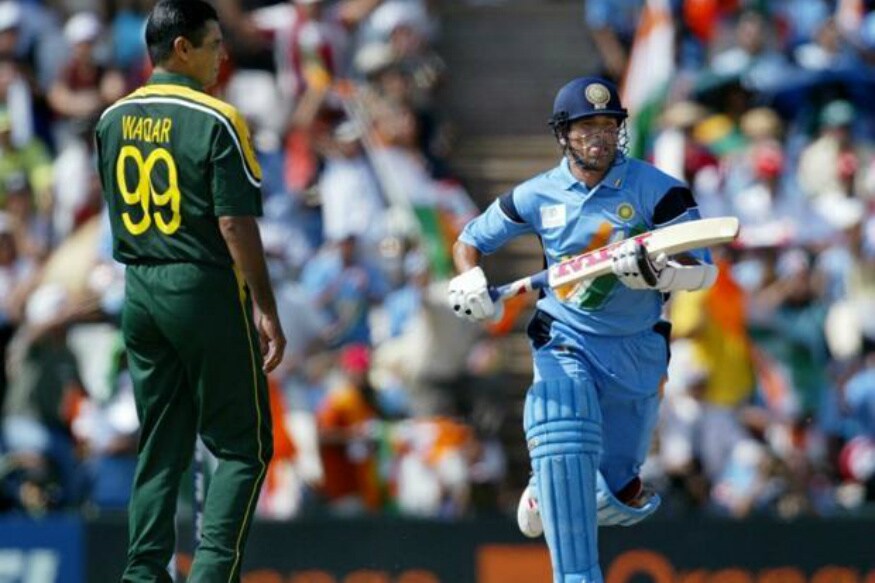 "Do you know whose catch you have dropped?"
These famous words from Wasim Akram, directed at Abdul Razzaq, is a part of World Cup folklore as far as Indian fans are concerned. Sachin Tendulkar was in that sort of a mood in that 2003 World Cup game against Pakistan. There was no way Pakistan could afford to give him reprieves.
It's hard to imagine a game with as much hype as the one on March 1, 2003. Those were days when there was little to differentiate between the two sides; India had Tendulkar, Sourav Ganguly and Rahul Dravid. Pakistan had Wasim Akram, Waqar Younis and Shoaib Akhtar. The clash at Centurion was one for the ages.
Pakistan batted first and posted a competitive total of 273 for 7, with Saeed Anwar scoring a century. India were under pressure at the half-way mark, but the momentum shifted within no time as Tendulkar decided to take charge.
Mid-way while walking in along with Virender Sehwag, Tendulkar decided to take strike. And he did so in style, starting with a backfoot punch off Akram to the off-side boundary. There was no looking back, as he latched on to Akhtar in the next over, hitting him for a six and following it up with two fours. The six was a stunning shot - upper cut a quick short ball over third man. The next was a beautiful flick, and the final one was a straight push that raced to the long on fence. The signals were clear.
With Sehwag also chipping in, India raced to 50 for no loss in just five overs. Sehwag and Ganguly fell in the next over, but Tendulkar carried on. He received a life when an uppish shot went over Razzaq, who was a few yards in at mid-off instead of staying in the circle. That proved costly for Pakistan.
Mohammad Kaif joined Tendulkar for a 102-run stand for the third wicket, setting the perfect platform. As the innings progressed, though, Tendulkar began suffering from cramps, hampering his progress. In a rare sight, Tendulkar used a bye-runner too.
With Tendulkar struggling for fitness, Pakistan turned to Akhtar, who did the trick with a quick sharp short ball which the batsman fended to point. Tendulkar missed a well deserved century by two runs, but his 75-ball 98 with 12 fours and a six had done the majority of the job for India. Rahul Dravid and Yuvraj Singh ensured Tendulkar's brilliance wouldn't be wasted as India completed the chase in just 45.4 overs.