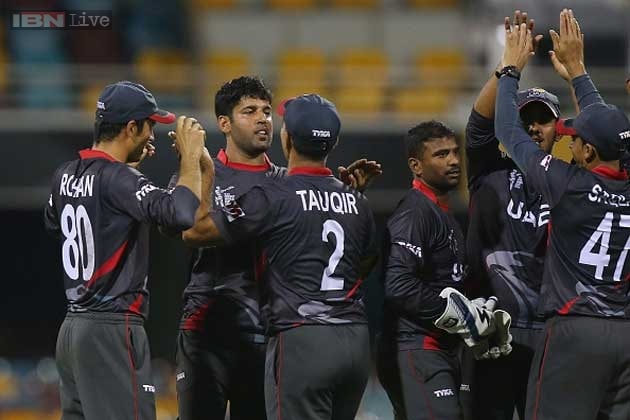 United Arab Emirates were left to rue bad luck and crucial errors as they threw away a chance to secure their first World Cup win in nearly 19 years in a thrilling defeat by fellow associate nation Ireland on Wednesday.
It was a story of what might have been for the Emiratis, who are playing in only their second World Cup and have won just once in the tournament (1996), after surrendering another commanding position to lose by two wickets.
In their first match, UAE posted a commendable 285-7 and then reduced their opponents to 167 for five but failed to close out the game with Sean Williams scoring a 65-ball 75 to see Zimbabwe home.
And the inexperienced side suffered a similar fate against Ireland at the Gabba in Brisbane to make it two defeats from two.
Shaiman Anwar's maiden one-day international century helped the Emiratis post a challenging 278-9 before they dismissed Ireland opener Paul Stirling early.
They thought they had Ed Joyce too when pace bowler Amjad Javed hit the outside of the off-stump but the batsmen, then on 16, was miraculously saved when the bail leapt off the groove but then landed back in it.
Joyce (37) was given a second reprieve when UAE captain Mohammad Tauqir dropped him on 32.
To compound their bad luck, Manjula Guruge (1-21) then left the field with a thigh injury with three overs left to bowl in his quota.
"He's our main bowler. We use him in the powerplays so I think it was a big setback that we couldn't use him for his three overs," Javed later told reporters.
The biggest setback, however, was when Guruge's substitute fielder, Nasir Aziz, dropped Kevin O'Brien on 24 at long-on with the ball trickling over for a boundary.
O'Brien went on to smash 50 off 25 balls and added 72 in six overs with man-of-the-match Gary Wilson (80) as UAE lost the match with four balls to spare.
"We dropped a catch off Kevin when I think they required about 10 runs (per over). I think that was a crucial time," Javed added.
"Definitely if you are giving a chance to a Kevin O'Brien type player, Kevin will take the match away from you."
Follow @ScoreWithData for more World Cup 2015 stats and analysis

####