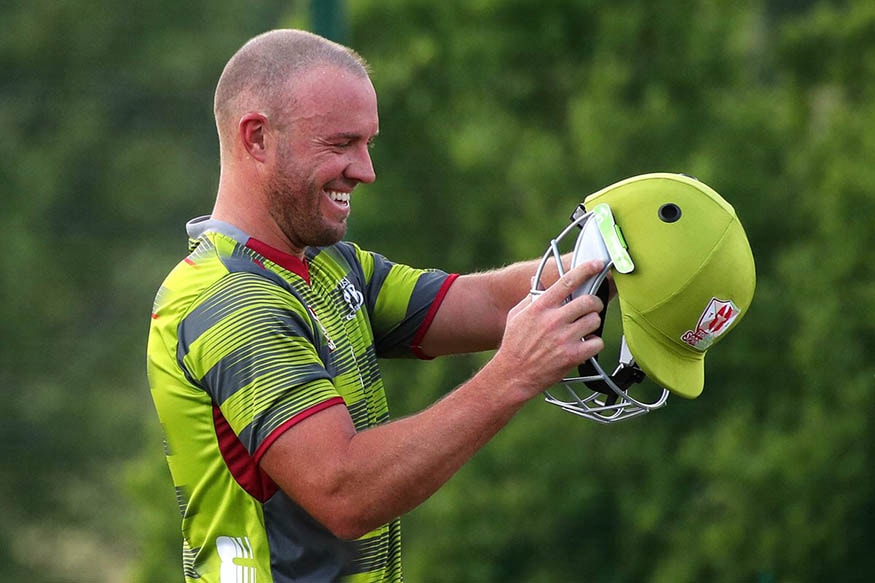 In the summer of 2018, when AB de Villiers called time on his international career there were mixed feelings.
A veteran of 114 Test matches and 306 limited over matches, de Villiers is now busy playing T20 cricket in various leagues around the world. Currently plying his trade in the Pakistan Super League for the Lahore Qalandars, de Villiers will turn out for Middlesex at Lord's in the Vitality Twenty 20 Blast.
"It's exciting that the opportunity to play county cricket has finally come along," De Villiers told Standard Sport. "And I couldn't hope for a better club to join. The international schedule was always just too hectic for it to happen sooner. Playing your cricket at Lord's is a special bonus. I never made it onto that honours board, but I have great memories of playing there."
Since he gave his nod to Middlesex three years ago in handshake deal, plenty of counties have tried their best to acquire his services. Fortunately or unfortunately for them, his first stint is unlikely to be his last in English domestic cricket.
The county stint will also see him come up against his former international teammate Morne Morkel.
"I have faced him in the nets my whole career, so I know what he's doing," he said. "Our families get on well, so we will catch up, but we are competitors. It'll be a nice battle."
Those who throng the Lord's galleries in support of their favourite Middlesex have more than enough reason to be excited about this signing.
Since retirement de Villiers' form has been nothing short of fantastic – in 21 T20 games, ranging from South Africa's Mzanzi Super League, the Bangladesh Premier League and PSL, he has amassed 667 runs at an average of 41.7 with a strike-rate of 159.
Before joining Middlesex he will play the Indian Premier League but will skip the Caribbean Premier League.
At Middlesex, alongside the likes of Brendon McCullum and Dwayne Bravo, the South African is likely to feel at home and produce the kind of mind-boggling display the cricket world is used to.
He will slot into the top order with Dawid Malan, Paul Stirling and Eoin Morgan and alongside the Afghan teen spin prodigy Mujeeb Ur-Rahman as an overseas pro.
The former South African skipper is also interested in the unique Hundred format that English cricket is looking to experiment with.
"It's an experiment worth trying and might be the next big thing," he added.
The South African is enjoying being away from international cricket and spending quality family time.
"I'm definitely in the best place of my life so far," he said. "There's less pressure when you don't play international cricket. It's still there, but less. I am enjoying my cricket more now and the ability to take two or three months off when I want to get home. That's refreshing."
The South African legend was pained by the way his former teammates conceded the Test series to Sri Lanka. However, ruled out a comeback to the international scene.
"That's a tough question to answer," he said when asked if he misses playing Test cricket. "Playing at the highest level alongside your friends, scoring runs for your country are things that I look back and go, 'Ah, I miss that a little bit', but there's a lot I don't miss. I don't miss 90 per cent of it. I've pretty much moved on. I've made peace with the fact that the World Cup will not define me. Yes, it would be nice to add that to what's been a very enjoyable career, but I know it won't define me as a person or cricketer.
"You can never keep everyone happy. I've always been a people pleaser. I'm very passionate about my country, but I'm at a stage of my life where I've moved on. There are people who think I should still be playing, but the international scene just became a little bit too much for me with my family and a few other things. You have to answer to yourself, look yourself in the mirror and that's what I've done. The most important people to please are your family."