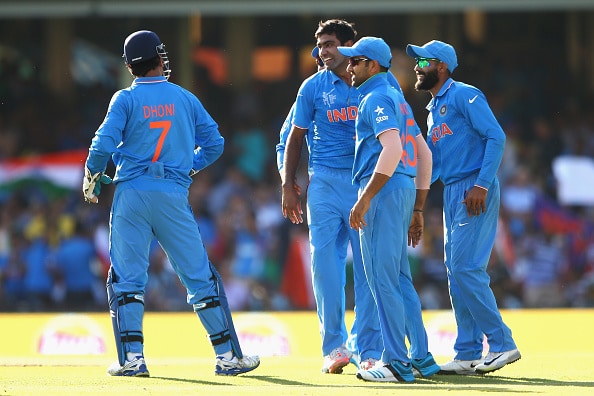 Kolkata: Some called it a wake-up call, others a reality check and a few a defeat to keep them level-headed. When India suffered a humiliating loss to New Zealand in the ICC World Twenty20 opener in Nagpur on Tuesday, critics labeled the defeat with different reasons. But it seems the loss hasn't injured Team India's spirit, at least if Ravichandra Ashwin's statement is to be believed.
The offspinner looked pretty relaxed, without any air of pressure about him, taking questions with a pretty straight face. And he had his well laid out reasons for that.
"If there is one team that can come back after a defeat in the first match, it is us," Ashwin made it very clear at the outset, perhaps just to let everyone in that crowded conference room know that the team was up for it.
While he sent out all the confident signals, the premier India spinner admitted the magnitude of the job at hand. An exit after just two days and less than a week into the tournament proper will bring out many knives.
"We have to win. That's the most important thing. I have always said momentum is very important. We will try to get it back after Nagpur's loss against New Zealand," he said.
Acknowledging the burgeoning build-up of an India-Pakistan clash, which generates interest among people from all walks of life, Ashwin rated the clash above the Ashes when some of the foreign media asked him about the rivalry.
"India versus Pakistan is probably bigger than the Ashes. They [fans] don't watch this game as cricket. It's also border rivalry for them," he said, hinting at the tense relations between the two countries, which influences the way fans look at an Indo-Pak cricket game.
The Indian team, which came on the back of T20 series wins against Australia and Sri Lanka, played irresponsibly against New Zealand and the players were accused of being over-confident and complacent. Ashwin acknowledged the team is feeling the pressure but is at the same time confident of handling it.
"We are used to handling pressure. It's nothing new for us," he put aside a question on the among of pressure.
In the match on Tuesday, while Indian bowlers completed their job with aplomb and restricted New Zealand to 126 for 7, the batsmen fell flat and apart from MS Dhoni,
Virat Kohli and Ashwin, no one could reach double figures before the team was bundled out for a paltry 79.
When asked what troubled India during the clash, Ashwin didn't choose one factor but he said the team would revisit its strategy in the match against Pakistan. "I can't put a finger on one thing. It's about discussing game plans and revisiting our strategies."
A thing which was difficult to understand was why after a disastrous show in the previous match, Indians did not practice on Friday, especially ahead of a match where the sword of relegation is dangling around their neck. Ashwin said it was because they wanted to freshen up their mind.
"We tried to relax" was his quick reply.
The offie was also not sure whether India, on Saturday, will make any changes, such as bringing in Harbhajan Singh, who loves bowling at the Eden Gardens, or allrounder Pawan Negi.
"I don't know if Negi will play. If he does all the best to him."
The 'all the best' in Ashwin's last statement was an indication towards the amount of pressure the two teams face when pitted against each other, and there will be no dearth of it on Saturday.