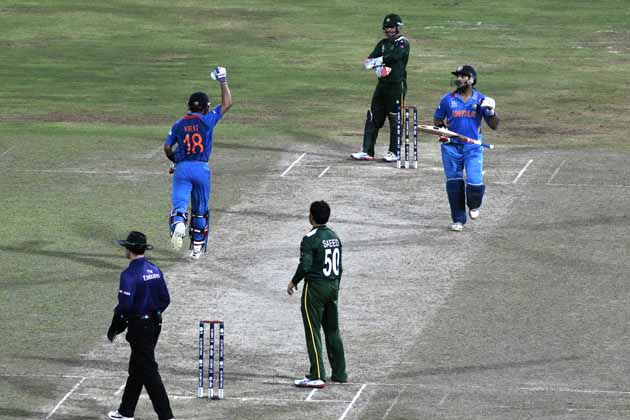 Briefly, ever so briefly, it looked as if India were going down a rocky road against Pakistan in their must-win match against Pakistan in Colombo on Sunday evening. Seven wides, five of which flew down the leg side, a cracking boundary past backward point and a dropped catch by Virender Sehwag at slip was an ugly start for Zaheer Khan's first over, and hinted at a tough night for a team that is not a convincing Twenty20 outfit. Indian fans could have been forgiven for shaking their heads and gritting their teeth.
But then came the opening in the second over, and with one foot in the door, India kicked it down. Irfan Pathan's reaction on dismissing Imran Nazir was palpable, and the manner in which India's bowlers tidied up their lengths thereafter was very impressive after the debacle against Australia. The bowlers hit the right areas, the fielders were sharp, the catches were held, and India had perhaps their easiest chance of a win over Pakistan in ICC tournaments, one that eventually took their record over the old foes in Twenty20s to 3-0.
Before we go any further, it must be said that Pakistan were poor. Very poor. An amateur batting display, dropped catches galore, misfields, overthrows and the obligatory Kamran Akmal fluffing continued Pakistan's quixotic tournament and gave India a lifeline. Defeat was laid with the bat, confirmed in the field. Against what can be termed a very ordinary bowling attack, Pakistan's batsmen failed to apply themselves. A side that plays out 59 dot balls is going to struggle to win Twenty20 matches; a side that drops four catches in defense of a low total definitely won't win anything.
Having shelved the five-bowler theory after the massacre at the hands of Shane Watson and David Warner on Friday, India were put on the way to victory by Irfan Pathan, L Balaji and the man of whom it has become almost derogatory to term part-time bowler – Yuvraj Singh. Yuvraj's wickets of Nasir Jamshed and Kamran Akmal – both caught behind – in consecutive overs left Pakistan hemorrhaging at 49 for 4 and lifted India to a level from which they never slipped. When Virat Kohli picked up the wicket of Mohammad Hafeez, the Pakistan captain, India were over the moon.
There was no late surge, thanks largely to the guile of R Ashwin who took 2 for 16 in four overs. Like Yuvraj had done, Ashwin picked up wickets in successive overs to derail Pakistan, and Balaji nipped out two wickets in the final over to shoot Pakistan out for 128, their lowest total in World Twenty20 history. This was a performance so far removed from Friday's that it appeared a different team had turned up, and not just because Harbhajan Singh and Piyush Chawla had been dropped. It proved again that India overanalyzed their 90-run win over England, and that this is a team that has the ability to rally.
As with the ball, India's reply with the bat was a shocker. Gautam Gambhir walked out and pushed a return catch to Raza Hasan for 0, and with an out-of-form Virender Sehwag at the crease there was a sense of impending tremors. But it was not to happen, thanks to a controlled effort from Sehwag and that remarkable calm from Virat Kohli who scored his eighth fifty-plus score in his last 11 international innings. Once again, Kohli scored and India won. If India are to go further in the tournament, much will hinge on Kohli's form.
With this win India have bought themselves a lifeline, and having beaten a side like Pakistan they will be buoyant going into their final match against South Africa who have lost two in two. Replicating this win could end a dismal run in the World Twenty20.