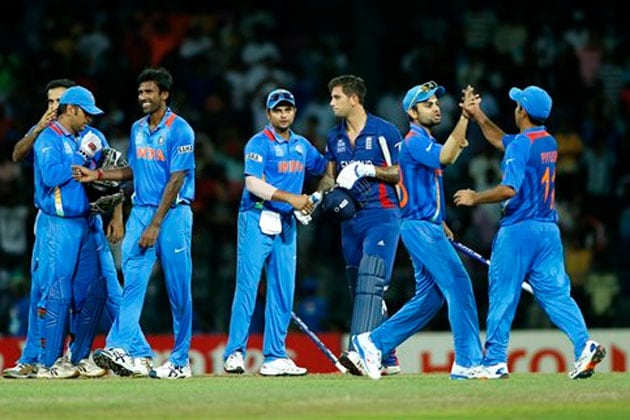 No matter what your stance on Rohit Sharma, Harbhajan Singh and Piyush Chawla, it was difficult not to be taken aback by the manner in which the three stamped their presence on India's 90-run win over England on Sunday in Colombo.
Here were three cricketers at different stages in their international careers, yet bound by a string – a string of condemnation, inconsistency and criticism. Rohit, whose career had reached a point where the tag of Twenty20 specialist had been attached to his name; Harbhajan Singh, recalled to India's Twenty20 after a year in the wilderness, a year in which he recently admitted he had not seen coming; and Piyush Chawla, everyone's favorite punching bag at the 2011 World Cup and a bowler who many believed did not deserve to be at the ICC World Twenty20.
Stirringly, these three players scripted a humiliating defeat on the defending champions. Rohit lead the way for India to a testing total with the only half-century of the match, and in defense of 170 it was the under-fire spin duo that spun a web around an abject England batting line-up. It's a funny game, Twenty20.
Rohit, enduring a woeful year in ODI cricket that resulted in an axing from the Test squad, has plenty to prove in the ICC World Twenty20. He walked in at the fall of Virat Kohli for 40, with the score 81 for 2 in the 11th over. When he walked back, he had 55 unbeaten runs to his name off 33 deliveries and India had 170 on the board. He took his time – as much as Twenty20 allows you – and timed his acceleration superbly. In the 17th over of India's innings, Rohit collected consecutive boundaries and then got stuck into Jade Dernbach whose last over cost 17 runs.
It was an extension of his form in the warm-ups, where he hit 37 and 56 against England and Pakistan. These innings guaranteed him a place in India's starting XI, and Rohit repaid the faith with a fine innings. As MS Dhoni said after the match, a player gets desperate to perform and the key aspect to Rohit's innings was that he gave himself time.
In his first match of the tournament, with India resting R Ashwin, Harbhajan was given a chance to impress. He did that, and much more. With exception figures of 4-12-4, he not only bagged the Man-of-the-Match award but turned in a performance to strong that Dhoni and Duncan Fletcher have more of a headache than they did before this match.
Undoubtedly fired up, Harbhajan channeled his frustrations into a feisty spell of offspin. He got the ball to turn and bounce, and had the batsmen in trouble. He wasn't just flat, and most impressively, produced the delivery he had all but shunned in the recent past – the doosra. Two maiden overs added to the awe that gripped England.
And then there was Chawla, reproducing the cock-sure celebrations that the audience has become accustomed to from him in the IPL with the ease of a bowler who looked like he belonged. He began by foxing Jonny Bairstow with a googly, slipped in a legbreak that Craig Kieswetter steered to slip in a wicket-maiden second over, and bowled out with figures of 4-1-13-2. Chawla is unlikely to get more playing time in the tournament, but tonight he reminded his critics that he was capable of putting in match-winning spells.
Where a year ago Harbhajan and Chawla couldn't buy a wicket, on Sunday evening they were eliciting as much threat as a lawnmower does to a grasshopper. It wasn't radical turn; just smart lines and a bit of spin to keep the batsmen guessing. The boundary-balls dried up, the lines were tightened, and England's batsmen's were strangled.
For Stuart Broad's team, this is a night they need to forget in a hurry. Bowled out for 80, their lowest total in Twenty20 internationals, was as poor an effort as anyone can remember from them and leaves them looking decidedly shoddy going into the Super Eights. The batsmen were clueless against spin - making room, not reading the ball and play a series of nothing shots. There wasn't sharp turn, but the jitters set in. England completely misread the surface, playing what can be best described at club-level cricket against a side that rested three frontline players. It just wasn't the kind of cricket you would have expected from the defending champions.