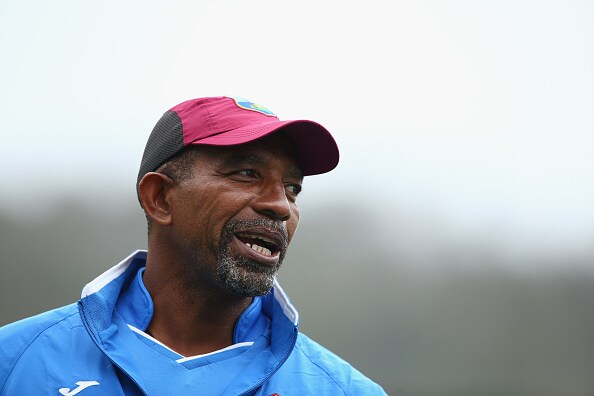 Mumbai: Even as Chris Gayle's fastest World Twenty20 ton hogged the limelight, West Indies coach Phil Simmons acknowledged Marlon Samuels's effort, saying he took pressure off the swashbuckling Jamaican, who feasted on the English attack in a comprehensive win in Mumbai.
In their opening World T20 Super 10 Group 1 match at the Wankhede Stadium last night, Gayle wreaked havoc scoring a century off just 47 balls with 11 towering sixes and five boundaries, which helped his side to comfortably chase down the target of 183.
"We all talk about Chris (Gayle) today, but Marlon (Samuels) set up the game today, nicely first, because the way he played, he took a lot of pressure off Chris (Gayle)..and that's the way we have been trying to get him to play because when he plays like that he is a class act, and if we can get him to play like that in every match, he might get off in every match, but he will get some 70/80s also and he will win games for us and he has to be commended today, the way he took pressure off Chris (Gayle) early," Simmons said.
Chasing a challenging target, the West Indies romped home in 18.1 overs on the back of Gayle's bludgeoning innings during which he brought up the fastest century of the World T20 cricket in just 47 balls, to better his own 2007 record of completing a ton in 50 balls.
Simmons said at the post-match press conference, "And that's the role, he (Samuels) took the pressure off Chris (Gayle) and so Chris could settle in and as I said before if we could get Chris (Gayle) bat in 15 overs in every game, then we will be close enough to win every game."
Samuels, who walked in at number 3, made a useful 37 off 27 balls, hitting eight fours.
Asked how Gayle makes it look so easy, Simmons said, "I think it is as simple as you see it because as you know this is the first time I am with T20 team since I am back, sitting and talking to him and trying to see how he works it out, and it is as simple as he makes it look out there, he actually analyses it as simple as he does it so.
"I mean there he practices hard, he hits a lot of balls in the nets and thing, but he works it out as he did today.
"(Adil) Rashid is my bowler for the day and I am going to take him down, so it's as simple as that."
Simmons further said that it is an advantage that West Indies players play in the Indian Premier League.
"It's a huge advantage because the good thing about it is that the first two grounds we play at... IPL ground one we have three players here (Mumbai) and the next one is Chris's home ground (Bangalore). I think it is huge advantage for us," the 52-year-old coach opined when asked about the IPL factor.
What more does he expect from Gayle in the coming matches and pat came the reply, "Bat 15 overs for me, that's what I need from him, once you bat 15 overs we are someway near to the target (either) we are setting or chasing."
When asked whether Gayle conceals the other weaknesses in the side, Simmons said, "No. All teams have weaknesses but all teams have strengths too. If we use our strengths, that negates your weakness, that's how you win games, all teams have weaknesses, it's up to other people to explore our weakness like we will explore theirs."
On comparing Gayle with West Indies legends, Simmons said he would 'put him' with Vivian Richards because Richards 'used to go out there' and destroy attacks.