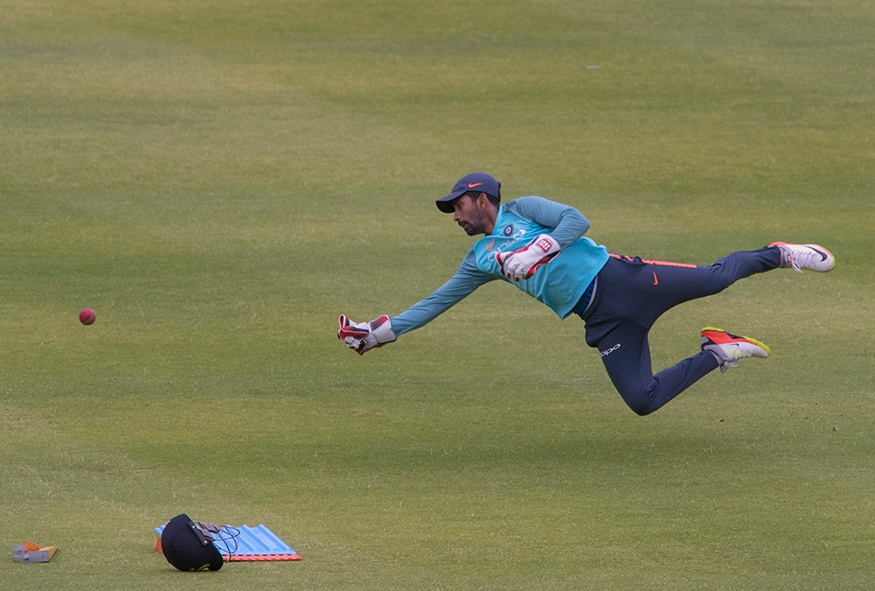 Kolkata: Injured India Test wicket-keeper Wriddhiman Saha is confident of returning to first-class cricket in December having completed his rehabilitation programme after a shoulder surgery in July.
"I am feeling much better now. I hope to be back in action by mid-December. I am preparing and training accordingly. Hope my body recovers in time and I'm fit to play (Ranji Trophy). I've started net sessions but I am yet to get match-fit," Saha said during the launch of sports fiction 'Wiki' by noted journalist Gautam Bhattacharya at the East Bengal Tent.
It has been an extremely disappointing year for Saha, who was sent home with a hamstring injury after playing the first Test of the year against South Africa in Cape Town.
During the IPL he had injured his thumb, which was believed to be the reason for his missing the Afghanistan Test in June.
But later it was revealed that he had a more serious shoulder injury (posterosuperior labral tear) for which he underwent a surgery in United Kingdom.
India have picked Rishabh Pant along with Parthiv Patel for the upcoming Test series in Australia.
With no Test series lined up in near future, Saha said he has to start from scratch by doing well at the domestic level.
"Everyone goes through the same cycle -- of performing well at the domestic level. You have to be match-fit there and then wait for selection," Saha said eyeing a return for Bengal in the ongoing Ranji Trophy.
Saha admitted that going through rehab was a boring affair but he's mentally motivated.
"I always counting on the positives from childhood. Rehab obviously is a boring affair," he admitted.
"If you are dedicated, you don't get bored. Training schedule is same, but it's about breaking it and keeping yourself motivated," Saha added.
Also present on the occasion was former India captain Sourav Ganguly, who said that Saha is the best keeper India have had in the last five to ten years.
"He's out of the team for about a year now but I think in the last five to 10 years he has been India's best keeper. Hope he recovers soon," Ganguly said.
"Injury is not in your hands. Wicketkeeper has to dive and he got injured while diving. It takes a certain time to recover. The faster he recovers, the better it is," said Ganguly.