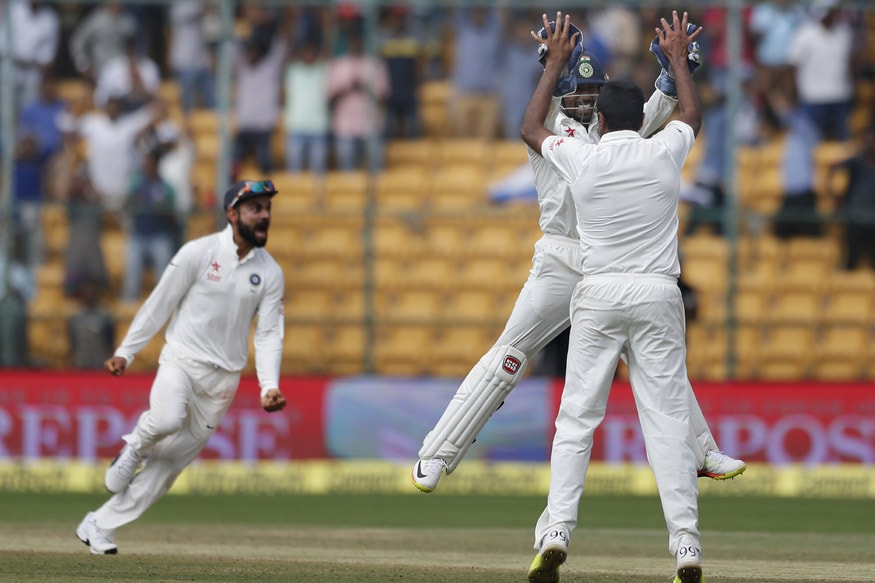 Kolkata: Between his two world class catches in two cricket Tests played so far against Australia, India wicket-keeper Wriddhiman Saha rated the one in Pune in the first rubber as tougher than his Bengaluru take.
Saha, who helped India record a memorable comeback in the second Test after they were pummeled in Pune, said that since the reaction time was less it was harder to take than the one in Bengaluru.
Saha plucked the ball out of thin air diving to his right to take the wicket of Aussie keeper Mathew Wade.
"The Pune catch was tougher than the one in Bengaluru. The reaction time was less in the first one and it was of a fast bowler (Umesh Yadav),"Saha told reporters on the sidelines of a wicketkeeping gloves launch here in his name.
In the second Test, Saha dived forward off Ravichandran Ashwin's delivery to pouch another stunner, this time getting rid of Steve O'Keefe as India won by 75 runs.
"Captain (Virat Kohli) said it was an outstanding effort after I took the Pune catch. He was thrilled and so were all my teammates," the Bengal stumper said.
Talking of great stumpers of yesteryear, the 32-year-old wished he could play a Test against Adam Gilchrist.
"I have rubbed shoulders with Gilchrist in the IPL. It would have been a great experience playing against him in a Test," he said.
Also present was former India keeper Deep Dasgupta who heaped praise on his states-mate saying Saha changed the mindset of a keeper having to compulsorily bat well to get picked.
"He showed the importance of wicket-keeping. The catch he took in Bengaluru helped India win and the way he is playing I am sure he will be right up there with the greats soon. He will change the face of keeping," he pointed out.
@media only screen and (max-width:740px) {
.quote-box{font-size:18px; line-height:30px; color:#505050; margin-top:30px; padding:22px 20px 20px 70px; position:relative; font-style:italic; font-weight:bold}
.special-text{font-size:24px; line-height:32px; color:#505050; margin:20px 40px 20px 20px; border-left:8px solid #ee1b24; padding:10px 10px 10px 15px; font-style:italic; font-weight:bold}
.quote-box img{width:60px; left:6px}
.quote-box .quote-nam{font-size:16px; color:#5f5f5f; padding-top:30px; text-align:right; font-weight:normal}
.quote-box .quote-nam span{font-weight:bold; color:#ee1b24}
}