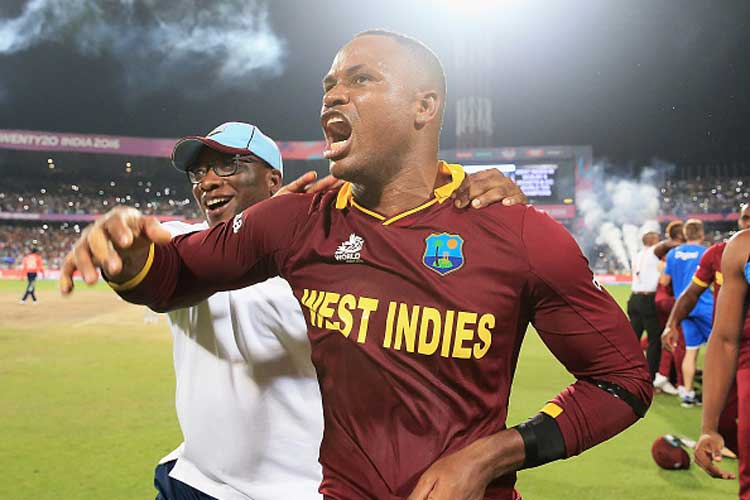 West Indies players and coach have defended batsman Marlon Samuels over his controversial outburst against legendary legspinner Shane Warne after his 85* helped WI win the ICC World Twenty20 on April 3 beating England in a dramatic final at the Eden Gardens in Kolkata.
Samuels, who was Man-of-the-Match in the final, took aim at the former Australian spinner in a post-match interview. "I woke up this morning with one thing on my mind: Shane Warne has been talking, so this is for Shane Warne. I answer with my bat. I don't answer with my mic [microphone]," Samuels said after the match.
"I don't know why he talks this way about me. Maybe because my face is real and his face is not," he added at the post-match press conference.
Warne and Samuels had previously clashed during the Big Bash T20 tournament in Australia. During the heated altercation, Warne repeatedly screamed, '**** you, Marlon', before Samuels hurled his bat at the Aussie spinner.
Warne also labelled the Jamaican 'embarrassing' and 'pretty poor' for his cheap dismissal in the semi-final against India in Mumbai after he threw away his wicket when he was on 8.
Warne slammed Samuels during his commentary on Sky Sports, saying: 'Well, this is a bit embarrassing for Marlon Samuels. Look where he is. He's nearly off the pitch backing away again. He's backed away every ball.
"And all it was just a normal length ball from Ashish Nehra. For your No. 3, Samuels, in this situation in such a big game, that's an embarrassing dismissal. That's pretty poor."
However, skipper Darren Sammy and coach Phil Simmons said Samuels was right in his nasty attack on Warne. "You can't keep bashing people and not expect a backlash at some point," said Simmons.
"Marlon is very emotional and the emotion came out then. I think it's something that's been pent up in him for a while and the emotion came out. For me it was a good time for it to come out because it meant that it fueled him in what he had to do and that only went well for us."
After smashing 85 not out off 66 to lift the West Indies from an impossible position, Samuels was entitled to say whatever he wanted according to Sammy.
"Marlon is his own man. We are all responsible men. I had my say, a lot was said, a lot had happened before the tournament," Sammy said.
"We know in order to make the big statement we wanted to, we had to win the tournament. Now we've won it, now we've walked the talk and put action on the cricket field, now we can express our opinions freely as we choose."
The six-hitting hero Carlos Brathwaite also backed his teammate and believed criticism leveled at him by Warne and the wider media was over the top. "I know Marlon, and Marlon is a guy who rises in these situations. I guess Shane Warne is doing his job, I don't want to comment on his job or on Marlon's feelings," he said.
"But I can comment on the way I felt, and I know the stick that he was copping - not only from Shane Warne but from the Australian and the English public."
Shane Warne so far has remained tight-lipped over the entire issue.