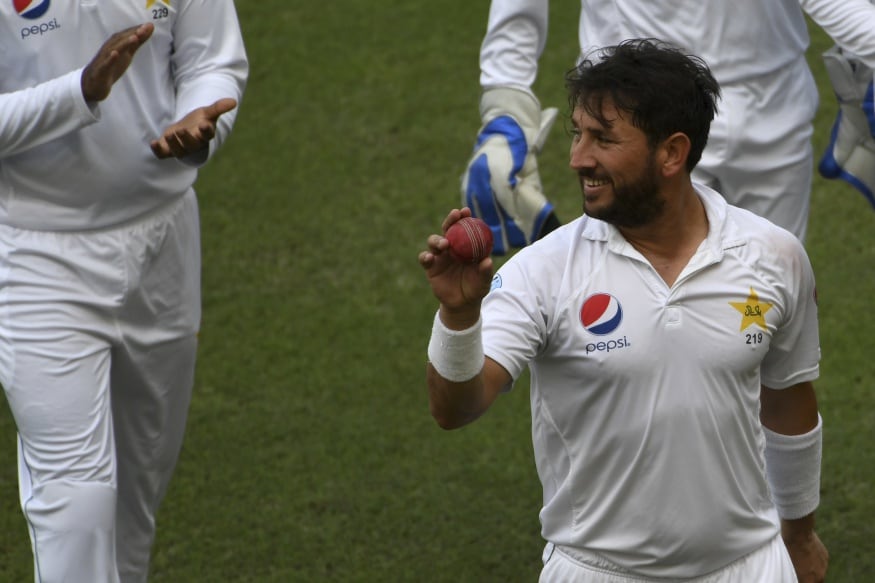 Pakistan captain Sarfraz Ahmed reckoned that Yasir Shah's spell in the second Test against New Zealand was one of the best spells he has seen in his playing career.
The leg-spinner finished with 14 wickets in the game, inclusive of a game-changing 8 for 41 in the first innings, which helped his side bowl out New Zealand for a mere 90 on Day 3. He returned in the second innings with 6 for 143 to secure his side a victory by an innings and 16 runs on Tuesday.
"It was a great comeback from the boys," the skipper said in the post-match presentation. "You need to credit the batsmen – Haris Sohail, Azhar Ali and Babar Azam, who set us the platform. The wicket has changed a lot in Dubai and it was important to score big. Yasir Shah's spell was one of the best I have ever seen in my four-year Test career."
After suffering an embarrassing four-run defeat in the first Test, where they failed to chase down 176 runs in the second innings, Sarfraz revealed that he asked the team to leave the debacle behind and move forward.
"The discussion in Abu Dhabi after the match was that we would leave everything then and there. The credit must go to Yasir and Hasan Ali after the batsmen kept batting positively. In our four Test matches here, one bowler has performed in each match.
Unsurprisingly, Yasir Shah who registered his personal best figures in the game was awarded the Man of the Match award. The leg-spinner was of the opinion that it was the best he had bowled in his career.
"After my injury, this was my first Man of the Match award and I was only looking to focus on my lines and lengths. I don't think I have bowled better, the wicket was helping with the bounce and turn."
"We were disappointed after the first match and we wanted to come back hard. We got them out for 90, but they fought back well in the next innings. The pitch had eased out too, but we did well to get them out. I am working on my googly and it is coming out well."
Pakistan Head Coach Mickey Arthur as well was mighty impressed with the efforts from the leg-spinner and hailed his spell as one of the best.
"We knew he had a big performance inside of him," said Arthur of Yasir, who now has 195 wickets in 32 Tests. "That first inning, I think there was a spell of about half an hour of the best leg-spin bowling you will ever see. Fourteen wickets in a Test match is superb."
"Yasir is very comfortable mentally, and he knows what an important cog he is in our Test line up," Arthur said. "He got his rhythm going and we felt he was really good."
Arthur who had said that defeat in the first Test was the worst of his coaching career was happy that the side showed character after the close defeat.
"His work ethic is tireless. Him and I work so hard together. I was so disappointed when people were saying there was a rift between Saffy and I, because there has never been anything like that between us," Arthur said.
New Zealand captain Kane Williamson acknowledged that they could not counter the threat from Yasir and despite the fight shown in the second innings, the damage done in the first was too much to recover from.
"There were great improvements in the second innings but we were just put out by Yasir in the first innings," said Williamson. "I mean some of the deliveries that he bowled to guys facing first or second balls in their innings was very difficult to negotiate. He bowled in some very, very demanding areas, but at the same time, we do need to be better in that area. There was some help for the spinners and they took full advantage of it."
"It is about improving. The wicket had aged a little bit more, so to get 300 was an improvement. But the damage was done in that one session when we lost seven wickets. They set it up well with the bat to get to 400 in two days. They played to the conditions really nicely. It was a one-sided looking match and we need to look to Abu Dhabi now to get back in the series."
Williamson was also hopeful of his side making a comeback against a Pakistan unit which will be high on confidence after the win in the second Test.
"It was a great game in Abu Dhabi and one of our great Test wins. We know how difficult it is to play Pakistan in these conditions and now they will be more confident.
"Hopefully we can build on some of the confidence we took in the second half of this game."