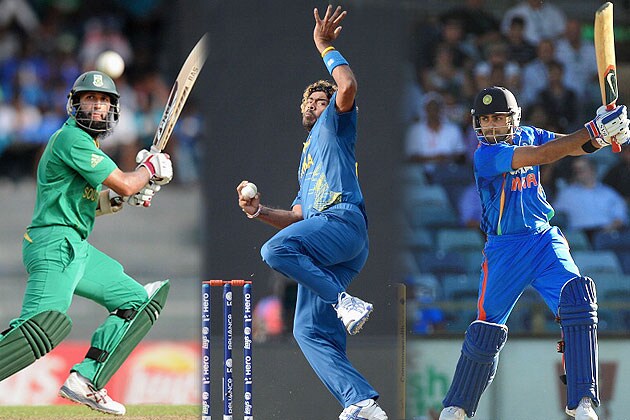 Cricketnext crunches the numbers, looks at the success and conditions and opposition and comes up with the definitive list of the 11 best one-day international (ODI) players this year.
1. Alastair Cook (capt) – M 15, I 15, Runs 663, Avg 47.35, SR 79.97, HS 137, 100 3, 50
Cook was a revelation in ODIs for England as captain and at the top of the order. He began the year with 137, 102 and 80 as England beat Pakistan 4-0 in the UAE, then collected a third century against West Indies at home in a 2-0 win. Cook's form tapered off in the second half of the year, though he still averaged 36.25 in a 4-0 sweep over Australia and oversaw a 2-2 draw against South Africa. For his ability to lead from the front, influence on England's fortunes and subsequent success rate in ODIs in 2012, Cook slots in at the top of our list.
2. Hashim Amla – M 10, I 9, Runs 678, Avg 84.75, SR 90.76, HS 150, 100 2, 50 4
Eight batsman scored more runs than Amla in 2012 but his name was one of the first into this list. After a stellar 2011, Amla continued his relentless march into the calendar year with a sequence of scores that were not only consistent but helped South Africa to victory. Sample his innings in 2012: 112, 55, 8, 92, 76, 150, 43, 45 and 97*. Then understand that of those nine matches, South Africa won seven. Both of Amla's centuries fashioned wins, as did his unbeaten 97 at Trent Bridge. In the two games South Africa lost, Amla averaged 44. All year he batted with a fluency and authority that belied his composed, sage-like presence at the top of the innings. Amla's stunning consistency and strike-rate of 90.76 put him ahead of Sri Lanka opener Tillakaratne Dilshan, who was the second-highest run-getter in 2012, and Australia's David Warner who tallied 840 runs at 35.
3. Virat Kohli – M 17, I 17, Runs 1026, Avg 68.40, SR 93.78, HS 183, 100 5, 50 3
Kohli was unable to top his 2011 high of 1381 runs from 34 matches, but had India played a few more matches – they did not play a single ODI between August 4 and December 30 - he was certain to beat that and then some. In just 16 matches he amassed 1026 runs with the high point being an incredible run of 133*, 108, 66, 183, 106, 1, 38 and 128*. Kohli finished the third-highest run-getter this year behind Kumar Sangakkara and Tillakarante Dilshan, who have both played 31 matches. Nobody has more hundreds than Kohli either, and each of those five delivered India victory; in fact, his average in Indian wins was a staggering 116.28. A duck in last innings of the year brought Kohli's average down from 73.28 to 68.40, but did little to take the gloss of his reputation.
4. Kumar Sangakarra (wk) – M 31, I 29, Runs 1184, Avg 43.85, SR 79.14, HS 133, 100 3, 50 6
Sangakkara finished as the leading run-getter this year. Only one of his three centuries resulted in victory, but it proved a match-winning one as Sri Lanka pulled off a nerve-wracking two-wicket chase of 313 in the fifth ODI against Sri Lanka in January to end the series 3-2. After a slow start, Sangakkara picked up in February-March with scores of 105, 64, 42, 51*, 19, 65 and 71 in straight innings. Then after another brief lull he roared back with 97, 40, 133 and 73 in four innings. For his consistency with the bat and 33 dismissals – second to Mathew Wade's 34 – in 2012, Sangakkara is our pick at No. 4 and with the gloves.
5. AB de Villiers – M 13, I 12, Runs 645, Avg 107.50, SR 108.58, HS 125*, 100 2, 50 3
Sangakkara edged de Villiers to the wicket-keeping role purely because of the South African's ability in the field, which gives our ODI XI added strength. As wicketkeeper this year de Villiers had 24 dismissals in 13 matches, but his effectiveness with the bat in South Africa's middle order is what was striking. His consecutive innings of 39 not out off 36 balls, 96 off 76 balls, 125 not out off 98 balls, 106 not out off 106 balls and 31 not out off 35 balls highlighted a purple patch in January-February. After three middling innings against England, de Villiers signed off his ODI run in 2012 with an unbeaten 75 off 79 balls to hasten a series-leveling win at Trent Bridge in September. An average and strike-rate of over 100 made him impossible to ignore.
6. David Hussey – M 25, I 24, Runs 728, Avg 34.66, SR 91.11, 50 7
His name was all but forgotten by the end of 2012, but Hussey had strong start to the year and had a big role in Australia winning the CB Series. He was the third-highest run-getter in the tri-series with 439 at an average of 54.98 and strike-rate of 101.15, reeling off a run of 61*, 27, 72, 58, 26*, 40*, 54 and 74 before trailing off in the best-of-three finals. Hussey's cool, calculated nature and ability to hit big runs when needed, allied with some excellent fielding and handy offspin, made Hussey an irrepressible force in colored clothing. He was also a consistent contributor in the 2-2 draw in the West Indies, and was steady in defeat to England. In his final innings of the year, Hussey was promoted to open and made 43 off 45 balls, with three sixes, to set Australia on the way to a series-clinching win over Pakistan.
7. Thisara Perera – M 23, I 16, Runs 246, Avg 18.92, SR 110.81, Wkts 32, Avg 26.84, Econ 5.95, SR 27, BB 6/44
Five Man-of-the-Match awards showed how vital Perera was for Sri Lanka. His deceptively effective medium-pace fetched him the second highest number of wickets in 2012, and an ability to consistently strike when given the ball at the start, middle or end of an innings was impressive. An economy rate of less than six is acceptable for a medium-pacer, and that Perera finished the year at 5.95 despite conceding over eight runs an over on six occasions shows how well he bowled otherwise. He went wicketless just six of the 20 times he bowled more than one over, meaning that his 32 wickets came in 14 innings at an average of 18.40.
The highlights for Perera were his 6 for 44 in Pallekele and 4 for 42 in Colombo, both against Pakistan, and 4 for 37 in Brisbane and 3 for 19 at Hambantota, both against India. Perera also found success with the bat, as highlighted by a 44-ball 69 in a high-scoring chase at Kimberly, an 11-ball 21 in a tense chase over Australia in Hobart, and a 14-ball 24 in the same match where he stunned Pakistan with six wickets. His fielding was also brilliant through the year, making Perera our pick for the allrounder's slot.
8. Saeed Ajmal – M 17, Wkts 31, Avg 21.12, Econ 4.31, SR 29.3, BB 5/43
Ajmal was the fourth-highest wicket-taker in 2012, and his reliability was impressive for a team that struggled to win consistently. Ajmal bowled his quota of ten overs in all but four of 15 innings, and went wicketless twice. In an attack that struggled to bowl teams out – Pakistan won just six of the 15 matches in which Ajmal bowled – he was a constant threat and source of blocking on end. A best of 5 for 43 was the only positive for Pakistan in the first ODI against England in Abu Dhabi, but 3 for 27 against Sri Lanka and 4 for 32 against Australia helped seal victories.
9. Lasith Malinga – M 32, Wkts 47, Avg 32.08, Econ 5.66, SR 33.9, BB 5/54
The year's highest-wicket with 47, Malinga finished 15 wickets clear of team-mate Perera. He played the most matches (32), bowled the most deliveries (1596) and conceded the most runs (1508), and was impossible to ignore whenever he came on to bowl. Having bid adieu to Test cricket, Malinga was able to play more ODI cricket – his 31 innings were the most he has bowled in a year – and he fell one short of equaling his previous best returns for a calendar year, the 48 he took in 23 innings in 2011. It wasn't always rosy for Malinga, especially against India whom he conceded runs at 6.69 an over – largely due to consecutive figures of 1 for 96 in 7.4 overs and 0 for 83 in ten overs, with Kohli caning him both times. But for his unyielding reliance on pace and those clever yorkers, and of course his number of wickets, Malinga leads our bowling attack.
10. Sunil Narine – M 17, W 34, Avg 17.64, Econ 3.66, SR 28.9, BB 5/27
Narine's first full year of ODI cricket was a success. Five matches at home against Australia helped West Indies to a rare series draw; Narine took 11 wickets at 14.45 including 4 for 27 in victory at Kingston. He regularly troubled the Australian batsmen with his guile on slow and low surfaces. Did not find nearly as much success in England, predictably, but back home against New Zealand Narine gave the tourists a hell of a time. Topped the wickets' list with 13 at 11.23 and an economy rate of 2.92, and was voted Man of the Series. Picked a career-best 5 for 27 in the final match which sealed a 4-1 win. Narine may not have reaped as many wickets in five ODIs in Bangladesh as he and others may have expected, but was the best West Indian bowler with nine at 21.55.
11. Steven Finn – M 14, Wkts 25, Avg 20, Econ 4.20, SR 28.5, BB 4/34
Steven Finn was England's stand-out bowler and the seventh most successful in 2012. His 25 wickets included the most four-wicket hauls (three) but most impressively an economy rate of 4.20 that was bettered only by Narine's 3.53. Of all fast bowlers to have bowled more than 115 overs this year, Finn's average of 20 is by far the best. Ten of his 14 matches at home in favorable conditions resulted in 12 wickets at 30.50, with an excellent display of fast bowling against Australia at Chester-le-Street, in which Finn was on a hat-trick twice, yielding 4 for 37. But it was 13 wickets in four matches against Pakistan in the UAE which showed Finn's true specialty. Consecutive four-wicket hauls in Abu Dhabi bowled England to big wins, while 3 for 24 in Dubai set up a nine-wicket success. Finn's ability to get bounce off otherwise batting-friendly tracks was a major reason in a 4-0 sweep of Pakistan.
12th man: Tillakaratne Dilshan – M 31, I 30, Runs 1119, Avg 41.44, SR 84.64, HS 160*, 100 4, 50 3
For a man who began the year with two ducks in a row, Dilshan did well to finish 2012 with over 1000 runs and four centuries. His form improved in South Africa after blobs in the first two ODIs with a run-a-ball 87 at Kimberly helping Sri Lanka avert a whitewash. In the CB Series, Dilshan ran up scores of 48, 40, 16, 45, 51, 3, 160*, 9, 27, 106 and 8 to finish the leading run-scorer with 513. A poor run followed in the Asia Cup, but an unbeaten 119 fashioned a 76-run win over Pakistan at home as Sri Lanka won the series 3-1. A middling run against India was followed with another unbeaten century in Sri Lanka's final ODI of the year, giving Dilshan his second Man-of-the-Match award and the home team another series win. His 1119 runs were best ever for Dilshan in a calendar year, topping his 1000 in 2009.