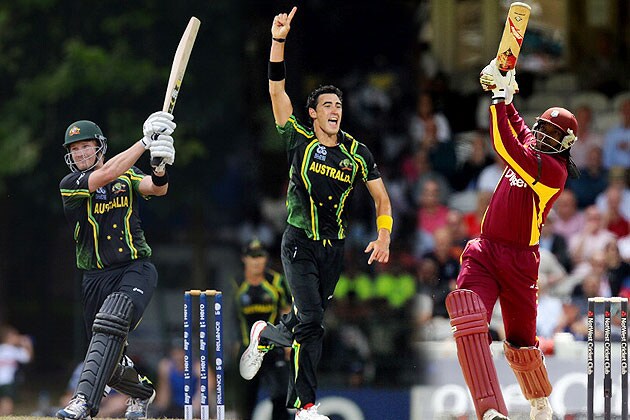 We sift through the numbers, wickets and runs to pick the XI most valuable Twenty20 international cricketers of the year.
1. Chris Gayle – M 11, I 10, Runs 368, Avg 40.00, SR 144.88 HS 85*, 50 5
Gayle's return to West Indies' Twenty20 setup began with a series of dominating innings, proving that he can have a big influence on the team's fortunes. After scoring just 2 on his return to the team on June 24 in England, the Jamaican reeled off scores of 85*, 53, 54 and 58 as West Indies enjoyed a run of success. Gayle's unbeaten 75 off 41 balls in the ICC World Twenty20 semi-final against Australia was a match-winning innings, and though he failed in the final Gayle enjoyed a fruitful five-month run back in maroon. Gayle was also the year's second-highest six-hitter with 25.
2. Shane Watson – M 11, I 11, Runs 406, Avg 40.60, SR 143.97, HS 72, 50 4, Wkts 17, Avg 15.82, Econ 6.43, SR 14.7, BB 3/26
The best allrounder of 2012, Watson bagged five Man-of-the-Match awards this year with a stunning run of four in four matches during the World Twenty20. This included scores of 51, 41*, 72 and 70 to go with ten wickets at an average of 16. Watson's year began with a 43-ball 69 and a spell of 4-0-16-1 in the West Indies and that set the tone for a strong 2012. His 28 sixes were the most for any batsman in the format, and his strike-rate of 143.97 the third highest for those to have batted at least ten innings. Watson was a shoo-in for our T20 XI of the year.
3. Brendon McCullum (wk) – M 12, I 12, Runs 411, Avg 34.25, SR 141.72, HS 123, 100 1, 50
One of just four T20I centurions this year, McCullum was an influential player for New Zealand as well as the third-highest run-getter in the format. His century against Bangladesh in the World Twenty20 was a superb innings, and his 91 against India in a preceding series was almost singularly responsible for victory. He did not cross fifty more than twice, but contributed consistently to his team. His solid work behind the stumps makes McCullum our dedicated wicketkeeper.
4. Virat Kohli – M 14, I 13, Runs 471, Avg 39.25, SR 132.67, HS 78*, 50 4
Kohli, who dominated the run charts in ODIs and Tests for India, was India's highest run-getter in this format as well. His run of form was strongest in the latter half of the year when he ran up knocks of 68, 70, 50, 40, 15 and 78 not out – four of which helped India win. That innings of 78 was a match-winning one as India beat Pakistan in the World Twenty20, and his best this year. Cool, unhurried and playing proper cricket shots, Kohli oozed confidence in 2012. He was second to Martin Guptill in the overall run tally.
5. Marlon Samuels – M 12, I 10, Runs 325, Avg 40.62, SR 143.17, HS 85*, 50 4
Though not as destructive as Gayle, Samuels was a key player for West Indies in 2012. His 30-ball 52 against Australia in the league phase of the World Twenty20 was a fine innings, but a controlled 78 in the final was Samuels' crowning glory. From 14 for 2, Samuels rebuilt the innings before attacking Sri Lanka's spearhead, Lasith Malinga, to set up a match-winning total. Before the year was over, he smacked an unbeaten 85 off 43 balls to set up victory over Bangladesh. His 24 sixes were third best for 2012, and his quick offspin also accounted for nine wickets, adding value to Samuels as a Twenty20 cricketer. Though a top-order batsman, he slots in at No. 5 in our XI.
6. Yuvraj Singh – M 10, I 9, Runs 224, Avg 28, SR 141.77, HS 72, 50 1, W 15, Avg 11.93, Econ 6/24, SR 11.4, BB 3/17
Returning from surviving cancer, Yuvraj reminded his critics of what he provides in the Twenty20 format. He wasn't spectacular, but remained a steady contributor with bat and especially with the ball, taking 15 wickets at 11.93. In his first international match for over a year, Yuvraj warmed up with 34 off 26 balls; a lean run in the World Twenty20 ended with a Man-of-the-Match performance of 21 off 15 balls and 2 for 23; against England in Pune, Yuvraj thumped 38 off 21 balls and took 3 for 19; and in a series-leveling win against Pakistan, he larruped 72 off 36 balls with seven sixes (no other Indian batsman hit even one). Though he didn't set the run charts on fire, Yuvraj did collect 16 sixes in nine innings. And thrice he was Man of the Match.
7. Kieron Pollard – M 12, I 11, Runs 236, Avg 29.50, SR 168.57, HS 63*, 50 2
The big-hitting West Indian is our second allrounder for his ability to contribute quick runs and turn middling scores into potentially match-winning ones. Pollard's 26-ball 54 not out against Australia at Gros Islet took West Indiies to 150 when no other batsman was able to dominate; an unbeaten 23 off 13 balls took the score past 150 against England at Trent Bridge; an unbeaten 63 off 29 balls against New Zealand in Florida was a brutal innings that took the score past 200; a 15-ball 38 against Australia in the World Twenty20 semi-final proved a decisive one, as Pollard struck three consecutive sixes in a 25-run over. His medium pace was decidedly underused in 2012 – he only bowled six overs – but gives Pollard an edge over other allrounders.
8. Graeme Swann – M 12, W 17, Avg 14.70, Econ 5.68, SR 15.5, BB 3/13
Spinners proved successful wicket-takers in 2012, and Swann came in second behind Saeed Ajmal – and third overall – with 17 wickets. His economy rate of 5.68 was the best for all bowlers in 2012, ensuring Swann a place in our XI ahead of Sunil Narine (16 wickets) and Ajantha Mendis (15 wickets). Swann's six wickets in three matches in the UAE – at an average of 8.33 and economy of 4.16 – were a major factor in England's 2-1 series win. His 4-1-13-3 included two wickets in one over – Shahid Afridi and Umar Akmal, no less - as Pakistan were kept to 144 in Dubai. Where Narine was unable to manage a single maiden, Swann had three – against Pakistan and twice in one match against Afghanistan. Swann went wicketless just once, against South Africa at Chester-le-Street, but conceded just 16 from his four overs.
9. Mitchell Starc – M 8, Wkts 14, Avg 13.71, Econ 6.16, SR 13.3, BB 3/11
One of the brightest pace-bowling talents that Australia has unearthed recently, the left-arm quick was a consistent wicket-taker in the format. He went wicketless in just one match, and swung the ball appreciable to have opposition batsmen in knots. Against Pakistan in the UAE Starc was excellent; on debut, out of Pakistan's total of 151 for 4 in the first match he had figures of 4-0-17-1 when his team-mates all conceded over seven per over. In the second, he took 3 for 11 in 3.1 overs as Australia walloped Pakistan by 94 runs. Starc was strong in the World Twenty20, taking wickets at the top and at the death on a consistent basis. He was the third-highest wicket-taker of the tournament with 10 at 16.40.
10. Saeed Ajmal – M 16, Wkts 25, Avg 15.64, Econ 6.10, SR 15.3, BB 4/23
Ajmal was the leading wicket-taker in T20Is this year. He was consistent with his threat and often had batsmen in trouble with his bag of wares. The only bowler to take four wickets in an innings twice, Ajmal proved against that spin has a big role to play in Twenty20. His 4 for 23 against England was a masterful display, though it failed to secure victory, and his 4 for 30 bowled Pakistan to a narrow win over New Zealand. Ajmal had a profound hold over Australian batsmen, with four-over figures 2 for 13, 2 for 20, 2 for 19 and 4 for 17.
11. Steven Finn – M 11, Wkts 17, Avg 16.70, Econ 6.76, SR 14.8, BB 3/16
England's joint leading wicket-taker with 17, Finn was a potent force with the new ball and at the death. His 3 for 30 proved instrumental in victory over Pakistan in the UAE, while against South Africa at home he was frugal and sharp with the short ball. Finn was also one of the most successful fast bowlers in Asian conditions. His 3 for 16 against New Zealand in Sri Lanka was an outstanding display, and he finished the World Twenty20 with eight wickets at 15.37.
12th man: Martin Guptill – M 13, I 13, Runs 472, Avg 47.20, SR 130.74, HS 101*, 100 2, 50 2
The New Zealand opener was the highest run-scorer of 2012, but 270 of those came in three innings, thereby highlighting Guptill's inconsistency. But what innings they were. His unbeaten 91 off 54 balls against included six sixes and hastened victory over Zimbabwe. An unbeaten 78 off 55 balls powered New Zealand to a six-wicket win over South Africa. And at the end of the year, a last-ball four gave Guptill a century off 69 balls and sealed a nerve-racking win over South Africa. In between these strong innings at the start and end of 2012, Guptill struggled to dominate. Hence he lost out to the devastating Gayle as opening partner to Watson.