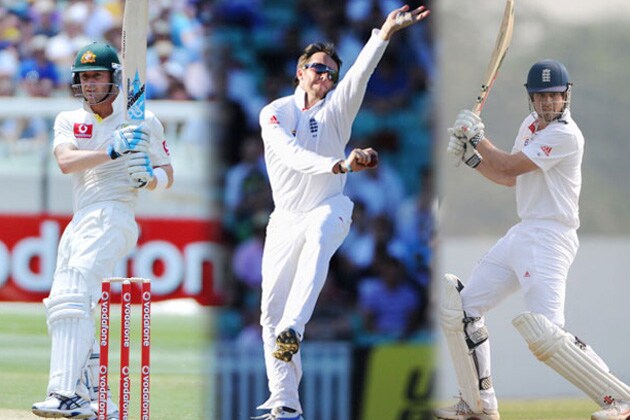 We sift through the numbers, wickets and runs to pick the 11 most valuable Test cricketers of the year.
1. Alastair Cook – M 15, I 29, Runs 1249, Avg 48.03, HS 190, 100 4, 50 3
The second-highest run-scorer in Test cricket this year, after his captain in our XI, Michael Clarke. Cook produced England's highest score during the 3-0 whitewash to Pakistan – a battling 94 in the second Test at Abu Dhabi – and contributed 94 and 49* as the team drew level with Sri Lanka in Colombo. Managed starts but failed to convert in the home series against West Indies, and ended an 11-month gap without a century by stroking a first-day 115 against the South Africans at The Oval. Cook's form trailed off for the remainder of the series which saw England lose the No. 1 ranking, but his amazing run at the end of the year proved massive to a first series win in India since 1984-85. Cook's 562 runs were the highest in the series, and had he not been twice given out incorrectly in the final Test he looked certain to collect a few more.
2. Graeme Smith – M 10, I 19, Runs 825, Avg 48.52, HS 131, 100 3, 50 5
Another solid year for South Africa's Test captain, during which he took the team to the top of the ICC rankings. Did not lose a series, and scored a century on each tour (115 at Dunedin, 131 at The Oval, 122 in Adelaide). The century at The Oval came in Smith's 100 Test and helped South Africa take a series lead. At Lord's, in the final match of the series, Smith became the most-capped Test captain with 94 going past Allan Border. A few months later, he became the first South African captain to win two series in Australia, with a 1-0 triumph at the end of 2012. Looked set for a century during the series-winning victory at Perth before he fell to a terrific catch in the deep.
3. Hashim Amla – M 10, I 17, Runs 1064, Avg 70.93, HS 311*, 100 4, 50 2
South Africa's bearded run-machine kept chugging in 2012, topping 1000 runs yet again. After frittering away a few starts in New Zealand, Amla roared back with his country's first triple-century, an unbeaten 311 at The Oval that set the tone for the team's English summer. Finished the series with a century at Lord's – the only one in the match - and then in Australia collected two more hundreds – including 196 in the win at Perth – to end 2012 on a high. Durable as ever.
4.Kevin Pietersen – M 14, I 25, Runs 1053, Avg 43.87, HS 186, 100 3, 50 4
Proved again that he is essential to England's success, despite his ego and issues with authority. After struggling against spin in the UAE, and then two poor scores in defeat to Sri Lanka in Galle, Pietersen stirred England back to life with an exception century in Colombo. His 151 off 165 balls, inclusive of 16 fours and six sixes, drove England into the lead and 42 not out off 28 balls hastened an eight-wicket win that leveled the series. After two fifties against West Indies, Pietersen's brilliant 149 at Leeds helped England draw against South Africa. Called back to the Test team after his standoff with the ECB, Pietersen helped England win in Mumbai with an audacious 186 and collected fifties in the remaining two matches of that epic series win. Each of his three centuries ensured Pietersen the Man-of-the-Match award.
5. Jacques Kallis – M 9, I 15, Runs 944, Avg 67.42, HS 224, 100 4, 50 1
Another excellent year for South Africa's veteran allrounder. Like his top-order team-mate Amla, Kallis scored four centuries, including a career-best 224 in a series-clinching victory over Sri Lanka and an unbeaten 182 in a series-leading win at The Oval. There were also centuries in New Zealand and Australia, further proof that Kallis is a player for all conditions. Faced stiff competition from Michael Hussey, but Kallis' bowling gave him an edge. He took 11 wickets at 28.27, with a best of 3 for 35 in the win over Sri Lanka at Cape Town in January.
6. Michael Clarke (capt) – M 11, I 18, Runs 1595, Avg 106.44, HS 329*, 100 5, 50 3
It was the twinkle-toed Clarke's annus mirabilis. Given the Test captaincy, Clarke blossomed and then turned into a batting behemoth, finishing the year with 1,595 runs, the fourth-highest of all times and an Australian record. The year began with a triple-century, his first in Test cricket, as Australia hammered India by an innings and ended with 106 in an innings-and-201-run win over Sri Lanka. Clarke could not put a wrong foot forward in 2012, even though Australia had only two Test series wins to show. He took an unbeaten 329 and 210 off India in a 4-0 win at home; struggled during the 2-0 triumph in the West Indies, but reeled off 259*, 230, 5 and 44 in the 0-1 loss to South Africa and then made 74, 57* and 106 in successive wins over Sri Lanka. Apart from his stellar run with the bat, Clarke proved an inspiring captain, always looking to win. His declarations on 329 and 259 were illustrations of his win-at-all-costs mentality.
7. Matt Prior (wk) – M 5, I 22, Runs 777, Avg 38.85, HS 91, 50 6, C 39, S 7
Prior evolved in leaps and bounds in 2012, as a batsman and wicketkeeper, and won our vote for glovesman in this XI over AB de Villiers because of his skill behind the stumps. In England's 3-0 whitewash in the UAE he was the most solid of the batsmen, off front foot and back. Did not do much with the bat in Sri Lanka or at home against West Indies, but Prior's glovework remained outstanding. Scored three fifties against South Africa, but it was his work in India that set Prior apart from his peers. He finished the four-Test series with a batting average of 51.60, scoring crucial runs in difficult passages. Once again Prior's footwork against spin was eye-catching, and his wicketkeeping in tough conditions made it impossible not to ask the question: is he the best 'keeper in Test cricket?
8. Vernon Philander – M 9, W 43, Avg 21.11, SR 45.8, BB 6/44
Philander found Test cricket tougher the more he played it, but finished the year as the fourth-highest wicket-taker. His first four Tests of 2012 produced 27 wickets, 21 of which came in three Tests against New Zealand including a Man-of-the-Match haul of 10 for 114 in victory over New Zealand at Hamilton. Did not find the going as easy in England, where at Lord's and Leeds he managed five wickets combined, but seven wickets in the deciding Test earned Philander another match award. Went wicketless at Brisbane but took four key wickets – including Shane Watson and Ricky Ponting (twice) - in the series-clinching win at Perth. Philander averaged 26.22 with the bat, with 61 and 35 contributing significantly to the win at Lord's which took South Africa to No. 1.
9. Graeme Swann – M 14, W 59, Avg 29.93, SR 64.5, BB 6/82
Second in the wickets' list for 2012, Swann overcame an elbow injury to feature prominently in all but one series. Took 13 wickets during the defeat to Pakistan, bowling with control. After going wicketless in the first innings of the Galle defeat, Swann took 16 in the next three including ten in series-leveling win in Colombo. That performance ranks as one of Swann's best. Against South Africa at home he encountered a mighty batting line-up on flat tracks and finished with a bowling average of 77, though Swann was not helped by dropped catches and a worrisome elbow. In India, Swann bowled with immense skill and variety to finish join highest wicket-taker in the series. His batting (he averaged 23.50) and slip catching were also impressive.
10. James Anderson – M 14, W 48, Avg 29.50, SR 70.7, BB 5/72
Though he was the third-highest wicket-taker in 2012, Anderson's inclusion in this list owes more to his ability to be persistent in all conditions while remaining a genuine threat. On unresponsive conditions in the UAE, he took nine wickets at 27.66 and swung the ball dangerously. In the draw in Sri Lanka, Anderson was the most successful fast bowler on either side with nine at 21.77, again bowling with exemplary patience and control in sapping conditions. Anderson took 18 wickets in five home Tests (nine each against West Indies and South Africa, at more than 40 apiece) but was not helped by dropped catches and unusually batsmen-friendly conditions. But then came the tour to India, in which Anderson emerged heads and shoulders ahead of his bowling counterparts. On difficult surfaces, he took 12 more wickets than the next seamer while proving that he is an exceptional bowlers. Anderson did not to go wicketless in a single Test in 2012.
11. Rangana Herath – M 10, W 60, Avg 23.61, SR 53.7, BB 6/43
By finishing as the leading wicket-taker in 2012, Herath proved that for Sri Lanka, there is life after Murali. From a country of unorthodox spinners, the 34-year-old proved that dedication and simplicity can go a long way. He does not spin the ball a big way and does not produce many unplayable deliveries, but Herath's left-arm spin was a constant threat to the opposition, especially at home where he netted 54 wickets from seven Tests. At Galle, his favorite ground, Herath was a monster, taking 28 in three matches with 12 in victory over England and 11 in a ten-wicket drubbing of New Zealand. Sri Lanka's third win of the year also came at Galle, and Herath played a role. Mahela Jayawardene termed him the second-best spinner Sri Lanka has produced. Despite his success, a modest Herath named Swann as the best spinner in the world.
12th man: Saeed Ajmal – M 6, W 39, Avg 20.56, SR 46.4, BB 7/55
Ajmal had a superior average and strike-rate than Swann but missed out on a place in our XI because he didn't play enough and in a variety of conditions. He completely befuddled England's batsmen in the UAE, taking 24 wickets at 14.70, the fifth-highest by a Pakistan bowler in a three-Test series. He was virtually unplayable, spitting the ball across the bat and through the defences with a reliance on a devilish doosra proving awesome. Ajmal carried his form into the three-match series in Sri Lanka, finishing with 15 at 29.93. Had he played more matches, it looked like Ajmal would have added significantly to his tally.