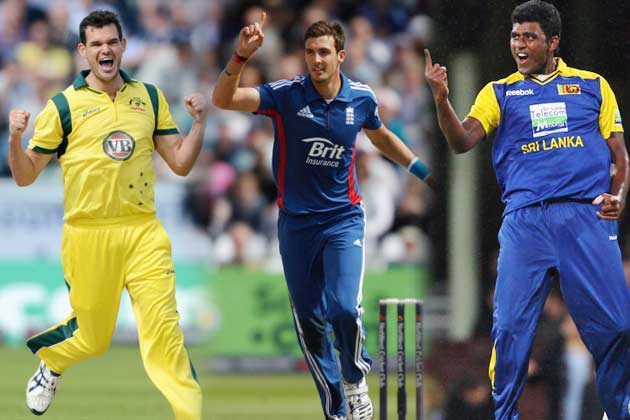 From subtle changes of pace to slinging yorkers and bamboozling spin, we pick ten stellar one-day international (ODI) bowling performances of the year.
Ben Hilfenhaus – 5 for 33, 7th CB Series match, Brisbane
On a hard, fast Gabba surface, Hilfenhaus capped a strong day for Australia with a career-best bowling effort. India never came close to Australia's 288, as Hilfenhaus marked his return to the ODI side after November 2009 with a top-class analysis. Bowling at pace with a nagging line and length, he accounted for Sachin Tendulkar, Virat Kohli and MS Dhoni en route to 5 for 33 which earned Hilfenhaus the Man-of-the-Match award.
Steven Finn – 4 for 34, 1st ODI, Abu Dhabi
That England were driven to a strong total owed to Alastair Cook's splendid batting. That they beat Pakistan by 130 runs had much to do with Finn's hostile opening burst. Bowling at good pace and getting the ball to move around from an awkward height, Finn removed Pakistan's top order in a superb spell. With his straight, fullish length Finn proved tough to negotiate, as Mohammad Hafeez and Asad Shafiq found out. Younis Khan and Imrat Farhat were lured into fatal pokes outside off, and in a flash the 6 ft 7 in Finn had run rampant over the opposition. The match had been emphatically snuffed out.
Morne Morkel – 5 for 38, 2nd ODI, Napier
The tall and lanky Morkel's first five-wicket haul in ODI cricket was a special one, highlighted by his use of the short ball to have New Zealand in all sorts of trouble. It was a relentless spell on a pitch that South African captain AB de Villiers termed "by far, the hardest one we have played on in New Zealand", and saw New Zealand's lower order hustled by pace and bounce. Of his five wickets, three came via the short ball. Morkel dented New Zealand with the wickets of James Franklin and Kyle Mills in his fifth spell and came back for his sixth to run through the tail as the hosts succumbed in the 48th over. South Africa won by six wickets.
Clint McKay – 5 for 28, 3rd CB Series final, Adelaide
After two run-filled finals, the CB Series decider was settled in Australia's favor by an unassuming, workmanlike limited-overs bowler at the age of 29. In 22 prior appearances McKay had a best of 5 for 33, achieved against Sri Lanka two years earlier. On the evening of March 8, he improved on that will a display that delivered Australia the title. Along with Brett Lee, he reduced Sri Lanka to 53 for 4 inside ten overs and then returned to collect three wickets in a hurry. It was a canny display of stump-to-stump of accurate medium pace on a wearing surface and, followed by McKay's crucial 28 with the bat, made him impossible to ignore at the post-match ceremony.
Thisara Perera – 6 for 44, 2nd ODI, Pallekele
The Sri Lankan allrounder's career-best bowling effort included four top-order victims as Perera bagged the overall best bowling figures against Pakistan in ODIs. Perera is not express pace at all but his nagging accuracy, coupled with some typical Pakistani floundering, saw Sri Lanka win by 76 runs. In his first spell (5-0-24-2) Perera removed Hafeez and Younis; in his second, he trapped Misbah-ul-Haq lbw and had Umar Akmal caught behind, though replays showed the ball had missed bat. A third spell brought Perera his fifth and sixth wickets,
Thisara Perera – 4 for 42, 4th ODI, Colombo
More than his six wickets in Pallekele, it was Perera's four-wicket hall in Colombo that was really stunning. From 166 for 2 chasing 244, Pakistan crashed to 179 for 9 inside four overs with Perera taking a hat-trick. The 41st over of the chase, which began with Pakistan needing 68 off 60 balls, was spectacular: Younis edged behind, Shahid Afridi drove to cover, and Sarfraz Ahmed steered to slip. Three balls, three wickets. Perera then affected a run out in the over as 176 for 4 became 176 for 8.
Steven Finn – 4 for 37, 4th ODI, Chester-le-Street
England's ODI series win over Australia in Durham was sealed by another outstanding display of fast bowling from Finn, who found himself on a hat-trick twice during his analysis of 4 for 37. A double-wicket third over saw David Warner lbw when playing all over a straight delivery and Peter Forrest beaten for pace. The hat-trick ball just missed the top of Michael Clarke's stumps, but the Australian captain became Finn's third victim when he was bowled by an in-cutter in a new spell. Matthew Wade was brilliantly held by Craig Kieswetter, but again Finn was denied a hat-trick. He was, duly, the Man of the Match for a high-quality effort of sharp pace off an immaculate line and length.
Sohag Gazi – 4 for 45, 1st ODI, Khulna
Sohag Gazi's Test debut resulted in nine wickets against West Indies, although in defeat. His first ODI appearance two weeks later, however, proved a happier occasion. Bowling his tidy offspin, the rookie bowler accounted for Chris Gayle, Marlon Samuels, Devon Thomas and Sunil Narine as West Indies were bowled out for 199 in 46.5 overs. While it was a shoddy batting performance in which the opposition batsmen gifted some wickets, but that took nothing away from the way Gazi stuck to his craft. Gayle picked out long-on off Gazi's second delivery in ODIs, after which Samuels – on the back of 260 in the second Test – was lured into an early drive and caught at slip for 0. Thomas too was drawn into a lofted shot down the ground, and Narine lbw for 36. This debut showing continued the promise of Gazi's Test efforts.
Sunil Narine – 4 for 37, 3rd ODI, Dhaka
After losing the second ODI, West Indies were starting at a series defeat. That's when Bangladesh chose to stumble, and allowed Narine to wrest back some momentum. Bowling his wrong 'uns with venom, Narine took four wickets as West Indies beat Bangladesh by four wickets to stay alive in the five-match series. On a tricky surface, Narine exploited the uneven bounce with a masterful display of spin bowling highlighted by ability to purchase turn and drift and beat the bat numerous times. The dangerous Tamim Iqbal was done in by one that moved away; two balls later Naeem Islam got a leading edge to cover. Having seen a no-ball result in a catch to cover and the free hit produced a missed stumping, Narine had Anamul Haque lbw for 33. His final wicket came when Mashrafe Mortaza was stumped in the 39th over.
Junaid Khan – 4 for 43, 1st ODI, Chennai
Under overcast skies on a murky December morning, the left-arm pacer was almost unplayable. Having started with a no-ball, Junaid's day went upward. With his 11th delivery he bowled Virender Sehwag with a length ball that curved back in; with the fourth and sixth balls of his third over he went though Kohli and Yuvraj Singh. Kohli was beaten by a fuller ball that came in after pitching, failing to cover the line, while Yuvraj was castled by one that went on straight. Junaid picked up his fourth when Rohit Sharma edged to third slip where Hafeez plucked a fine catch. That first spell of 6-1-17-4 was a top display of controlled swing bowling. An excellent innings from Dhoni helped India recover from 29 for 5 to 227 for 6, but the damage done by Junaid proved irreversible.