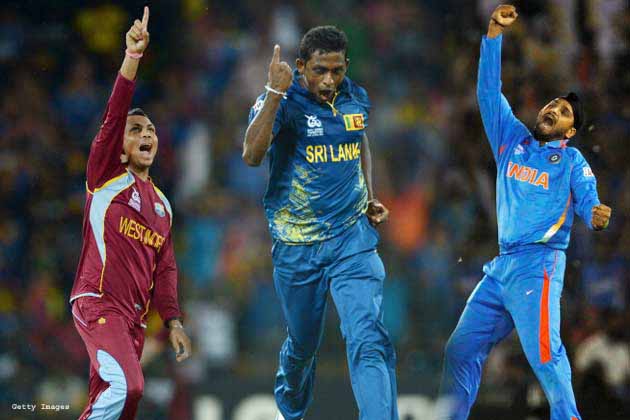 From nagging yorkers, asphyxiating lines and blistering pace, we sift through the list and come up with the most memorable Twenty20 international bowling spells of 2012.
Umar Gul – 3 for 18, 1st T20I, Dubai
Umar Gul remains one of the best Twenty20 bowlers and his skill was on display against England in the UAE. In the opening match of the series, Gul's analysis of 4-1-18-3 played a major role in Pakistan's eight-run win and highlighted his worth at the death. He began the evening with a maiden over as England attempted to chase a target of 145, and then took three wickets in two overs to derail the chase. In his first over of a second spell, the 16th of England's innings, Gul bowled Ravi Bopara with a leg-stump Yorker. In his next, Jos Buttler scooped Gul to short fine leg and Samit Patel went first ball to a vicious in-dipper. There was to be no hat-trick for Gul, but he had left his mark. He was the deserved Man of the Match.
Johan Botha – 2 for 20, 3rd T20I, Hamilton
In a series dominated by the bat, offspinner Botha slipped in a telling spell that helped South Africa claim the three-match series 2-1. Chasing a target of 166, New Zealand proceeded to stumble at the last step as rookie pace bowler Marchant de Lange defended six runs off the final over, but it was Botha's two wickets earlier in the chase that turned the tide. In his first over, Botha removed the in-form Martin Guptill with an offbreak which the batsman sliced to cover. Needing less than a run-a-ball by the 15th over, New Zealand were pegged back by Botha who conceded two runs off the 17th over and then removed Jesse Ryder in a three-run 19th over. Ryder, on 52, walked across his stumps to scoop the ball to fine leg but found Morne Morkel on the edge of the circle. New Zealand never recovered.
Sunil Narine – 4 for 12, 2nd T20I, Florida
Mystery spinner Narine was a major pest for New Zealand in 2012 – he collected 10 wickets in three T20Is against them, apart from 13 in five ODIs – and they found him impossible to negotiate in the second match of the brief series at Lauderhill. Narine completely flummoxed the batsmen, netting a parsimonious 4 for 12 in his quota, slipping in 14 dot balls. Narine began by removing Guptill and Rob Nicol with the fifth and six deliveries of his first over, the former beaten in the flight and the latter dragged out of his crease, and so nearly had a hat-trick when Daniel Flynn edged just short of slip. Dean Brownlie was bowled all ends up, and Andrew Ellis picked out long-off. It was a strangle hold of high-quality spin.
Elias Sunny – 5 for 13, 1st T20I, Belfast
On July 19 at Stormont, Bangladesh's left-arm spinner became the first player to win the Man-of-the-Match award on debut in two formats. After being named Man of the Match in his first Test, against West Indies in October 2011, Sunny won the award after his first Twenty20 against Ireland. It was a simple decision. In Bangladesh's defense of 190, Sunny reaped a career-best 5 for 13 – the third-best figures in T20Is – to become the first Bangladesh bowler to capture five wickets in an innings. His excellent haul began with a double-wicket maiden, as Ed Joyce was caught at deep square leg and Niall O'Brien stumped off the next ball. Then Sunny extracted John Mooney and Alex Cusack, before Trent Johnston became his fifth. Ireland's batsmen just had no clue as to how to play Sunny.
Ajantha Mendis – 6 for 8, 1st match, ICC World Twenty20, Hambantota
There have seldom been stronger comebacks. On return to the Sri Lankan side after an eight-month injury lay-off, Mendis stunned Zimbabwe with a record haul of 6 for 8 as the hosts opened the ICC World Twenty20 with a huge win. His stunning effort included three batsmen bowled and one pinned to the crease, as Zimbabwe were bowled out for 100 in 17.3 overs. The batsmen simply struggled against Mendis' unreadable deliveries. Mendis removed Vusi Sibanda and Brendan Taylor in successive balls and then added the top-scorer Hamilton Masakadza; in his second spell he grabbed three more to snap Zimbabwe's brittle order, thus beating his previous best of 6 for 16 in 2011.
Harbhajan Singh – 4 for 12, 10th match, ICC World Twenty20, Colombo
In his first international for more than a year, Harbhajan produced the best bowling performance by an Indian bowler in T20I, earning the Man-of-the-Match in a 90-run thrashing of defending champions England. The opposition was woeful against spin, and Harbhajan reaped the rewards with a superb spell that accounted for Eoin Morgan (bowled), Tim Bresnan (caught sweeping), Buttler (bowled) and Graeme Swann (stumped). Batsman after batsman appeared clueless against Harbhajan, either making room to cut arm balls or fidgeting in the crease. That took nothing away from the bowler, who varied his pace and, refreshingly, even gave the ball a bit of air.
Lasith Malinga – 5 for 31, 22nd match, ICC World Twenty20, Pallekele
What list of Twenty20 bowling is complete without a mention of Malinga? While 2012 wasn't an entirely rosy year for the slinger from Sri Lanka – he managed ten wickets in nine matches at an economy rate of 7.93 – there was one stand-out match. It included five wickets. Attempting to overhaul Sri Lanka's total of 169 to stay alive in the tournament, England crashed out in the face of some skilled bowling from Malinga. He ran through the top order with three wickets in four balls, and then came back at the death to take out Samit Patel before he could inflict serious damage. Given the third over, Malinga removed Luke Wright, Jonny Bairstow and Alex Hales inside six balls with changes of pace and length; Wright slashed to point, Bairstow was done by a slower ball and Hales rapped by an angry inswinging yorker. Malinga returned for a second burst in the 14th over and bounced out Buttler, and after taking a bit of stick completed his five-wicket haul by bowled Patel with a very fast full toss. After a slow run in the tournament, Malinga was back to being fast and furious.
Ajantha Mendis – 4 for 12, final, ICC World Twenty20, Colombo
Mendis missed a few games due to injury after his wrecking of Zimbabwe, and produced a fine display of bowling in the final. Unfortunately for Sri Lankan fans, it was not enough to seal victory. His figures of 4 for 12 threatened to bundle out West Indies cheaply, had Marlon Samuels not played a match-winning innings. In his first over, the last of the Powerplay, Mendis got Chris Gayle for a 3 off 16 deliveries. He had already drawn an edge off Samuels and been deprived of Gayle's wicket when an lbw appeal was turned down, so his removal of the danger man was massive. A slider did for Dwayne Bravo off the last ball of Mendis' third over, and in his fourth he snuffed out Kieron Pollard and Andre Russell in successive deliveries. West Indies were struggling at 89 for 5, but tellingly Mendis lacked support from his bowling team-mates.
Bhuvneshwar Kumar – 3 for 9, 1st T20I, Bangalore
India did not managed to beat old rivals Pakistan on Christmas day, but there was a nice gift in the form of rookie pace bowler Bhuvneshwar Kumar. Called up for the first time to India's Twenty20 team for two matches against Pakistan, the Uttar Pradesh seamer marked his debut with an excellent spell of bowling. His control and ability to move the ball at decent pace was remarkable, and left Pakistan reeling at 12 for 3 in pursuit of a target of 134. It was quality seam bowling, with Bhuvneshwar swinging the ball both ways while setting up two of his three victims superbly. Nasir Jamshed was bowled by an outswinger; Ahmed Shehzad nibbled at another one going away; and the best of the lot was the ripper that swung in sharply from wide of the crease to hit Umar Akmal's middle stump. India lost, but Bhuvneshar made a memorable debut.