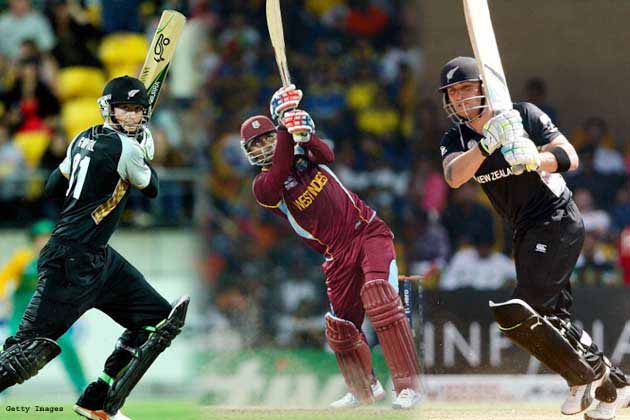 From record-breaking centuries that were later broken to belligerent returns and blitzkriegs in adversity, we sift through the list and come up with the most memorable knocks of the year in Twenty20 internationals.
Richard Levi – 117*, 2nd T20I, Hamilton
In just his second international innings, South Africa's Levi smashed the record books with a brilliant unbeaten 117 to power his team to victory by eight wickets over New Zealand. The right-handed opener's 45-ball century was the quickest in T20 internationals and included a record 13 sixes, as well as being the joint highest score in the format. Levi was away with a bang, despite the loss of Hashim Amla and Wayne Parnell, and was severe on all the bowlers; in particular, Doug Bracewell whose two overs cost 37. Levi simply demolished New Zealand and sped South Africa to a series-leveling victory.
Alex Hales – 99, only T20I, Nottingham
At Trent Bridge on June 24, Hales missed England's first-ever T20I century when he was bowled by Ravi Rampaul with four runs needed to win. It did little to take the gloss of a special innings from a young talent taking his first steps at the international level, largely because it delivered the hosts a record-breaking win. Opening the innings in his fifth appearance, the Nottinghamshire batsman clubbed 99 off 68 balls to power England to a seven-wicket win over West Indies. Hales' innings was notable for his hooking and pulling, which accounted for three of his four sixes. His 99 surpassed England's previous best in the format (Eoin Morgan's 85*) and the 159-run stand he shared with Ravi Bopara was a team record.
Chris Gayle – 85*, 1st T20I, Florida
In his second T20I outing for West Indies since his return to the international stage, Gayle reminded all of just what he brings to the table. In Lauderhill, Florida, New Zealand's bowlers were made to suffer at the hands of the big Jamaican, who hit an unbeaten 85 off 52 balls as West Indies won the first of T20Is. As he had done in the previous two editions of the IPL, Gayle began carefully but then exploded once he had measured the nature of the pitch and set himself in. From 22 off 28 balls, he sped to his half-century off 42 with three fours and two sixes. In the 19th over, Gayle clubbed Bracewell for three sixes and finished not out on 85 as West Indies surged to 209 for 2.
Brendon McCullum – 91, 2nd T20I, Chennai
New Zealand's one-run win over India in the solitary match of the short rain-hit series owed much to McCullum, who lifted his side from 2 for 2 to a match-winning 167 for 5. His calculated 91 off 55 balls contained smart running and trademark big-hitting, a near-perfect example of building an innings and then exploding. Two early wickets meant McCullum had to begin watchfully, but two fours off Zaheer Khan in the fifth over signaled his intent. As he gained confidence, McCullum pulled out superb shots over extra cover, down the ground and over midwicket. He refrained from reverse-sweeping and scooping, instead opting to smash R Ashwin, the lone spinner, for sixes down the ground. He missed a century, but this innings was almost single-handedly responsible for New Zealand posting a challenging total.
Brendon McCullum – 123, 5th match, ICC World Twenty20, Pallekele
On September 21, McCullum notched the highest individual scored in T20Is to help New Zealand beat Bangladesh by 59 runs. The belligerent wicketkeeper-batsman smashed seven sixes and 11 fours in a 58-ball 123 to power New Zealand to 191 for 3, with two sixes off Abdur Razzak taking him past Levi's and Gayle's 117. Walking out in the fourth over of the innings, McCullum began with two sixes off Shakib Al Hasan and reached his fifty off just 29 balls. He was dropped on 92 before hitting two fours off Elias Sunny to complete his century off 51 balls, and eventually fell off the final ball of the innings. It was a brutal effort.
Shane Watson – 72, 16th match, ICC World Twenty20, Colombo
Watson was a man on fire during the ICC World Twenty20, winning four Man-of-the-Match awards in a row. His third award came for a bowling spell of 3 for 34 and a 42-ball 72 as Australia hammered India by nine wickets. His innings contained seven sixes and two fours, and was so devastating that India looked shocked after the carnage. India packed their XI with three spinners and each was hit for fun as Australia reached a target of 141 with 31 deliveries to spare. Watson cleared the straight and leg-side boundaries with ease, tonking two massive sixes off Irfan Pathan over midwicket. Ashwin and Piyush Chawla were each swatted for two sixes in an over, and by the time Watson was eventually dismissed victory was a formality.
Marlon Samuels – 78, final, ICC World Twenty20, Colombo
In the biggest match of his career, Samuels played a gem to steer West Indies out of a hole. His 78 off 56 balls set up a match-winning total of 137 for 6 and delivered West Indies their first world title since 1979. Samuels entered at the fall of Johnson Charles in the opening over and looked on as Gayle departed for 3 off 16 balls. With Sri Lanka's spinners buzzing around, Samuels kept his composure. His 59-run stand with Dwayne Bravo steadied the innings; dropped on 20, Samuels teed off by hitting Lasith Malinga for 21 runs in the 13th over. From 26 off 37 balls, Samuels jumped to 45 off 41 with three sixes off Malinga, and then hit a fourth six to reach his fifty off 45 balls. He meted out further punishment on Malinga, swatting him for four and two sixes in the 17th over before falling for 78. It proved the only fifty of the match, and by all means a decisive innings.
Martin Guptill – 101*, 2nd T20I, East London
Guptill had a strong year in the format, and was at his big-hitting best against South Africa at the end of the year. The right-handed opener returned from a bout of illness with a brutal innings at East London, reaching his maiden T20I century off the last ball of New Zealand's chase to level the series in the second of three games. He just kept on attacking, backing himself to clear the boundaries off spin and pace. It was pure hitting, with golf-like swings repeatedly landing in the stands. With Guptill on 97, the visitors needed four off the last ball and he heaved a full toss from Rory Kleinveldt over the cover to seal a dramatic win. Guptill finished on 101 from 69 balls, having recovered from a stomach big that ruled him out of the first match, and chased a target of 166 to claim an eight-wicket win.
Mohammad Hafeez – 61, 1st T20I, Bangalore
After a lean run of form, the Pakistan captain found form at an opportune time. With his team reeling at 12 for 3 after a superb opening burst from debutant seamer Bhuvneshwar Kumar on a sluggish surface, Hafeez resuscitated the innings in the company of Malik, who hit the winning runs. A 36,000-strong partisan crowd was backing India to win, but Hafeez kick-started the recovery and claimed the Man-of-the-Match award for an excellent innings. After 24 boundary-less deliveries, Hafeez slogged Virat Kohli for two fours in the 11th over. Yuvraj Singh and Ravindra Jadeja were swatted for sixes as the run rate was brought down from almost nine an over, and Hafeez collected two sweetly-timed fours off one Ishant Sharma over before falling to the same bowler. In a match littered with patchy innings, Hafeez's 61 was a breath of fresh air.
Yuvraj Singh – 72, 2nd T20I, Ahmedabad
With the series on the line, Yuvraj summoned his inner desire to hit his only half-century of the year, and it was a match-winning effort. Each of the batsmen before him had gotten starts but none was able to press on for a big one. Yuvraj did just that, smashing seven sixes in his 36-ball 72 that propelled India to a match-winning total of 192. It was Yuvraj at his best, backing his instincts to go deep against the bowlers. He set himself up before tonking his first six in the 13th over, off his 15th ball faced. Saeed Ajmal was then dumped over midwicket, Sohail Tanvir launched into the stands off successive deliveries, before Yuvraj turned his attention back to Ajmal. In the 19th over, the Pakistan offspinner was taken for three successive sixes. The fans were delirious.