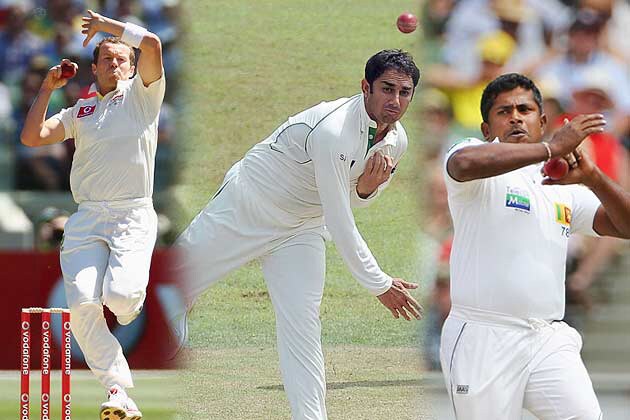 From a year in which spin ruled the roost and seamers found new-found success in tough conditions, we pick ten defining bowling performances.
Saeed Ajmal – 7 for 55, 1st Test, Dubai
The Pakistan offspinner set the tone for a 3-0 demolition of England in the UAE in January-February by winking out ten wickets in the series opener. Of those, seven came in the first innings - for the first time in Ajmal's career - as England were bowled out for 192 on day one in Dubai. It was a masterful display of spin bowling on a good batting surface, with Ajmal flummoxing England with his bag of offbreaks and doosras. Introduced after four bowlers had turned their arms over, Ajmal extracted Andrew Strauss, Ian Bell and Kevin Pietersen with his first ten deliveries en route to 7 for 55. Five of his victims were out lbw to equal the record for most lbw for a bowler in a Test innings. In the second innings, Ajmal added three wickets for a match haul of 10 for 97.
Abdur Rehman – 6 for 25, 2nd Test, Abu Dhabi
Ajmal was not alone in tormenting England's batsmen in the UAE. He was ably supported by left-arm spinner Rehman, who took 19 wickets 16.73 in three Tests. Rehman's best display came on the final day in Abu Dhabi, when he ran through England with a career-best 6 for 25 to consign the visitors to one of their worst batting collapses ever. Chasing 145, England were shot out for 72 in 36.1 overs. First to go was Pietersen, trapped in front of middle stump; then Eoin Morgan, bowled when playing back; Strauss and Jonathan Trott fell to the same fate; Stuart Broad was bowled by a ripper; and James Anderson was the last man out when top-edging a sweep. Immediately Rehman fell to his knees in sajda, capping one of Pakistan cricket's most famous Test series wins of all time.
Peter Siddle – 5 for 49, 4th Test, Adelaide
India were down and out after Australia piled up 604 for 7. Siddle preyed on their frailties with a display of aggressive pace bowling, nipping out Gautam Gambhir, Virender Sehwag and Sachin Tendulkar en route to a five-wicket haul that secured the hosts a lead of 332. Siddle was quick, adhering to an insistent line and length and slipping in bouncers to test India's famed but fatigued batting lineup. In front of 35,081 fans on Australia Day, he got Tendukar to edge to second slip and Gambhir to fend a snorter to gully, both in the third morning. After tea, R Ashwin and Zaheer Khan were dismissed in successive deliveries to give Siddle his first five-for of the series. India had no answers to his lethal mix of pace and hostility.
Vernon Philander – 4 for 70 & 6 for 44, 2nd Test, Hamilton
South Africa's pace sensation continued his stunning start to Test career with a ten-wicket haul against New Zealand to bowl his team to a series-leading victory in March. On the first day, in association with the much faster Dale Steyn, Philander triggered a manic collapse of five wickets with the score on 133 to swing the match emphatically in the tourists' favor. In seven deliveries he removed Ross Taylor, Daniel Vettori and Doug Bracewell as New Zealand were shot out for 185. On the second evening Philander extracted Rob Nicol and Brendon McCullum as New Zealand slumped to 65 for 4, and on day three duly collected his six-wicket haul to make it 10 for 114 in the match. No surprises who the Man of the Match was.
Rangana Herath – 6 for 74 & 6 for 97, 1st Test, Galle
Herath began 2012 with a 12-wicket haul in a 75-run win over England in Galle, putting in motion a bountiful year where he ended up the leading wicket-taker of 2012. The left-arm spinner gave England a torrid time on day two, snaring six wickets as Sri Lanka secured a lead of 125. From 40 for 1, England slumped to 92 for 6 as Herath spun a web around the batsmen. England were then set a target of 340, but never came near it as Herath took six more wickets to exploit a turning surface. It was his best performance in whites.
Kemar Roach – 5 for 60, 1st Test, Antigua
At the heart of West Indies' first Test series win in three years, other than against Bangladesh and West Indies, was the Man-of-the-Series, Roach. It was his fifth-day burst of 5 for 60 in the first Test that helped the hosts win their first match since October 2011, and that it came on a batting track made it special as he bowled out New Zealand for a gettable target. In back-to-back overs, Roach got the wickets of Ross Taylor and Kane Williamson during the morning session to spark a collapse of 7 for 73. Taylor was beaten by the angle and Williamson cleaned up for pace for a duck. Roach later removed Neil Wagner, edging behind, and Kruger van Wyk, bowled when on the move, for match figures of 7 for 115, the second best of his career.
Monty Panesar – 5 for 129 and 6 for 81, 2nd Test, Mumbai
Panesar, deemed surplus to England's requirements for the first Test in Ahmedabad, was drafted into the XI for the second match and made a stunning impression. He helped restrict India to 327 in their first innings by taking the wickets of Sehwag, Tendulkar (bowled by an unplayable delivery), Virat Kohli, MS Dhoni and R Ashwin. However, Panesar's true worth was proved on day three, when he got the ball to spit and jump and exploited the turn and bounce of the Wankhede pitch to snare 6 for 81. He varied his pace cleverly, pitched the ball into the rough and made India's batsmen feel for everything. Sehwag edged to gully; Tendulkar was caught dead on the crease when playing back; Yuvraj Singh gloved to short leg; and Dhoni nicked to slip. Had Aleem Dar not erred in giving Pragyan Ojha not out, Panesar would have finished with the best bowling figures by an overseas spinner in India. As Dhoni admitted after defeat, he was the difference in this gripping Test.
Rangana Herath – 5 for 65 & 6 for 43, 1st Test, Galle
At his favorite venue, Herath put Sri Lanka on the road to victory on day one by bowling New Zealand out for 221. On a good batting track, he removed the top main contributors, McCullum (68) and Daniel Flynn (53) en route to a five-wicket haul highlighted by subtle changes of pace. But on day three, after Sri Lanka had been bowled out with a lead of just 26, Herath really proved the difference. From an overnight 34 for 1, New Zealand slumped to 118 all out with Herath taking his match tally to 11 for 108. Having dismissed McCullum before stumps on day two, Herath had Taylor playing forward to an arm ball in front of middle stump; James Franklin was stumped; and then Daniel Flynn and Bracewell were removed in successive deliveries. In the first over after lunch, Herath picked up his sixth wicket of the innings when Jeetan Patel flicked to short leg.
Tim Southee – 5 for 62 & 3 for 58, 2nd Test, Colombo
Before the two-Test tour of Sri Lanka, New Zealand Cricket had employed former Sri Lankan pace bowler Chaminda Vaas as the visitors' assistant bowling coach. After New Zealand leveled the series at the P Sara Oval, Vaas was one of the first people to congratulate Southee as he left the field. The right-arm pace bowler had, after all, taken eight wickets in famous overseas victory. It was one of the most memorable displays of fast bowling by an overseas player on Sri Lankan soil. A probing line gave Southee 5 for 62 as New Zealand took a 168-run lead; on the second evening he removed Tillakaratne Dilshan and Kumar Sangakkara and then dismissed Angelo Mathews, Tharanga Paranavitana and Nuwan Kulasekara. As Sri Lanka attempted to chase a target of 363, Southee got the openers cheaply in an inspired fourth-evening spell, before adding his eighth wicket shortly before victory.
Peter Siddle – 5 for 54 & 4 for 50, 1st Test, Hobart
Siddle was voted Man of the Match in Australia's 137-run win over Sri Lanka, largely for the three big wickets he took on the final day as the visitors battled towards a draw. Before lunch, Siddle removed Mahela Jayawardene for 19, nicking an away-moving delivery for slip. Then Kumar Sangakkara (63) was done by a peach that angled across and straightened to hit the batsman in line with the stumps. After getting Angelo Mathews to feather a catch to Matthew Wade, Siddle got the big wicket of Thilan Samaraweera (49) with one that jagged back in sharply. Without Siddle's intervention, Sri Lanka had looked like saving the Test. Earlier in the match, he had relentlessly plugged away to bowl Sri Lanka out for 336; the wicket of Sangakkara for 4 was followed by the big wickets of Mathews (75) and Prasanna Jayawardene (40) before Siddle ran through the tail.