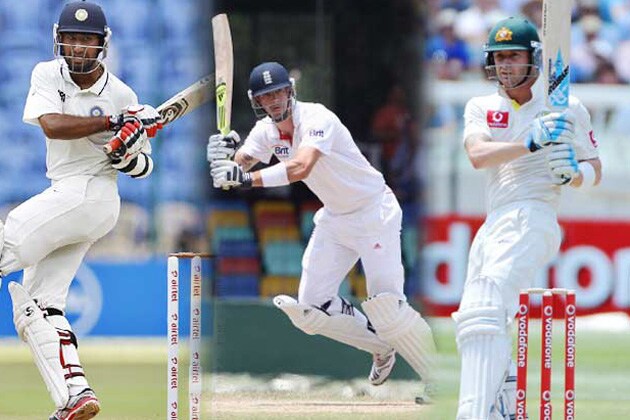 In a year with many centuries and individual contributions of brilliance, we pick ten Test innings that really stood out.
Michael Clarke – 329*, 2nd Test, Sydney
The Australian captain set the tone for a record-breaking year by scoring his first triple-century, and the fourth-highest score by an Australian, as his team decimated India at the SCG. Clarke was just five runs short of Mark Taylor's highest score by an Australian Test captain when he declared on 329 during the afternoon session on day three. His masterclass spanned 617 minutes, 468 balls and included 39 fours and a six and was an innings of twinkle-toed brilliance from a batsman reaching a new level after turning 30. Clarke remained in control all through. He set out to get Australia out of a jam at 8 for 2 and 37 for 3, then put them into the lead, then took the match away from India. The milestones came and went, but all Clarke had his sights on was giving Australia a shot at victory.
Jacques Kallis – 224, 3rd Test, Cape Town
After a poor run of form – 58 runs in four innings against Australia and 31 in three against Sri Lanka, including the first pair of his career – Kallis roared to life with a career-best 224 at Cape Town in January. This sparkling innings came against the backdrop of bad local press and troubles against short-pitched bowling, but Kallis overcame the odds to produce a dominating, stroke-filled innings (31 fours and a six). He made a conscious effort to attack – his 200 came up off 280 balls – and he looked set to reach 300 before he was caught at mid-on to bring to a close an innings spanning 325 balls and 435 minutes. It was Kallis' 41st Test century, one more than Ricky Ponting.
Kevin Pietersen – 151, 2nd Test, Colombo
After England were beaten by 75 runs in Galle, to make it four straight Test defeats following the 0-3 drubbing by Pakistan, the team was staring at a series defeat at the P Sara Oval. Up stepped Pietersen, with a century of immense skill and aggression to help level the series 1-1. His first-innings 151 contained 16 fours and six sixes, an expression of freedom from a man battling the world, and drove England to their highest total on Sri Lankan soil, 460. It was also the highest score from an England batsman in the country, and took Pietersen to 20 on the all-time England list of centurions. He cut, flicked, drove and pulled with panache, and even controversy over his preference for the switch hit did not dim England's success. Simply, Sri Lanka's bowlers had no answer to Pietersen.
Hashim Amla – 311*, 1st Test, The Oval
On July 22, South Africa's bearded genius made history when he became his country's first triple-centurion during an epic innings. Amla eviscerated several records on the fourth day's play, most notably when he surpassed AB de Villiers' unbeaten 278, the previous highest Test innings by a South African, and then reached 300 just before tea. With Kallis, Amla also shared the highest third-wicket stand in England (377) which gave South Africa a lead of 252. His marathon landmark innings, played on a slow pitch, spanned more than 12-and-a-half hours and was laced with strokeplay of a different level. And it powered them team to a big win.
Cheteshwar Pujara – 206*, 1st Test, Ahmedabad
In scoring an unbeaten 206 out of India's first innings of 521 for 8, the 24-year-old Pujara showed that only a player of immense inner calm can play an innings of such serenity and composure. He was composed, almost flawless and, like the man who shoes he stepped into in the Test line-up, wonderfully graceful. Yes, the Ahmedabad surface was placid, and the bowlers, apart from Graeme Swann, lacking discipline. But only a harsh critic would begrudge this innings, made as it was of great sobriety and subtlety. Pujara kept the England bowlers at bay for over eight and a half hours, staved off whatever came his way, unfurled flick after pretty flick, kept looking for runs square on the off side. He played spin and pace comfortably, with his handling of Swann being the most noticeable aspect of his game. That double-century proved the difference between victory and defeat.
Kevin Pietersen – 186, 2nd Test, Mumbai
Pietersen outdid his bullish 151 against Sri Lanka with an innings of audacity in the second Test against India later in the year, setting England on course for a series-leveling win. His 186 will rank as a truly memorable innings. It took something extraordinary to outdo Alastair Cook, but Pietersen's century put the England captain into the background. It was one of the best played by an England player in India. His strokes, bold and brazen, were of a superior class to anything any other batsman on either side could have envisioned playing. There were paddles, reverse-paddles, cheeky dinks and slog-sweeps. As Mike Atherton pointed out, the hallmark of Pietersen's "utterly brilliant" 186 was that it created the illusion of a flat pitch. Where the rest of England's batsmen, barring Cook, showed how difficult it was, Pietersen was so adept with his footwork and bat speed that the track suddenly went out of the picture.
Michael Clarke – 259*, 1st Test, Brisbane
South Africa arrived in Australia with serious aspirations at drubbing the home team, but that they departed with a 1-0 series win owed much to an outstanding run of form Clarke. In the opener at the Gabba, Clarke produced a brilliant 259 not out that bailed Australia from 40 for 3 – in reply to South Africa's 450 – to a bold declaration at 565 for 5. He found help from Ed Cowan (136) and Michael Hussey (100), with whom he forged partnerships of 259 with each, and then declared after establishing a lead of 115 to set up an intriguing last five hours. It was another superb innings, punctuated by picture-perfect driving and cutting against the best attack in the business. South Africa clung on for a draw, but Clarke had sent out a strong message.
Alastair Cook – 190, 3rd Test, Kolkata
Cook was a revelation during England's historic series triumph in India. In Ahmedabad, he compiled a marathon 176 in the second innings to show his team how to tame India's rampaging spinners. In Mumbai, he laid the foundations for victory with a steely 122 while Pietersen made merry. In Kolkata, Cook went a step further and recorded a historic 23rd century to put his team in a commanding position. His 190 was the only century of the match, and was an archetypical Cook innings; he played spin with soft hands cut and drove the pacers at will when they were even fractionally short or over-pitched. Barring one blip, when Pujara spilled a low catch at 17, Cook's innings was chanceless. His 190 made Cook the highest centurion for England in Tests, with 23 to surpass Wally Hammond, Geoffery Boycott, Colin Cowdrey and Pietersen. At 27 years and 347 days, he also became the youngest batsman to reach the 7000-run mark in Tests, and the fastest in terms of days.
Faf du Plessis – 110*, 2nd Test, Adelaide
After biding his time in green for South Africa and a stint in the IPL, du Plessis was handed a Test debut against Australia in the second match of the series. Here was a batsman with a reputation of being a limited-overs player, whose selection did not convince many of his ability in Test cricket. After innings of 78 and an epic fourth-innings 110 not out, which lasted over seven hours in sapping conditions and saved South Africa's bacon, du Plessis had few detractors, if any. He defied the Australian attack all through the final day, defending resolutely and forging partnerships with de Villiers and Kallis before shepherding the tail to 248 for 8 when the match ended in a draw. His century was, truly, one of the all-time great match-saving hands.
Ross Taylor – 142, 2nd Test, Colombo
If New Zealand averted a series defeat in Sri Lanka, it had a lot to do with the contribution of their captain. Facing a series defeat after a ten-wicket loss in Galle, New Zealand were off to a poor start at the P Sara Oval when Taylor combined with Kane Williamson to play a match-winning hand. From 14 for 2, the tourists were lifted to 276 for 3 through Taylor's exceptional 142 off 306 balls. Refreshingly, Taylor showed commendable patience to bat out time. He bought time and occupied the crease, tightened up his defense and grinded the Sri Lankan bowlers down. It was a century if immense concentration, but Taylor made sure to give the fans glimpses of his trademark panache, with some searing drives and cuts when the bowlers offered width. It proved a decisive century and, coupled with a brisk 75 in the second innings, helped New Zealand to a famous win.