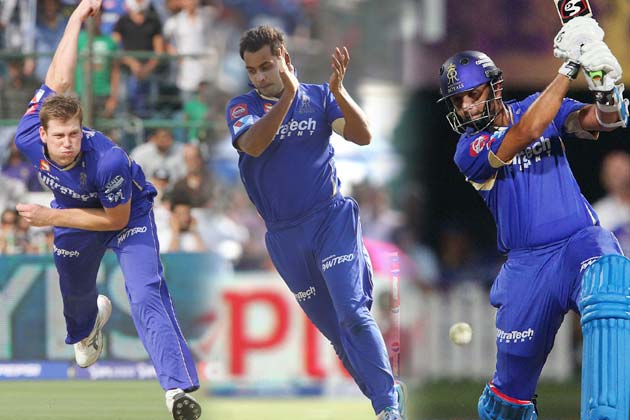 That Rajasthan Royals would join IPL heavyweights Chennai Super Kings and Mumbai Indians as this season's first play-off entrants with two matches still to play is an achievement not entirely expected at the start of IPL 6. Lacking superstar power - their No. 1 player is Australian allrounder Shane Watson - and led by a retired 40-year-old expert technician in Rahul Dravid, the Jaipur-based franchise have defied the odds to make it to the final four on the basis of grit, determination and some smart cricket.
Now that they have progressed to the play-offs, we take a look at how the young and old players in Rajasthan's set-up have combined and thrived to make for a winning unit.
A rundown on the key performers:
Rahul Dravid
Dravid, at 40, is the team's third-highest run-scorer with 391 at 30.07 which includes four half-centuries - three of which helped in wins. He has batted as opener, one-down, No. 4 and as low as No. 8. In Rajasthan's season opener, Dravid top-scored with 65 off 41 balls to set up a match-winning total of 165. His second fifty (54 off 48) was the only one of Rajasthan's innings - the next best was 30 - in defeat to Pune Warriors in Pune. His 58 off 40 balls (strike-rate 145) in the five-wicket win over Pune at Jaipur was a superb innings that kick-started an opening stand of 98 with Rahane. His fielding too has been sharp, with a one-handed catch at short midwicket one of the highlights of the season. Above all, Dravid has soaked up the pressure and allowed the youngsters to play almost uninhibitedly.
Shane Watson
The burly Australian missed the first three matches but since then has tallied 502 runs, including the season's first century. Watson also scored a match-winning 98 against Hyderabad and a 34-ball 70 to overpower CSK, apart from providing quick starts on several occasions. In his first bowl since December 2012, Watson struck in his first over by getting the wicket of Chris Gayle and has since snared 10 wickets at 21.30
Ajinkya Rahane
Rahane, the success story of 2012, emerged from a series of sedate 30s with a bustling 68 not out off 54 balls to set up victory over Mumbai Indians. A lead run followed, broken by a match-winning 67 off 48 against Pune. The runs have not flowed from Rahane's bat as they did in IPL 5, but he has been steady at the top accumulating 437 runs at 39.72 including four fifties.
Sanju Samson
The 18-year-old Kerala batsman has given Rajasthan solidity in the top order and his wicketkeeping has been sharp too. Samson - who was signed by Kolkata Knight Riders last season, but didn't get a game - scored 27 not out, 63 and 40 in his first three innings, each one littered with exquisite strokeplay. Samson has been able to merge the orthodox - sublime drives through extra cover - with power - some effortless pick-up shots over mid-on - to provide the team with a dependable bat. He never looks flustered and, as Dravid has said several times, needs to be left alone to express his abundant talent. What Samson has gleaned from Dravid would be worth its weight in gold.
Stuart Binny
Binny, the allrounder son of former India allrounder Roger, has thrived in his first full season of IPL cricket. Backed by Dravid and the Rajasthan management and given a run in each of the season's matches, the 28-year-old from Karnataka has weighed in with some clutch performances. Given free license to bat as he does at No's 4 and 6, Binny has scored 256 runs at 42.66. Some of his key innings include: 40 off 20 balls to set up victory over Delhi Daredevils, 33 off 20 against RCB when only Dravid (35) scored more than 14, 36* off 22 to inject crucial runs against CSK after Watson's century, 2 for 14 in the crushing victory over Mumbai Indians, an excellent unbeaten 32 off just 13 balls to seal a thrilling win over Pune and a 23-ball 41 not out to help down CSK. Binny's strike-rate of 153.29 is the highest in the team. His bowling has been less effective but as a batsman Binny has been a very dependable player.
Brad Hodge
One the elder statesman in the squad, Twenty20 cricket's leading run-scorer has been a quiet accumulator. Hodge does not have a fifty but his presence has allowed younger players to score around him and what he has brought to the side in terms of expertise and knowledge is palpable. Though not a huge success (he has 212 runs at 35.33) the 38-year-old Hodge has given Rajasthan a degree of solidity.
James Faulkner
Faulkner, in his first season of IPL, has been the pillar of Rajasthan's bowling. His 21 wickets have come at an average of 16.52 and economy of 6.78. Sharp, incisive and accurate, he has given teams a handful especially at the death and his in and out-fielding has been superb. Faulkner has the solitary five-wicket haul of the season: an excellent 5 for 20 which had Deccan Chargers reeling at 29 for 6. The 22-year-old Australian has gone wicketless just thrice and has taken at least three wickets on three occasions.
Kevon Cooper
Cooper, the medium-pacer from Trinidad & Tobago who made heads turn in IPL 5, has turned in an even better season. He is the team's second-highest wicket-taker with 17 at 20.05 which includes some crafty performances at the death. His best showing came in victory over KXIP in which he took 3 for 23, including the wickets of Shaun Marsh and David Miller in an outstanding three-run penultimate over. Like in 2012, Cooper's slower deliveries and variations in pace have been very effective and his solid showings have helped smooth over the failures of Shaun Tait and Sreesanth.
(All stats as of Rajasthan's match against Mumbai Indians on May 15.)