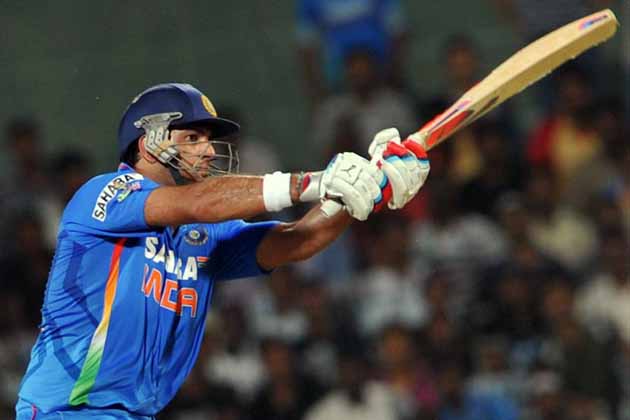 "Who writes your script?" Graham Gooch once asked about Ian Botham in 1986. Cut to 2012, and the eternal scriptwriter has so nearly written another incredible one. Nearly a year after being diagnosed with a rare germ cell cancer, Yuvraj Singh returned to international cricket with a performance that made it hard to believe he had been gone for so long, and what he had endured in the time since.
The emotions running through Yuvraj in the hours before his comeback were palpable if you followed his Twitter page. Yuvraj was counting down the hours to his India return, having been denied the chance two evenings earlier in rainy Visakhapatnam, in an almost boyish manner. You could literally feel his anxiousness spilling out of 140 characters.
All eyes were on India's team sheet at the toss for the second Twenty20 international in Chennai, and when confirmation of Yuvraj's presence in India's playing XI was given the relief was even more conspicuous – both for the man himself and those gathered at the MA Chidambaram Stadium on Tuesday. This was the moment Yuvraj had been hoping and praying would happen again in his cricketing life; how he would perform in his first international match since November 2011 was even more pertinent.
Making an emotional and stirring return to international cricket after winning a battle with cancer, and with his mother Shabnam in attendance, Yuvraj bowled two overs, scored 34 off 26 balls and took a catch in what turned out to be a fluent fielding performance. Considering the speculation over his fitness and ability to perform after surviving cancer, it was a job well done.
Yuvraj made his first impact on the field off the fifth ball of the third over, diving at point to stop a firm push from Kane Williamson off Zaheer Khan. The Chennai crowd cheered, a couple team-mates ran up and patted Yuvraj on his back. A regulation save indeed, but with the man in question it was a sign that the mechanics were working alright. There was a buzz around the ground, and not just because New Zealand were 9 for 2.
The cheers turned deafening when MS Dhoni tossed the ball to Yuvraj immediately after the Powerplay overs, a sign of faith in the player whose all-round performances were so crucial to India winning the 2011 World Cup. 'Welcome back Yuvi' flashed the giant screen as a stern-looking Yuvraj shuffled his field around and dug a foot into his bowling mark.
His first over was a tidy one, a mixture of left-arm spin that yielded three singles. When he beat Brendon McCullum's attempted cut shot with a quicker delivery, Yuvraj's face lit up in a manner which was all too familiar to fans of Indian cricket. Almost had you, Baz, said his face.
His second over went for 10, with McCullum hitting a straight six and forcing Yuvraj to call for medical attention when a firmly struck shot was intercepted. Technically it was a chance, but nobody was going to call Yuvraj out today. That he had stuck out a hand and saved four was perhaps more than was expected, and Dhoni applauded from behind the stumps; then again, knowing Yuvraj's character, it was just business as usual.
The blow to his left hand forced Yuvraj off the field for a couple overs. Once back on the field, he took a dolly at point off a leading edge from James Franklin's bat. It was almost as it the fates had decided that after that stinging blow, he deserved a simple catch.
In India's chase, Yuvraj received a rousing reception when he walked out in the 11th over with India 86 for 2. He defended his first delivery and clipped the second off the pads to get off the mark, cuing plenty of celebration from the stands. The mood was ratcheted up in the next over, in the space of three balls, as Yuvraj collected eight runs. First, a low full toss from Adam Mile was steered past point for two; next ball, Yuvraj reached out to wide ball and edged it to third man for four; then came a far better shot, as Yuvraj punched two past cover-point. On the sixth ball of the over, Yuvraj went for an ambitious pull shot and top-edged high into the night only to be dropped as McCullum and Kyle Mills had an ugly collision. Luck was on his side, of course.
Eleven off seven balls, and Yuvraj was purring. His eighth ball was deposited over long-on for six, a fluent swing of the bat for maximum. His timing wasn't perfect, but his running between the wickets as good as ever, as if he knew he belonged. A second six left India with 13 to get in the final over, but it wasn't to be a fairytale ending as Yuvraj was bowled for 34 while attempting a glory shot with three balls left. India ended up losing by one run, but none would begrudge Yuvraj for his efforts.
Whatever doubt lingered about his ability to perform after a long absence from the game, has for the time being been allayed after tonight's performance. The ICC World Twenty20 in hotter, tougher conditions beckons. For now, Yuvraj and India can travel to Colombo buoyantly. They may have lost this match, but they've gained plenty through Yuvraj's return.