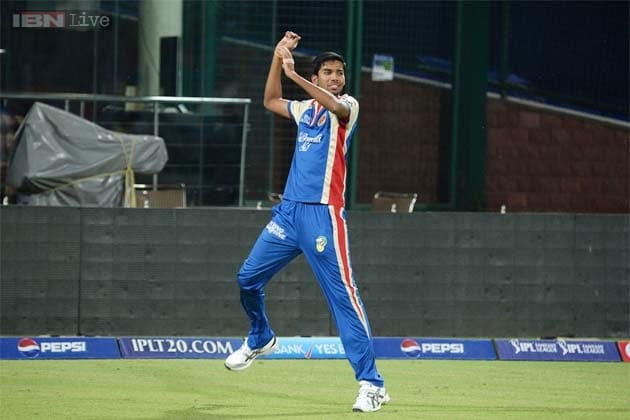 Kerala is fast becoming a state with a knack of producing promising cricketers. After young sensation Sanju Samson and stylish batsmen VA Jagadeesh and Sachin Baby, there is another name that's in the fast lane to success - Sandeep Warrier.
The right-arm medium pacer, who made his first-class debut in 2012 against Goa, will be playing for Royal Challengers Bangalore (RCB) in IPL 7.
Bursting onto India's domestic scene in the 2012-13 Ranji Trophy, Warrier bagged 24 wickets in just five games and has since been a reliable asset for his state side. Recognising his hard work in the domestic circuit as well as for the India Under-23 team, RCB signed him ahead of the 2013 IPL season and bought him again at the 2014 players' auction.
Ahead of the seventh season of the IPL, which opens in the UAE on April 16, the Kerala speedster told Cricketnext about his plans and how it feels to be in the same side as Yuvraj Singh and Virat Kohli.
Sandeep, you have played two full domestic seasons now with good performances under your belt. That must have made you confident of doing well in the IPL?
I have played a lot of domestic cricket recently and have taken wickets too. I will try to carry the momentum in the IPL as well. Just after the Ranji Trophy season and state tournaments, I started devoting more time in the nets. My coaches and physios are guiding me a lot.
You didn't get a chance in the RCB playing eleven in 2013. Do you think this time you will make it?
Yes, I was selected in RCB team last year. I was pretty excited but didn't get a chance. I used to watch the seniors, especially Zaheer Khan, while bowling. I learnt a lot from him. He is a nice person. I took many bowling tips from him. This time, hopefully, I will get a chance [to play]. It will be exciting to bowl alongside Ashok Dinda and Varun Aaron.
What do you make of RCB's fast-bowling department?
Ashok [Dinda] bhai is a senior and I have seen his bowling. He works really hard. I have never met him, [but] I have bowled with Varun Aaron. We both played together in the BCCI Corporate Trophy. If I get a chance, I would love to open the bowling with him for RCB. I am also looking forward to take guidance from our bowling coach Allan Donald. That will surely help the bowlers in the team.
Yuvraj Singh has joined RCB but he hasn't been in a great form of late. Do you think he will be able to turn it around?
Yuvraj is one of the most destructive batsmen in the world. I have seen him hammering bowlers. When he is in form, no one can stop him. It is just a matter of an innings; Yuvi will be back in the game. We should not forget he has helped us win two World Cups (2007 World Twenty20 and 2011 World Cup). I am really excited to play with him. He will be an asset for the RCB.
RCB have a solid batting line-up but their bowling doesn't seem to be that strong. What is your take?
I don't think so. Undoubtedly, RCB have superb batting line-up. Chris Gayle is there, AB de Villiers, Yuvraj and our captain Virat Kohli make the batting look formidable. But our bowling is also pretty strong. Dinda, Varun, Ravi Rampaul and I are there in the pace department, while we have the legendary Muttiah Muralitharan in the spin department. Yuvraj will be also there [as part-timer spinner]. I think RCB have a balanced side.
Do you see RCB winning the IPL this year?
RCB are one of the favourites in IPL 7. With a solid batting line-up and bowling too, I think we can make it. The team has been outstanding in the previous seasons but couldn't go all the way. I can see the chances this time. I think Virat Kohli and Yuvraj Singh are enough to win the maiden title for Royal Challengers Bangalore.