In the first two ODIs in Australia, India's spinners, Kuldeep Yadav and Ravindra Jadeja, picked up three wickets across two matches in the middle over phase of 15 to 40 overs. India won a game in the last over and lost another, and it was perhaps the hardest they had fought in a long time in ODIs.
Cometh the third ODI at Melbourne, Yuzvendra Chahal was in the mix and Kuldeep sat out. Chahal alone picked up three wickets in the 15-40 over phase of the ODI and derailed the Aussie innings completely.
He ended up with a six-fer but more important was his contribution in the overs Australia had managed to milk runs off in the first two games.
Chahal sent back Usman Khawaja, Shaun Marsh and Marcus Stoinis in the middle phase, effectively nailing down Australia. He has been as good as Kuldeep for India since the Champions Trophy but perhaps a bit less hailed than his wrist spin counterpart.
Since the 2017 Champions Trophy, the duo is one and two in the list of top wicket-takers with 77 and 60 wickets respectively.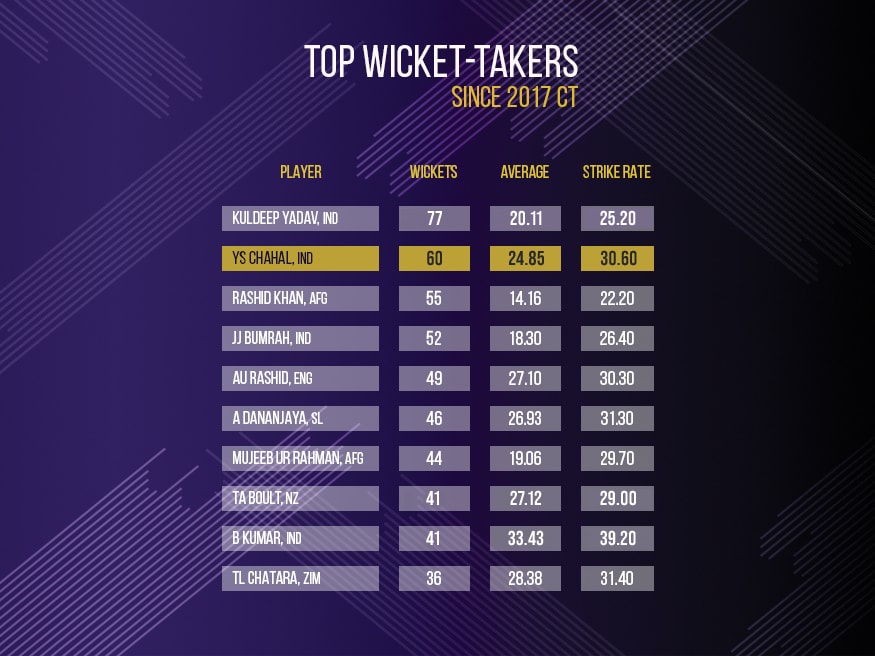 Chahal's average is a tad higher than Kuldeep at 24.85 and he also strikes less often but that doesn't make him any less of a threat. Chahal's skill was evident even in the first ODI against the Kiwis at Napier.
He sent back Ross Taylor, in the fifteenth over, and Tom Latham soon after to peg back the Kiwis and destroy their most potent stand in the middle phase of the innings.
Chahal's wicket taking abilities wilt a touch alongside Kuldeep unlike the chinaman spinner who loves Chahal's company. In 25 matches as a pair, Kuldeep has taken 59 wickets at 18.54 while Chahal has 40 at 26.47. However, without Kuldeep for company, Chahal fares better – averaging 19.57 in 12 matches with 26 wickets.
It is the middle-over phase, where most ODIs are lost, that the duo become outstanding. Kuldeep has picked up 46 wickets in this phase since 2017 while Chahal has 33 at quite a few balls less than Kuldeep.
India sure have balance issues when the duo play together but their varied skill in middle-overs cannot be underestimated. Chahal, in particular, is adept at breaking partnerships and getting rid of big hitters.
His battle with Glenn Maxwell when Australia toured India for ODIs two years back shows how skilled he is when someone is intent on going berserk.
His incredible economy and wicket-taking skills make him as important a cog as Kuldeep in the ODI line-up. That India have played the two together only 25 out of the 46 times they have played ODIs since the last big event is unfathomable and something India might want to look at before the World Cup.