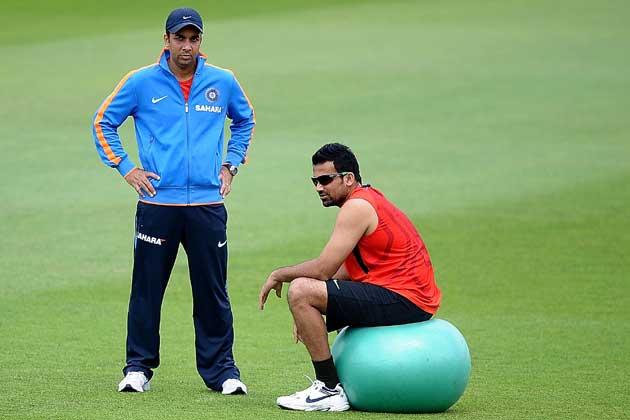 Canberra: With a gruelling four-Test series against Australia ahead, India pace spearhead Zaheer Khan on Thursday said he is prepared for the challenge and determined to get in the "best state of mind".
"I am all prepared for it. I am feeling confident, I have done every bit possible to get my fitness up and just looking forward to playing some matches now," said Zaheer.
The left-arm pacer reiterated that he wanted to focus on his strengths rather than pondering over the conditions and the quality of batsman in the opposite camp.
"Just want to focus on my strengths rather than worrying who am I going to bowl at, what is going to happen, what kind of wickets I am going to bowl on. It's all about me thinking about my bowling and fitness and get in the best state of mind to perform well for team India," Zaheer said.
"I have played a few first class games back home which went well; I have enough bowling under my belt, so just want to focus on my cricket now," he added.
Zaheer stressed on the importance to hit the right areas to keep the batsman under check and said the practice games ahead of the all-important series will help the bowlers explore the right length.
"As a bowler, it's all about getting in the right areas. If you are hitting the right length and if you are able to get the ball moving, then you are going to trouble any batsman in the world," he said.
"It is about increasing the percentage of getting the ball in the right areas which is going to cause trouble to the batsman.
"For bowlers it is important to try and work out which length to bowl on this track," Zaheer stressed.
Zaheer also said it will be important for the batsman to get accustomed to the conditions.
"For batters also it is important to get used to the conditions. I am sure from batting point of view also, it is going to be an important match," he said.
The 32-year-old, who skipped India's two-day warm-up match against CA Chairman's XI on Thursday, heaped praise on the young Umesh Yadav for his three-wicket haul at the Manuka Oval.
"It's good to see him bowl 140 plus which is really important and I am sure that wickets here are definitely going to suit his style of bowling because wickets are going to produce that extra bit of bounce," Zaheer said.
"It's still early days for him, the more he plays the more he will learn. So it's all about exposure at this level. I am sure with time to come, he will learn more things as well," he added.