India vs New Zealand, 2nd Test: A Look at Ajaz Patel's All 10 Wickets Through Images
New Zealand left-arm spinner Ajaz Patel became only the third bowler in the game's history to grab all 10 wickets in a Test innings, joining Indian great Anil Kumble and England's Jim Laker in a select club.
India in Mumbai, India, Saturday, Dec. 4, 2021.(AP Photo/Rafiq Maqbool) width="4439" height="3068 New Zealand's Ajaz Patel celebrates the dismissal of India's Mayank Agarwal. The ball turned sharply and Mayank got end edge which was taken by wicketkeeper Tom Blundell took a sharp catch after fumbling once. He scored 150 off 311 with 17 fours and four sixes.
New Zealand's Ajaz Patel celebrates the dismissal of India's Jayant Yadav during the day two of the Mumbai Test. Yadav stepped out and hit the shot straight into the hands of long-off fielder Rachin Ravindra.
Ajaz Patel cleaned up Ravichandran Ashwin with a delivery that was completely unplayable. It turned and then took his top of off. The batter was bamboozled and asked for DRS realising that he was clean bowled.
Virat Kohli's dismissal on Friday was the a bizarre one. The India skipper tried to defend a fuller delivery but it fit perfectly between bat and the pad as he's on the front foot to defend. Umpire Anil Chaudhary gave it out and Kohli reviewed. The TV umpire found 'no conclusive evidence' if the ball has hit the bat first.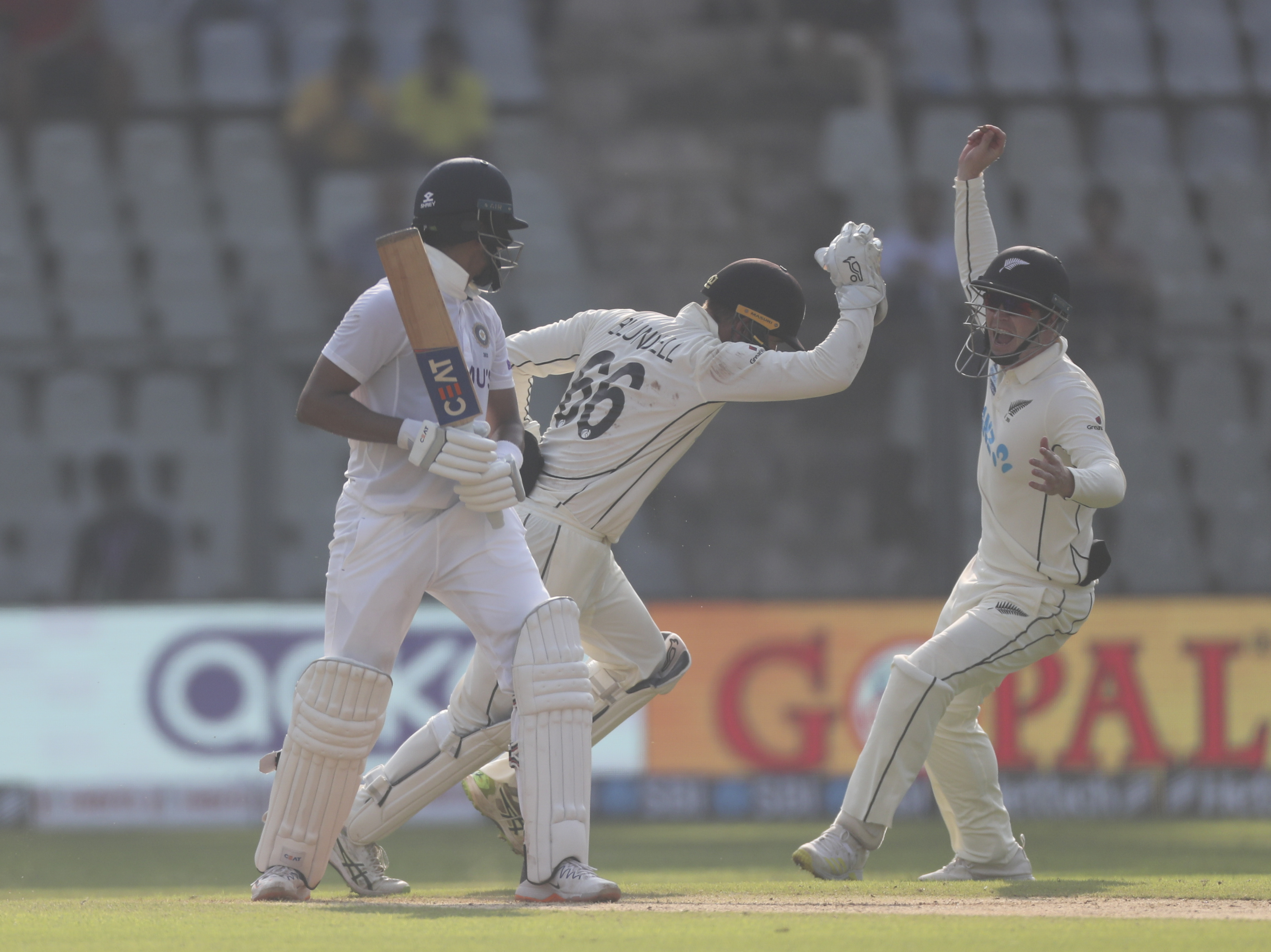 Shreyas Iyer, Patel's 4th wicket, tried to play down the leg side but the ball brushed his gloves and landed safely into the gloves of Tom Blundell. After bagging the player of the match in the Kanpur Test, Iyer carried on the momentum and stitched an 80-run stand with Mayank for the 4th wicket.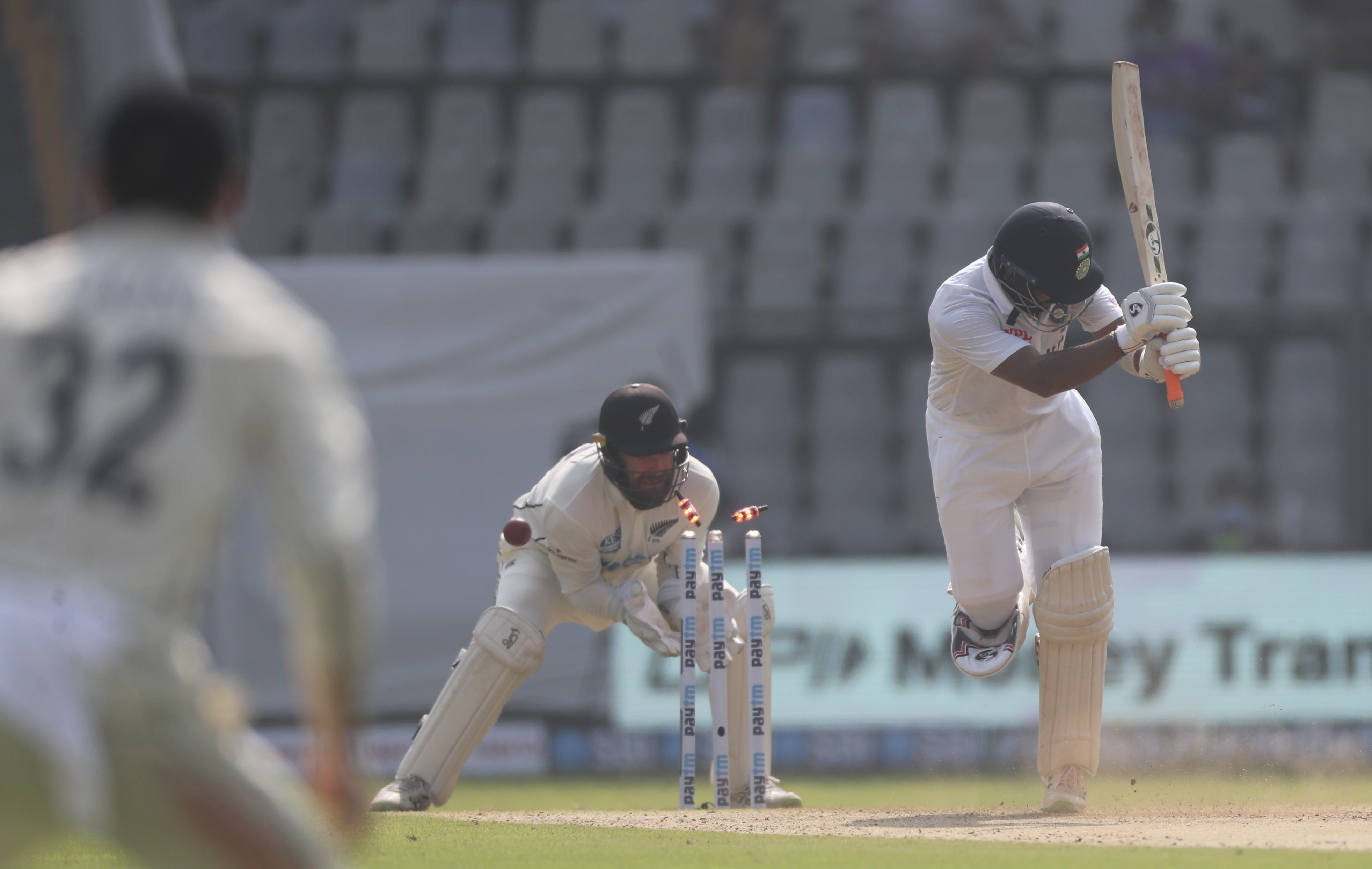 Cheteshwar Pujara shimmied down the track to go for an ariel shot but was beaten by the turn. Ajaz Patel cleaned up his leg stumps and the India No. 3 for out a 5-ball duck.
Shubman Gill was Ajaz Patel's first victim on Friday. Batting on 44, the India opener looked to push a fuller delivery with hard hands. But the ball turned and took an outside edge. Ross Taylor made no mistake in taking a straight catch at the slips.
Ajaz Patel traps Axar Patel on front after the Indian off-spinner slammed his maiden Test fifty. The ball turned in sharply as Axar shouldered arms. The appeal was turned down by the on-field umpire before New Zealand left it late to send it upstairs. And ball tracker showed three reds.
Ajaz Patel got his first wicket on the 2nd day of the Mumbai Test by dismissing overnight batsman Wriddhiman Saha.