2018 has been a roller coaster year for Hong Kong cricket. They endured heartbreak by losing ODI status at the start of the year during the World Cup qualifiers, but bounced back with a sparkling effort to clinch the only spot for the upcoming Asia Cup, beating UAE in the final of the qualifying tournament. It will be their first appearance at the continental tournament since 2008 and with powerhouses India and Pakistan in their group, it will be a trial by fire.

The Asia Cup may not have the stature of a World Cup or a Champions trophy, but for associate nations like Hong Kong, it's an opportunity they don't get often - to rub shoulders with superstar players. Hong Kong have played against India only once – at the 2008 Asia Cup - and against Pakistan twice – at the 2004 and 2008 Asia Cup. They have lost all three times.

"It is great to be able to play against this calibre of teams in back-to-back games," coach Simon Cook, who has been in-charge since 2015, tells CricketNext. "This is where associate teams can really learn and experience what it's like to play against top full member nations.

"The players learn how to construct innings, pressure that these teams create with the ball and in the field. You don't tend to learn these things until you experience them first hand."

Cook understands expectations from his team aren't very high but has the confidence that his players are capable of springing a surprise.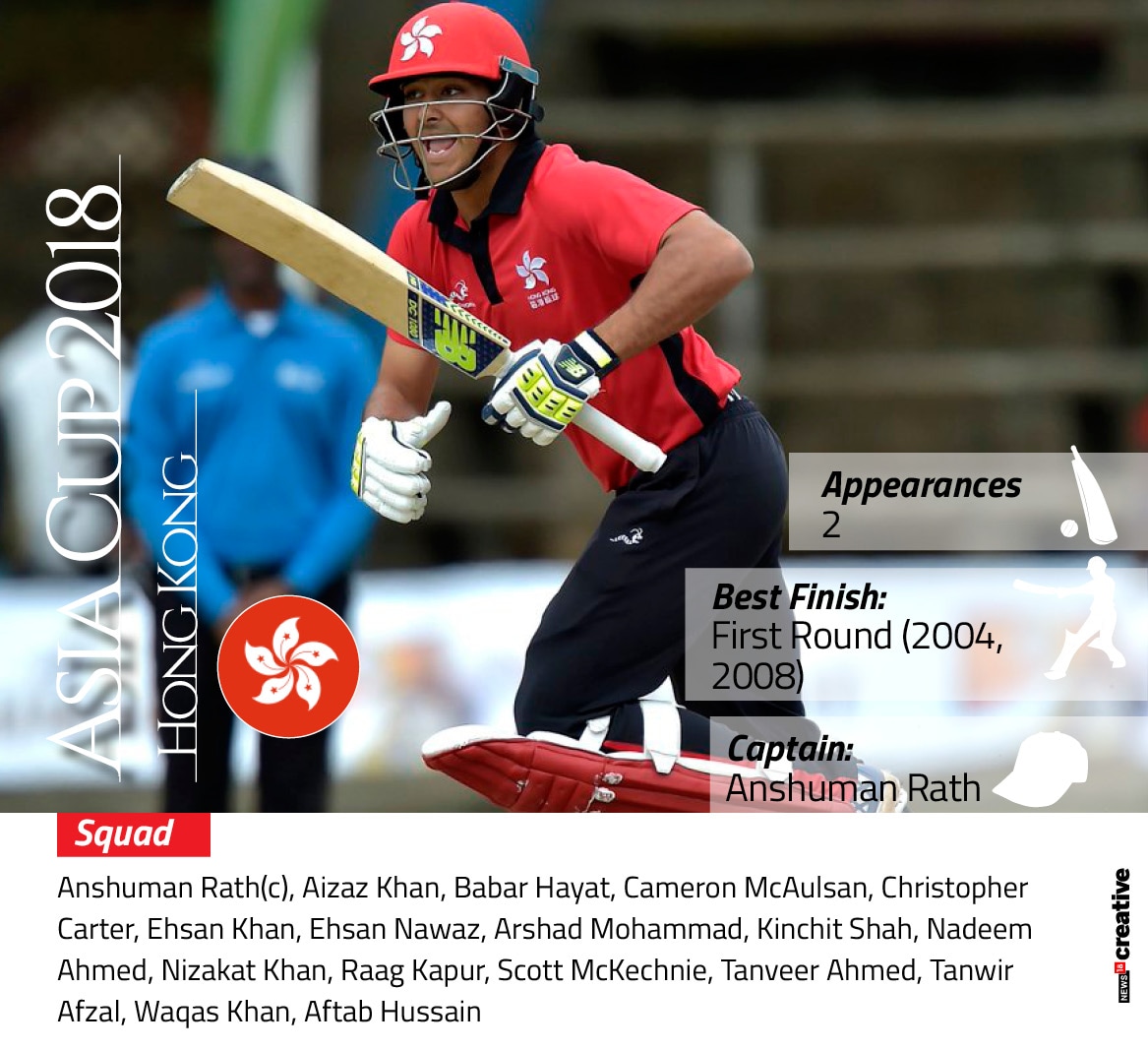 "The reality is that we are out resourced in every aspect and in that regard all the pressure is on the full members," he says. "On our day, we are capable of hurting any team. Our players just need to believe in themselves and play with the freedom that they did to get us to this point. It's an ideal stage to show what they can do as a team and as individuals."

The journey since 2015 has been a long one for Cook – a former fast bowler who represented Kent and Middlesex, playing 141 first class matches and picking 342 wickets.

"It has been interesting with its highs and lows, we finished third in World Cricket League but then lost the ODI status in qualifiers," he says. "Every team has its ups and downs and it was a shame that we were unable to adapt and react to the circumstances around us at the time. To win the next big tournament after the Qualifiers shows that the tournament was a one off and shows that we are still a good team.

"We are constantly battling facilities usage, this year for example we have only access to 13 turf training sessions in 9 months when we are not playing. This is clearly a challenge that most clubs would struggle to overcome let alone an international team.

"On the flip side the government supports all international sports with access to funding for preparation tours without which we would not be able to complete at this level. We have an agreement now with an educational institute that works with our players to ensure that they are the fittest that they can be and this is an area that I believe that we can get and have an edge on most associates."

The most satisfying aspect of the job for Cook is to see for when one of the players he has worked with, finally deliver on the ground.

"Likes of Babar Hayat, Anshuman Rath and Nadeem Ahmed have been the headline players but emergence of Aziaz Khan and Ehsan Nawaz has been really good to see," he says. "They have developed into really good and smart cricketers. As a coach this is what you are looking for. The trophies will come if you are producing the players."

The ICC's decision to reduce the number of teams for the World Cup next year was severely criticised by players and coaches from associate nations. In fact, Zimbabwe's Sikandar Raza delivered an emotional speech after winning the player of the tournament award at the qualifying tournament earlier this year that saw Zimbabwe miss out on a spot as West Indies and Afghanistan went through. Cook though takes a less emotional view of the situation, saying he believes the number of teams will eventually increase. Instead, he wants the world cricket governing body to look at the way it distributes resources among associate teams.

"It is disappointing that it is only a 10-team world event as clearly the top associate teams are closer than ever to the full members which would make for a great tournament but the landscape of cricket changes often," he says. "I am sure the teams will increase in the future.

"ICC pumps a lot of money into associate cricket, far more than any other governing body. But then what is enough money? Maybe they need to look at how it distributes the funds. Does it look at cash plus resources, coaches, assistance in corporate governance, domestic league structures and pathways. Every member wants more cash but there is only so much that can be distributed so what cash there is needs to be used as efficiently as possible."

For now, Cook and his wards are eagerly awaiting the 16th of September, when they will step out at the Dubai international stadium to lock horns with Pakistan. And a couple of days later, they will face India.