With the IPL done and dusted, the focus now turns entirely towards the marquee event of the season – the World Cup. Most pundits pick India as among the favourites to lift the trophy for the third time. In this freewheeling conversation, Head coach Ravi Shastri dwells on the major talking points going into the marquee event, including concerns over the form of some key players, the threat posed by other teams and the tactics he expects to be deployed in the tournament.

Ayaz Memon: Ravi, perhaps the most important assignment that you have had in your tenure as a coach. First things first, where have you been in the last 5-6 weeks? Have you been watching the IPL matches in disguise because nobody seems to have seen you?

Ravi Shastri: I have been watching the matches obviously. On television but otherwise there is one word: Chillaxing.

AM: Chillaxing, so you have been spending time with your family and....

RS: Chillaxing but there has been travelling for some other commitments. Otherwise pretty chilled out.

AM: When the team selection happened were you involved in some way? I know you have said in the past that this not your job, but inputs, point of view, perspectives?

RS: You have a chat with the captain but like I said we don't get involved in the selection and what is the point of getting involved. You don't have a vote. So why go there and just tom-tom away about anything. Selectors have a job to do and they picked 15. And now it is my job with the team management.

AM: Are you happy with the 15?

RS: Yeah, it is an Indian team. And we will go out there and play to win it. It is a good strong side.

AM: I don't want to throw in caveats but for instance now there is an injury to Kedar Jadhav which happened during the IPL and there is concern over the poor form of Kuldeep Yadav because he didn't play all the matches for his franchise. Is that something that bothers you?

RS: It doesn't worry me at all. In-fact I am totally blanked out from that. When the flight takes off on the 22nd, we will see who are the 15 on that. Yeah? And just take it from there.

AM: I might just kind of read between the lines, but you would want every one of those fifteen players to be 100 percent fit?

RS: Ideally, you are playing a World Cup, you are not playing a Mickey Mouse tournament.

AM: The World Cup squad consists of 15 players. Is there a case for 16 players?

RS: I am a strong believer of…

AM: Why?

RS: Because of the volume of cricket. I mean you have three formats of the game now. At full steam. You have domestic leagues around the world of T20 cricket. Look at the volume of cricket as compared to today what it was five years ago. You are on the road all the time. This is a 45-day event. The World Cup is not a two-week event. And it is one game after the other bang, bang, bang. Three days off, match, three days off, match, three days off, match. And if you play well, good, otherwise off on your bike. So, 15 players there are bound to be niggles, there is bound to be an injury. You know instead of waiting and calling for the injury. It is not that England is close to India or for that matter other countries of the world. So, 16 would have been absolutely fair. If ICC don't want to pay for it the local boards would have paid for it.

AM: But there is a corollary to do this. You have been part of the technical committee of the ICC etc. Was this ever mooted, was this ever considered?

RS: I mean I was there about 3 or 4 years ago probably and didn't think of the need at that time. Neither was it raised by any of the teams at the time. I definitely feel it is a clear-cut case now for a big event. Not for a bilateral series because there the respective boards will do whatever. If this was a bilateral series we would have 16, for sure.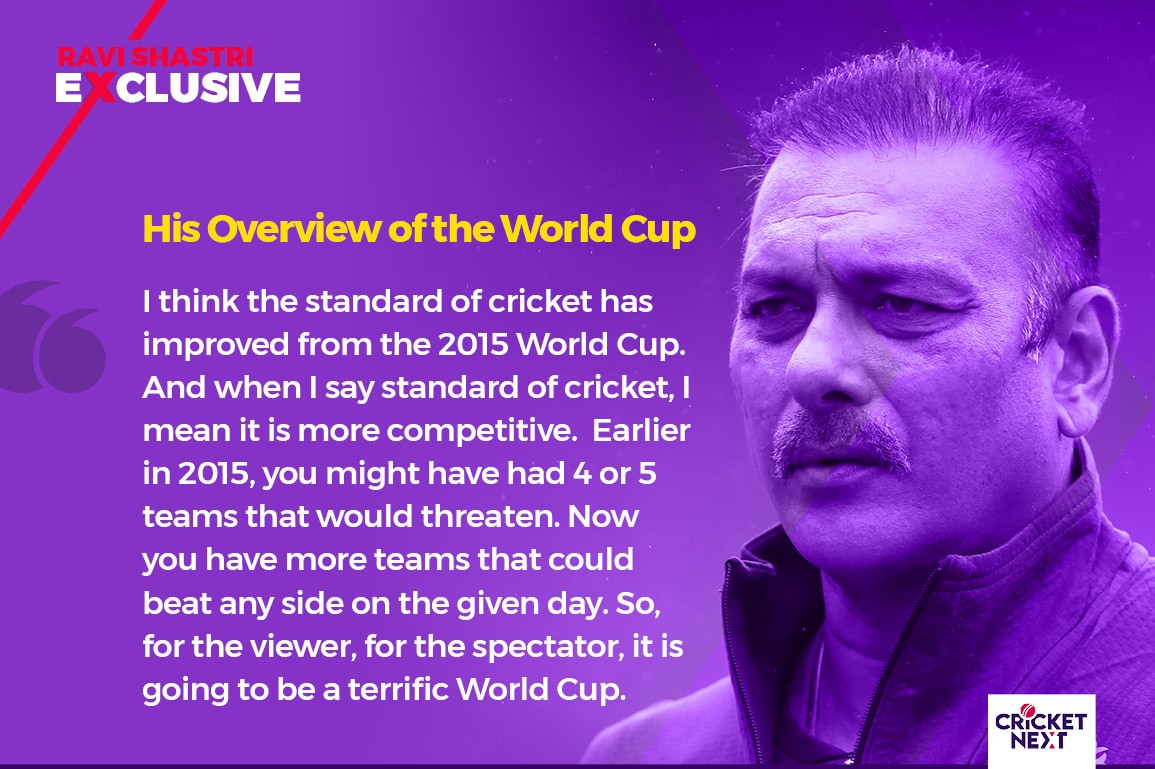 AM: So, the cut-off date for the selection of the teams is 22nd. England have delayed their announcement. West Indies did it very late. So, is there a possibility that something can change in the Indian context?

RS: Why not because there are still matches going on. Injuries are the worst thing. Australia lost one of their fast bowlers. So, anything can happen anytime. Depends on the seriousness of the injury. Like luckily in Kedar's case, there is no fracture so we will wait and watch. There is still time so it should be ok.

AM: Do you think IPL form, does it matter, because at the start of the IPL, Virat and Rohit mentioned that you can't compare ODI form to....

RS: You can't. But if you are in a good space you will take it. Why won't you take it? Now in the last week of the IPL, boys who were part of the World Cup squad, say Rohit or a Virat anyone who is part of the squad goes big, gets some big scores, you know, that will only help them going into the World Cup because they come in the frame of mind where they are in good nick.

AM: Should that be a basis for selection or no?

RS: Not really. Because T20 and 50 over cricket are totally different.

AM: What's your overview of the World Cup? What does the World Cup hold for all the teams?

RS: I think the standard of cricket has improved from the 2015 World Cup. And when I say standard of cricket, I mean it is more competitive. Earlier in 2015, you might have had 4 or 5 teams that would threaten. Now you have more teams that could beat any side on the given day. So, for the viewer, for the spectator, it is going to be a terrific World Cup. And even for the teams competing, you can't drop your guard. You drop your guard and you are in for a shock.

AM: As a player, you have played in both the formats. You played when there were pools, in 1983 and 1987, and in 1991-92 we had the league format like it is now. Is there any particular approach that teams can adopt?

RS: Not really, you go with the flow. In these big tournaments, I believe you don't plan. You go with the flow, you react spontaneously to different situations and the four years that have gone in between the World Cup, that's what prepares teams. Those four years are for preparing for occasions like this. You can't pre-plan because the game is such you have got to react in the best possible way at that particular time to that situation. So, there is no point planning for something that isn't there. When it is there, you got to be ready. And that's what these four years in between World Cups prepare teams for.

AM: I just want to focus on the teams that are playing in the World Cup. For instance, the West Indies. Now everybody says they could be the X-factor and till about three months back, if you go by rankings, they seemed pretty much at the bottom end. And they have come back strongly. Is that something that you are conscious about and looking at what's going to happen?

RS: When they were in India I said we might have beaten them but we had a tough series and they played some excellent cricket. And I said that at the given time, there was no Gayle, there was no Russell in that side. I said watch out for this side, they have serious talent and I was very happy about that. Because you have played in the glory days of West Indies against some of the best players to have played the game and then the country has gone through some real debacles. To come back now and you can see the two World Cups in the T20 format. They have got some terrific talent in the One-Day game. The power hitting there is something that no team comes close. When it comes to the sheer ability to hit sixes, they are way up the ladder there.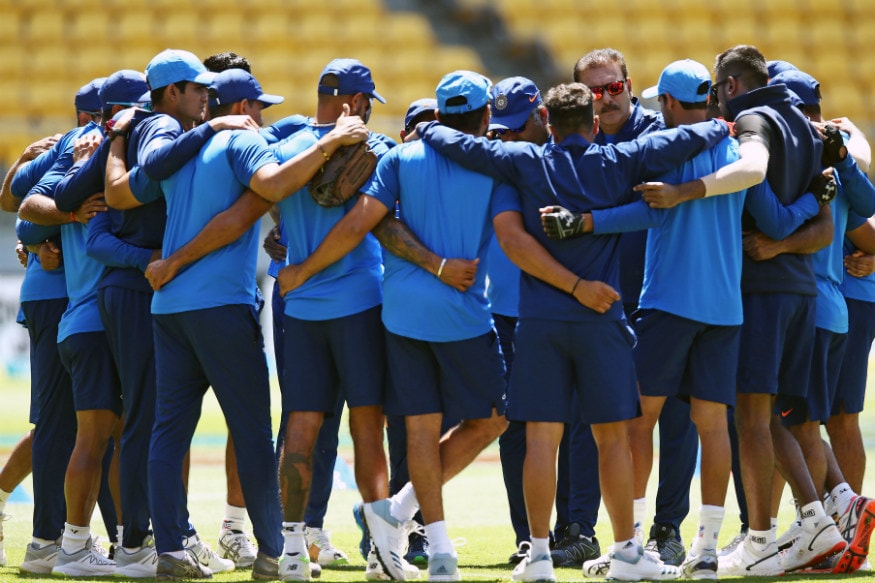 AM: Approaching the World Cup even Australia has suddenly emerged as a very strong team they went through a roller coaster ride. Some of the key players were terribly out of form and of course two of them were banned for a year. They are the defending champions and looking fairly confident?

RS: You would expect that from Australia. They have won more World Cups than any other team in the last 25 years. There is never an Australian team which is not competitive. And now they have got all their players back and they seem to be in pretty good form but then again in the World Cup it is that given day. Which team reacts better to pressure and to situations. Australia is good, we know other teams are good, we know we are good too.

AM: You have got very rich experience of playing in England, you know as a county professional and as an India player. So, what are the challenges? The grounds, the weather, these are factors that everybody believes will be very influential in the matches?

RS: It can 100 percent. In England weather conditions play a huge part, you know when the sun is out early and it is a good forecast for the day, you want to bat first. But yet again on a given day, you wake up in Leeds and it's overcast and cloudy and the last thing you would want to do is bat first there for a 10-10:30 start, the ball could swing for the first couple of hours. Those are the things you got to look to. But when you look at ICC tournaments, they are good batting surfaces. But the difference in playing a World Cup in England and any other place in the world is overhead conditions.

AM: The itinerary you have got, the first 4 matches are against South Africa, Australia, New Zealand and Pakistan. That's a heck of a tough draw.

RS: Yeah, I mean you expect that in World Cup cricket. Whichever way you look at it, I believe every match is tough and take it one game at a time and go with the flow. I look at it the other way, you start off well, then you get tremendous momentum, you know look at it in that fashion.

AM: So that makes it imperative to start well because...

RS: Yeah! In any World Cup tournament, it's important that you start well.

AM: What are the issues that you are looking to resolve, if there are any, in the practice games?

RS: I don't think there's anything to resolve. It's just soaking in the atmosphere, believing in the combinations that we will plan and decide going into those practice games as a lead up to the World Cup and believe in that.

AM: There was so much talk on the number 4 slot at the time of the selection, do you think that a question mark which still exists on that spot?

RS: I don't think so because for me we are a flexible team. It's horses for courses, we have got enough ammunition there, enough players who can bat at 4. So, I am not really worried about that.

AM: The return of KL Rahul and Pandya, you know they were in a bit of a spot. They have come back strongly, and in fact their IPL form has been very encouraging. So how do you see that?

RS: See, you learn from your mistakes, you learn from adversities. And I said at that time, they'll come back tougher, stronger and wiser and I can see that with the both of them.

AM: Where the composition of the team is concerned, yes you know selectors have to do their job etc. but there are three fast bowlers and you have Hardik Pandya as the fourth option. But conventional wisdom says maybe you should have an extra fast bowler in England rather than an extra spinner. How do you see that?

RS: I think we have got all bases covered, really. Last thing you want is passengers on the tour. You want to have in those 15 players a player who can play anytime, at any given time. He shouldn't be in the 15 and could be called upon only if there is an injury. If there is a major injury to a fast bowler, there will be a replacement almost straight away, in fact we are going with 3-4 fast bowlers in the lead up to the World Cup. For all you know, one might stay back, you know whoever is impressive, the board might just keep him back and see what happens.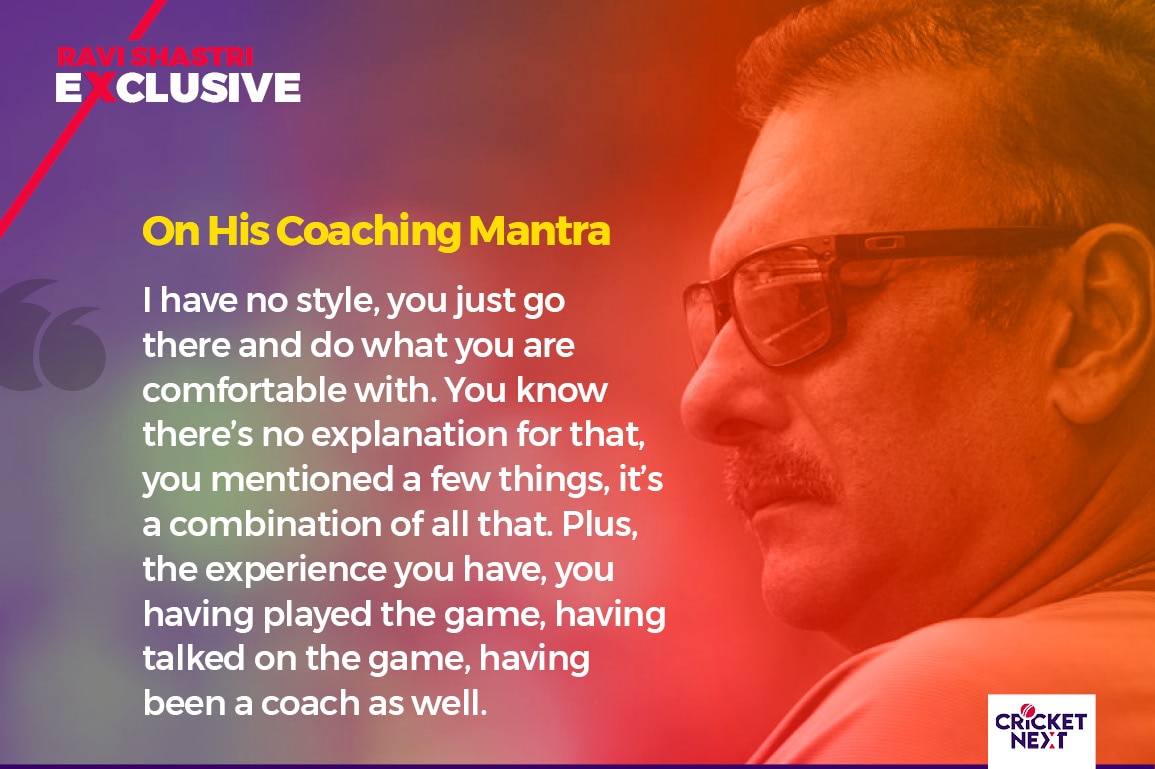 AM: The run-in or the lead-in to the World Cup, of course the IPL has intervened and it's a long tournament. But before that, actually the Indian team's performances or results seemed to kind of plateau and then dip a little. Is that too much in the past….

RS: Too much in the past, why didn't you go and look at the first 11 months, why do you want to talk about the last week? I would have been worried, if the first 11 months was just downhill and then you wake up one week before and suddenly you say, Indian team is peaking, no ways. Look at consistency over the year and you know it's mental fatigue, you are playing the same opposition again and again. It's bound to take its toll on the players. I know for sure when the last day of the season was over, I could just see the faces in the dressing room, get the hell out of here. That was the feeling. You have been on the road that long, so it's just get the hell out of here.

AM: What's your coaching mantra? Are you one of those number crunching guys who relies a lot on statisticians or are you somebody who reads body language, are you a guy's guy in the dressing room?

RS: I think the guys who explain this the best are the players. I have no style, you just go there and do what you are comfortable with. You know there's no explanation for that, you mentioned a few things, it's a combination of all that. Plus, the experience you have, having played the game, having talked on the game, having been a coach as well. Call it manager, director, coach, whatever but you know it's close to almost four decades now, so that experience does come in handy.

AM: The captain and the coach have to be in sync, on the same page and yet there is a little bit of a difference. You think that works because the guy on the field takes all the decisions...

RS: Absolutely! Captain is in total control on the field. Your job with your support staff is to get them in the best frame of mind, to be able to go out there and express themselves in the best possible manner. The last thing you want to take out by being too much of a theory master is taking the enjoyment out of the game. Let the guy do what comes naturally to him. That's the most important thing. Yes, there'll be certain guidelines, certain tactical areas where if a team has talked about playing in a certain fashion, then he might have to adhere to that. But otherwise, go and enjoy yourselves.

AM: How do you see Virat's trajectory as a captain because you have been with him from the time he became captain. First in the Test series against Australia in 2014 and then of course subsequently in...

RS: He has evolved and results speak for themselves.

AM: I am asking you because there's been some criticism about the fact that in the IPL he did not have the results he should. But in Test matches you are number 1, ODIs you are number 2, you know it keeps fluctuating....

RS: Difference between a domestic league and international contests. You know when you talk of Test cricket, that's the ultimate format of the game and if you see the way he has evolved in the last 5 years, across all formats. You know there is still room for improvement. He knows that, he's only 30. He's got another, barring any injury, I would say 7-8 years easy. So, you are bound to mature, he is bound to evolve even further and bound to get better but you can't take away what he has done. So, when you just look at the stats out there, against who, against where, against which teams... I don't have to add anything to that.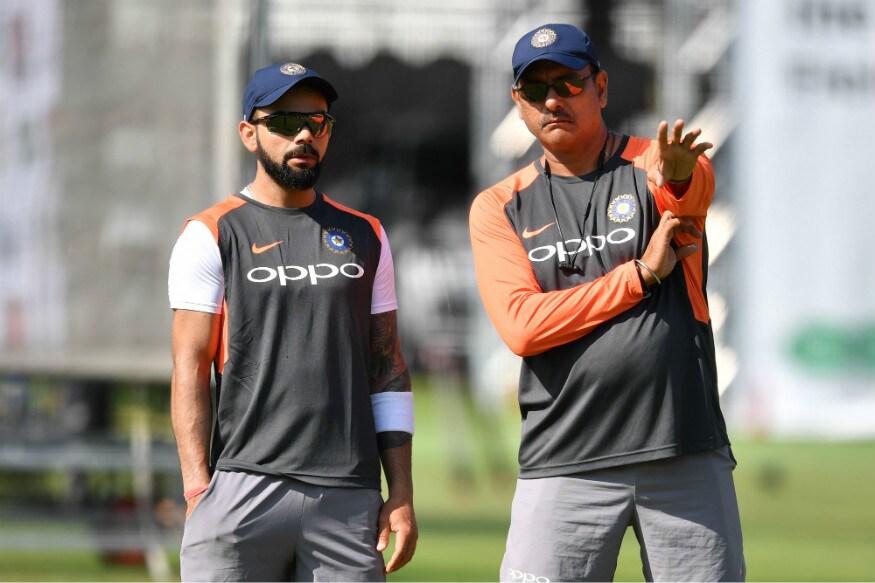 (AFP)

AM: In my experience, I have seen two kinds of captains. Those who really enjoy the job and the others who actually don't enjoy the job, they look burdened all the time when they are on the field. You think Virat really loves this kind of responsibility?

RS: You can see the passion out there, when he is there, he is into it. You know what this does is makes the other players want to be on the same page.

AM: A couple of years back when we had spoken, you mentioned that you are handling two alpha males in the dressing room, which is MS Dhoni and Virat Kohli. I had some compunctions, I didn't know how this will pan out, but seems to have done so extremely well.

RS: Very well. In my mind, there was absolutely no doubt from the outset. It was doubting Thomases on the outside, who thought otherwise but if I am going to be worried about them, then I may as well do another job than this. I was never ever in doubt about the two of them having the kind of respect they have for each other, wanting to do a good job for each other because in the first phase of my job MS was the captain, the next half Virat was the captain. And I can see the commitment both had for each other when they played was tremendous.

AM: And does it really make for...

RS: And it spreads down the ranks from there.

AM: It improves the dressing room...

RS: Absolutely. It spreads down the ranks because they all know how big a player he is, MSD. Everyone knows and they know what he has achieved in the game, the stature that he has and then to see the poise and to see the humility, you know his sheer presence there, the composure he brings when he is out there batting or even during keeping is something you have just got to watch and learn and try and emulate it.

AM: What seems to surprise people on the outside is they are such different personalities and yet it seems that they have found common ground?

RS: Which is good, we don't want all personalities to be the same in the team and then you know all hell will break loose, but you need that. That kind of a passion from Virat, the calmness from MS and each player is different. Rohit can be different from Shikhar. Kuldeep could be different from someone like Hardik. You would want that.

AM: Barring 10-11 months, you have been in charge as coach, director or whatever else for almost five years. So, what would be your self-appraisal, if you look back?

RS: I am extremely satisfied. If you had told me at the start of my tenure that this is where you are going to be you know ten days before going into the World Cup. I will say I will take it any day. I will take it any day. Because you look across all formats and look at where we were. You know when our coaching staff and I took over this job I think it was 7-6-5 or 7-6-6. And then to be in 1-1-1 across all the formats think we have reached number one in all formats at some stage or the other but always be hanging in there 1-2-2 or 1-1-2, you know all the time what else can you ask from the boys.

AM: A tinge of regret with results in South Africa or results in England. There was so much talk...

RS: That would always be there. But the good thing is that they learnt from those mistakes. Got it right in Australia when it mattered.

AM: You are currently at an inflection point so to speak. The World Cup is the assignment after which your tenure ends. Are you interested in coaching further, or wanting to go back to broadcasting?

RS: My focus is on the World Cup and with this Indian Cricket Team. I am not going to think one day beyond. I am going to think and live in the present. As clear as that.