Indian women's cricket team T20I skipper Harmanpreet Kaur is currently sidelined with an injury and she is raring to make a comeback. The hard-hitting batsman from Moga, Punjab has wowed audiences around the world with her ability to clear the ropes at will. In this interaction with CricketNext, she speaks about how her father influenced her to regularly hit sixes, the influence of Anjum Chopra early in her career, her thoughts on new India coach WV Raman and more.

Excerpts:

Meha Bhardwaj: How much have you recovered from the injury and at what point are likely to get back?

Harmanpreet Kaur: It's going to take a few more days. I am waiting to get fit & play.

MB: The world discovered you in 2017 but let's talk about 2009 during the World Cup. You were playing against Australia, Anjum Chopra sends you to bat & then you hit 19 off 8 balls, you had hit a really big six. It was so big that the authorities took you for a dope test saying 'how can a girl hit such a big six? How can she hit so hard?'. The story goes that even your bat was tested, how true is this story & tell us more about what happened

HK: That was my first ODI World Cup & I was really nervous because I was playing with so many stars in that team; there were even players who I had never seen in TV & I was playing with them. I was always very close to Anjum Chopra; she helped me build my career. She asked me, 'are you ready to go?' and I just said 'this is not my batting position, last night I got to know that I have to bat at 9 down'. She replied 'I think you should go, you are perfect for this situation. I am going to talk to the coach, you get ready'. I asked her again, 'are you sure' and she said, 'yes I have the confidence in you, just go & pad up'. So I did that and Amita Sharma was already there (in the middle), she was already hitting good shots & then she gave that confidence saying 'you can do it, just believe in yourself & play the way you play for Punjab'. Everything was so positive then I got that confidence & we both formed a really good partnership.

MB: But what happened after that six? Did they actually take you for a dope test?

HK: Yes. Dope tests are done regularly now so after the match they selected 2-3 players; after that innings it was a first time for me. I immediately got a call to go for the dope test & I was wondering what is happening and I was told 'this happens when someone new comes & performs extraordinarily'.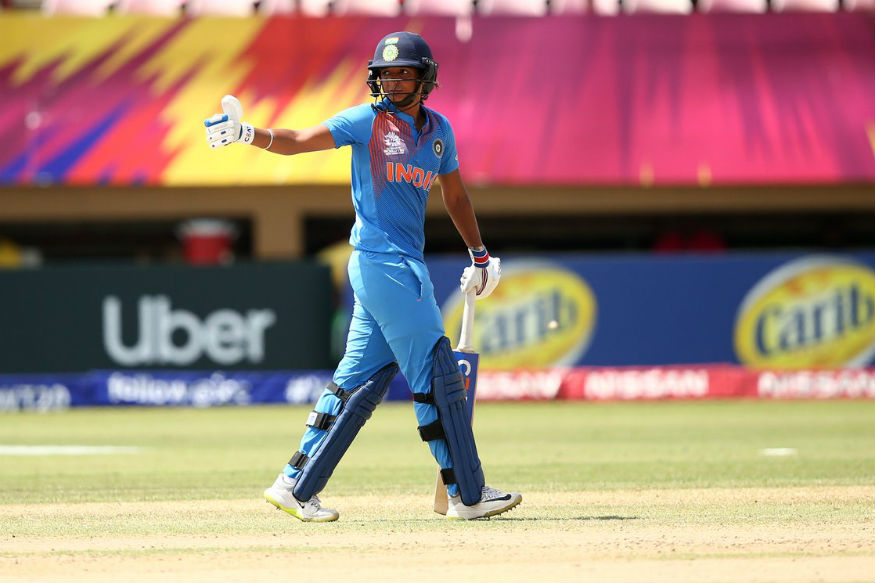 Image: @WT20

MB: Your story is not ordinary, you come from Moga, Punjab and you started playing there; your father wanted you to play and it's a really nice story. It has always been that only men will hit sixes; girls can't. Was this something you really worked towards from childhood, with the thought of 'I am a girl but I can go hit'?

HK: My dad also used to play cricket; he was an opener & he mostly used to hit sixes. I really used to like when he used to hit those sixes so I told my father that even I want to hit sixes. So he asked me to come & play so that he can judge me. I didn't have enough power when I was small but I always knew that I want to hit sixes like him. So the first time when I was playing with them, we were playing with a tennis ball, when I hit my first six everyone was really surprised. I used to play for my father's team so they used to send me for those last few balls & asked me to have fun & play those few remaining balls.

In those 2-3 balls we needed 6 runs, so I hit a six off the very first ball & we won. After that everyone was really surprised and I was so confident that I decided I only want to hit sixes! I thought if I have to bat, I will only depend on sixes. When I started playing for India, after 2-3 series, I was sitting with my friends from my locality and they told me 'we don't like the way you bat, you play a really slow game'. So I asked them why don't they like that? They told me that in men's cricket they hit so many sixes & the tide of their games changes really fast, so they asked why can't we play like that? That really hit me. So after that slowly I started hitting sixes & we are seeing the results. So I am really happy now.

MB: If we talk about the 2018 World Cup, a lot happened there between you & Mithali. Now when you recall that - although it's been a long time and that episode is gone - do you feel that you could have done something differently at that time?

HK: I don't know what happened & what didn't happen because I don't want to go into that. To be honest when you lead a team your vision should be clear; whatever used to happen, everyone was informed what the plan is. A lot of things came, I seriously don't know about them but as a captain I had a clear view & I will always have that. So whenever we used to discuss anything, it was done in the presence of every member of the team & I think the plan that we had was that we wanted to carry the momentum of the team. When the young girls are giving you confidence with their game, they are ready to play according to the plan, what else do you want? That was our plan; I think that plan really worked for us, because before that we never beat Australia or New Zealand in T20s at the World Cup. I think when you get a result, you should continue thinking positively.

MB: How is it like with your new coach WV Raman, how different or similar is he to Romesh Pawar? What are the similarities, how has it been with him so far?

HK: Coaches are generally the same. Before we had Romesh Pawar, he was really hardworking and he taught us a lot. We became aware of a lot of things after he came. Earlier our plans were limited, we used to play in only one way, so when he came he changed that & in 3 months we saw the improvement. Before that we never had the confidence that we can do well in the T20 World Cup, but in those 3 months because of his hard work we saw the results. WV Raman is also very good, he is very cool minded & very experienced. I think so far it has been really good working with him because he is so experienced. His points & tips really click for you & make you believe in yourself. I think his experience will really help us in the long run.

MB: Just the last question, one word answer for that. Everyone describes your 171 in their own way, how do you describe that?

HK: I think it was such an innings that not only changed my career but also the way everyone looks at the women's cricket. From my childhood I wanted women's cricket to get attention and fan following so I am really glad that innings helped do just that. Moreover that innings helped my team.